Achievements Home
World Record for Shortest Time Biking Across Canada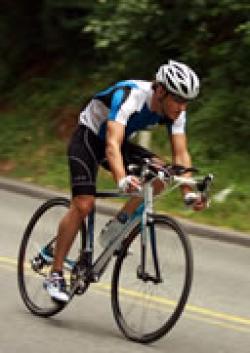 Category:
Sports
Type:
world record
canadian record

Date:
28 7, 2009
Record Holder:
Cornel Dobrin
Tags:
Cornel, Dobrin, Cycling, Bicycling, Biking, Across, Canada, Shortest, Time, Fastest
"My first 430km day I stopped 3 times in shops along the way because of rain. Each time I buried my face in my arms and cried. I had lost all hope. But when it came down to it, I got back up and went out there in the rain again to be battered and beaten some more before having to stop and cry again. You may have to take a breather every once in a while, but make sure you get back up."

Those words come directly from the man who got the new World Record for the Shortest Time Biking Across Canada, at 27 days, 5 hours and 30 minutes. Through rough terrain, bad weather, and a pinched nerve in his hand, Cornel Dobrin managed to make the 7,200 kilometer journey from shore to shore, with support from his family for part of the trip.

Although he almost gave out in the end, this incredible once in a life time journey, beginning on Canada day, drew to it's conclusion on the 28th of July. Dobrin did it just to see if he could, after some time studying others who had done it before him, as well as discussing the trip with previous record holder Erik Sraarup. Many congratulations to Cornel Dobrin!

Source:
http://www.worldrecordsacademy.org/travel/bicycling_across_C
Comments
Register
to comment on this Achievement.