Okay, so I've been pretty damn curious about this new J.J. Abrams film called "Cloverfield" and what it's all about. I've seen the trailers and even checked out the parody sites such as slusho.com.
I have come to the following conclusions; it is a twist of the 1998 film Godzilla, starring Matthew Broderick, Jean Reno, Hank Azaria and many others.
Huge, watery monster that tears up New York City and roars much like the Godzilla of the 1998 American movie. I have noticed a few parallels and if you look at this still photo: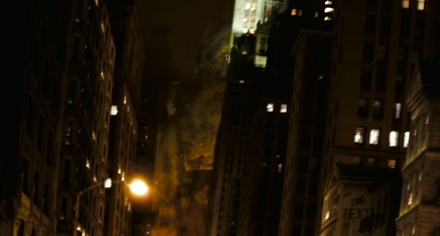 The monster looks remarkably like the Godzilla from the 1998 film. Another fleck of my reasoning behind it being a weird Godzilla type creature is that the slusho website history section makes much reference to the word "whale" which in Japanese is "kujira". In the 1998 film, they describe godzilla as being half-gorilla and half-whale. Gorilla in Japanese is "gorira"; by combining the two words to form "Gojira", the "American Media" of the 1998 film mispronounce the creature as Godzilla. All these word coincidences would also explain the working title of "Monkey", before "Cloverfield" was selected as the official title.
Some more similarities are the US Marines fighting this creature, it's in new York City, and it involved a completely destroyed tanker.
I know this all seems random and incoherent, but if you've ever watched LOST, then you would realize that for J.J. Abrams, this all makes perfect sense.

Another little tidbit to consider is that slusho is Japanese, adn was started by a Japanese family. Godzilla is a well-known Japanese pop-culture icon. I have a feeling that "Cloverfield" is going to be Godzilla kicking some human ass...