Bootlegga's Movie and TV Info
Info on upcoming movies and feature films
bootlegga's Blog
by bootlegga on Mon Nov 06, 2006 1:31 pm
Sacha Baron Cohen's Borat pulled in big numbers this weekend. While the total box office take seems modest ($26 million give or take), it's per screen earning was massive. It opened in only about a third as many screens as "Sanata Clause 3" and "Flushed Away", yet out earned both films. The estimated per screen take was $31,500, which is the 3rd highest in Hollywood history, just short of the original "Spiderman" and "Pirates of the Caribbean: Dead Man's Chest" and averaged more than Star Wars Episode 3! Fox will be more than doubling the screen count to about 2,200 on November 10th to take advantage of the numbers.
Tim Allen's "Santa Clause 3" settled for 2nd place with just over $20 million, while "Flushed Away" came in 3rd at $19 million. "Saw 3" dropped 54% to make $15.5 in fourth place, with a total gross of just over $60 million. "The Departed" showed continued strength, dropping less than 20% to make $8 million for 5th place, crossing $100 million and making it Martin Scorsese's most financially successful ever, beating out the record "The Aviator" held.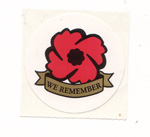 Just another happy Canuckistanian living under the so-called US security umbrella...yes, I'm a sarcastic bastard.
Arnold Schwarznegger on Climate Change -
If 98 doctors tell me my son is ill and needs medication and 2 do not, I listen to the 98. The same can be said about climate change.
"The Crystal Wind is the storm, and the storm is data, and the data is life." Trent the Uncatchable
---