Bootlegga's Movie and TV Info
Info on upcoming movies and feature films
1 comment • Page 1 of 1
bootlegga's Blog
by bootlegga on Mon Dec 04, 2006 4:12 pm
Quote:
It's amazing to us how many e-mails we still get daily about this supposed "international" Spider-Man 3 poster that is being labeled so on many, many websites on the internet worldwide.

Folks, this poster was made by a fan and picked up by various sites that started posting it as if it is official. In fact, the person who made the fan art explained what images he used to make the poster here on the SHH! Boards earlier this year.

While it may not be a real poster, kudos to 'hyzak' for making a great-looking pic!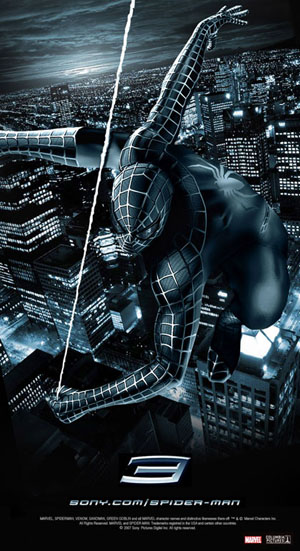 http://www.superherohype.com/news/spide ... hp?id=4967
It might be a fake, but it still looks pretty amazing!
Just another happy Canuckistanian living under the so-called US security umbrella...yes, I'm a sarcastic bastard.
Arnold Schwarznegger on Climate Change -
If 98 doctors tell me my son is ill and needs medication and 2 do not, I listen to the 98. The same can be said about climate change.
"The Crystal Wind is the storm, and the storm is data, and the data is life." Trent the Uncatchable
---
Comments
Re: Fake Spiderman 3 poster by gangstalking on Wed Dec 06, 2006 2:36 pm
Hey maybe the poster makers should hire this person. That's pretty good stuff.
---
1 comment • Page 1 of 1