Bootlegga's Movie and TV Info
Info on upcoming movies and feature films
bootlegga's Blog
by bootlegga on Thu Nov 02, 2006 2:32 pm
Tom Cruise, Paula Wagner and Metro-Goldwyn-Mayer (MGM) Studios will re-launch the UA studio, founded by actors Charlie Chaplin, Douglas Fairbanks, and director D.W. Griffith almost 90 years ago. The UA brand has created such famous movie franchises as "Rocky", The Pink Panther", and "James Bond" to name a few. The last UA film to star Tom Cruise was 1988's Oscar winning "Rain Man".
http://www.comingsoon.net/news/movienews.php?id=17339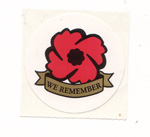 Just another happy Canuckistanian living under the so-called US security umbrella...yes, I'm a sarcastic bastard.
Arnold Schwarznegger on Climate Change -
If 98 doctors tell me my son is ill and needs medication and 2 do not, I listen to the 98. The same can be said about climate change.
"The Crystal Wind is the storm, and the storm is data, and the data is life." Trent the Uncatchable
---