Bootlegga's Movie and TV Info
Info on upcoming movies and feature films
5 replies • Page 1 of 1
bootlegga's Blog
by bootlegga on Thu Jul 27, 2006 11:31 am
Here is something that happened to me last night and has made me swear off Burger King. Who knows, it might extend to all fast food too (not that I eat it very often these days).
My roommate went to a nearby Burger King (4214 - 137 Avenue) and picked up two Whoppers, one for each of us. When I found out there was a Whopper in the fridge for me, I thought great! I didn't have supper so I can have that. My roommate knows I don't care for onions or pickles on my burger and usually orders them without.
I unwrap the burger, and lift off the top. Sure enough there were pickles. I lifted up the pickles and this is what I found!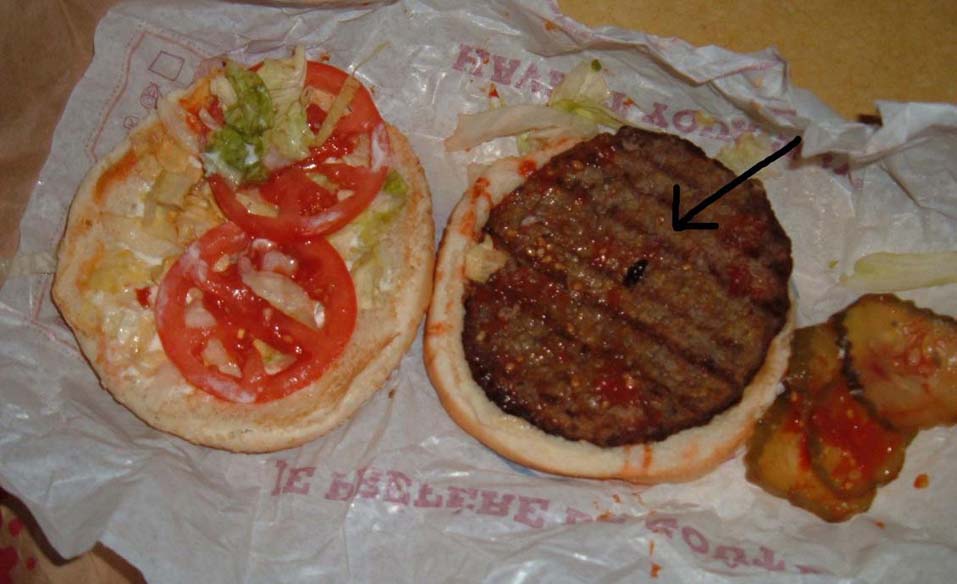 I have no idea what bug this is, although I'm guessing some sort of beetle or cockroach! It's not all that big, about the size of your pinky fingernail...still, it's quite disgusting!
I called the Burger King (780-478-1029) and they accused me of putting it there! Yeah, like I'm about to waste a perfectly good Whopper...
Well, if they don't want to even give me back my $3 they can enjoy all the publicity this blog brings!
All I can say is, thank God I hate pickles!
Just another happy Canuckistanian living under the so-called US security umbrella...yes, I'm a sarcastic bastard.
Arnold Schwarznegger on Climate Change -
If 98 doctors tell me my son is ill and needs medication and 2 do not, I listen to the 98. The same can be said about climate change.
"The Crystal Wind is the storm, and the storm is data, and the data is life." Trent the Uncatchable
---
Comments
---
5 replies • Page 1 of 1