Unusual Canadian Place Names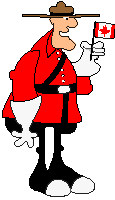 Have you ever wanted to visit Paris, Liverpool, Scotland or Stockholm? Or how about Eyebrow, Baldy Hughes and Blow Me Down? Just come to Canada!

Every country has a town or city with a wacky or unusual name, and Canada is certainly no exception! Here is a list of unusual names given to places that you can visit in Canada.
ALBERTA

Alliance
Barrhead
Bearberry
Belly River
Bonanza
Bragg Creek
Byemoor
Carrot Creek
Castor
Cereal
Champion
Chin
Cold Lake
Community Punch Bowl
Consort
Coronation
Crooked Creek
Czar
Dead Man's Flats
Diamond City
Driftpile
Entrance
Fork Lake
Freedom
Frog Lake
Ghost Lake
Grassland
Grassy Lake
High Level
Lesser Slave Lake
Little Smoky
Loon Lake
Ma-Me-O Beach
Manyberries
Marlboro
Medicine Hat
Milk River
Monitor
Nojack
Okotoks
One Four
Onion Lake
Pocahontas
Poe
Reno
Rosebud
Seven Persons
Skiff
Stand Off
Tiger Lily
Veteran
Viking
Vulcan
Wander River

BRITISH COLUMBIA

100 Mile House
108 Mile House
108 Mile Ranch
150 Mile House
40 Miles Flats
7 Miles Corner
70 Mile House
93 Mile House
Baldy Hughes
Blind Bay
Blubber Bay
Boat Basin
Boston Bar
Brilliant
Bugaboos, The-More Mountain Peaks
Buick
Canoe
Canyon
Chase
Chasm
Cheekye
Craigellachie
Cranberry Lake
Dawson Landing
Departure Bay
Fanny Bay
Field
Flathead
Fruitvale
Gang Ranch
Gold Bridge
Golden
Grand Forks
Grindrod
Halfmoon Bay
Hope
Horsefly
Horseshoe Bay
Houston
Likely
Lillooet
Lions Bay
Loos
Lulu Island
Mansons Landing
Merritt
Mission
Mount Currie
Muncho Lake
Needles
Observatory Inlet
Oyster Bay
Parsnip River
Pavilion
Penney
Poopoo Creek
Pouce Coupe
Procter
Prophet River
Salmon Arm
Sandspit
Skidegate
Skookumchuck
Smugglers Cove
Spuzzum
Ta Ta Creek
Tranquille
Ware
Wasa
Yahk
Ymir
Youbou
Zero Lake
Zeus Glacier
Zexwzaxw Glacier
Zippermouth Lake

MANITOBA

Bagot
Bird
BirdTail
Boggy Creek
Brokenhead
Button
Camper
Cooks Creek
Cranberry Portage
Crystal City
Dog Creek
Domain
Ebb and Flow
Eden
Finger
Flin Flon
Gambler
Gods Lake
Grand Rapids
Hone
Jackhead
Lizard Point
Miami
Minnedosa
Nonsuch
Optic Lake
Pilot Mound
Rapid City
Red Sucker Lake
Root Lake
Sandy Hook
Seven Sisters
Snowflake
Starbuck
Tidal
Wampum
Zbaraz
New Brunswick Bath
Brewers Mills
Cork
Currie
Dipper Harbour
Eel River Crossing
Five Fingers
Frosty Hollow
Gondola Point
Knowlesville
Mechanic Settlement
Partridge Island
Passamaquoddy Bay
Poodiac
Reversing Falls
Ripples
Sackville
Utopia Lake
Zealand Station

NEWFOUNDLAND

Ass Hill
Ass Rock
Back Cove
Bacon Cove
Badger
Bar Haven
Bareneed
Bay Bulls
Billy Butts Pond
Blow Me Down
Bottle Cove
Butter Cove
Cape Onion
Catalina
Change Islands
Chapel Arm
Coffee Cove
Come-By-Chance
Comfort Cove
Conception Bay
Cow Head
Cupids
Curling
Deadman's Bay
Deadman's Cove
Diamond Cove
Dildo
Exploits River
Ferryland
Fleur de Lys
Flowers Cove
Fortune
Fox Roost
Foxtrap
Frenchman's Cove
Funk Lake
Furby's Cove
Gander
Gin Cove
Goblin
Goobies
Halfway Point
Happy Adventure
Happy Valley-Goose Bay
Hare Bay
Hatchet Cove
Hearts Content
Hearts Delight
Heart's Desire
Jerrys Nose
Lawn
Leading Tickles West
Little Seldom
Low Point
Mosquito
Mouse Island
Nameless Cove
New World Island
Nippers Harbour
Noggin Cove
Old Man's Head
Old Room
Paradise
Pasadena
Penetanguishene
Petty Harbour
Poor Boy Island
Quidi Vidi Harbour
Red Indian Lake
River of Ponds
Salvage
Seldom
Small Point
St. Jones Within
St. Jones Without
Stag Harbour
Tickle Cove
Toogood Arm
Virgin Arm
Wild Bight
Wreck Cove
NORTHWEST TERRITORIES

Buffalo River
Echo Bay
Enterprise
Reliance
The Ramparts
Thumb Island
Tuktoyaktuk
Yellowknife
Wrigley

NOVA SCOTIA

Bangs Falls
Barneys River Station
Bible Hill
Brooklyn
Canning
Chance Harbour
Chimney Corner
Christmas Island
Coddle Harbour
Coffee Cove
Concession
Dingwall
Economy
Ecum Secum
Factorydale
Five Islands
Gore
Harmony Mills
Homeville
Italy Cross
Lake Echo
Lapland
Liverpool
Meat Cove
Militia Point
Mink Cove
Monastery
Mushaboom
Noel
Nuttby
Old Sweat
Paradise
Poor Island
Portuguese Cove
Pugwash Junction
Sable Island
Sackville
Shubenacadie
Skir Dhu
Spanish Ship Bay
Sugar Loaf
Sweetland
Upper Big Tacadie
Urbania
Whycocomagh
Nunavut Belcher Islands
Chesterfield Inlet
Gjoa Haven
Old Squaw Islands
Repulse Bay
Resolute
Zigzag Island

ONTARIO

Apple Hill
Balm Beach
Bastard
Bath
Bobcaygeon
Bond Head
Borups Corners
Bright
Brussels
Caesarea
Cankerville
Canoe Lake
Carlsbad Springs
Carp
Carrying Place
Cataract
Ceylon
Coldwater
Copenhagen
Credit River
Crooked Creek
Crotch Lake
Dawn
Dome
Dummer
Ear Falls
East Gwillimbury
Field
Forest
Front of Escott
Funnybone Lake
Gameland
Gargantua Cape
Gas Line
Gore Bay
Grimsby
Hagar
Happyland
Honey Harbour
Hungerford
Ingolf
Kee-Way-Win
Kiosk
Lagoon City
Little Britain
Lively
Lost Channel
Marathon
McDonalds Corners
Merlin
Middlesex
Monkland
Mono
Moonbeam
Moose Factory
Moscow
Nipissing
Nixon
Nobel
Nottawa
Nowhere Island
Old Woman Bay
Oldmans Pocket
Pain Court
Paris
Peel
Penetanguishene
Pickle Lake
Pooch Lake
Pooh Lake
Porcupine
Port Franks
Portland
Proton
Punkeydoodles Corners
Puppy Lake
Rainy Lake and Rainy River
Sandwich South
Scotland
Shakespeare
Shallow Lake
Spanish
Sucker Creek
Sultan
Thunder Bay
Tiny
Turkey Point
Wawa
Welcome
Wyoming
Zigzig Island
Zone
Zorra
Zurich
Zywina Lake

PRINCE EDWARD ISLAND

48 Road
Alaska
Cardigan
Christoper Cross
Commercial Cross
Crossroads
Dingwells Mills
East Royalty
Ebenezer
Five Houses
Green Gables
Harmony Junction
Head of Hillsborough
Head of Montague
Lady Slipper
Linkletter
Loyalist
Mermaid
Nun's Island
Old Harry
Pennies Road
Poodles Corner
Priest Pond
Savage Harbour
Uigg
Victoria Cross
Whim Road

QUEBEC

Aachikaayusaakaasich Portage
Asbestos
Beebe Plain
Begin
Bury
Cadillac
Cleveland
Crabtree
Disraeli
Funny Lake
Godmanchester
Grande-Entree
Ha! Ha!, Baie des
Ham South
Hope Town
Jesus Ile
Magpie
Mayo
Nitro
Nun's Island
Old Harry
Otter
Pointe-Comfort
Pontiac
Plaines of Abraham
Shitagoo Lake
Saint Noel
Shigawake
Sillery
Vimy Ridge

SASKATCHEWAN

Amsterdam
Antelope
Baldwinton
Big Beaver
Biggar
Blumenheim
B-Say-Tah
Buffalo Narrows
Cadillac
Candle Lake
Carrot River
Ceylon
Chicken
Choiceland
Climax
Congress
Cut Knife
Druid
Earl Grey
Ebenezer
Edelman Lake
Elbow
Endeavour
Eyebrow
Foam Lake
Frontier
Grandmother's Bay
Grizzly Bear's Head & The Lean Man
Hague
Hitchcock
Holdfast
Hoosier
Imperial
Knee Lake
Liberty
Limerick
Lipton
Little Bone
Loon Lake
Love
Lucky Lake
Lucky Man
Major
Milestone
Moose Jaw
Mozart
Old Wives Lake
Onion Lake
Oxbow
Pennant
Piapot
Poor Man
Porcupine Plain
Quill Lake
Revenue
Reward
Sanctuary
Semans
Smuts
Spy Hill
Stockholm
Swift Current
Uranium City
Xena
Yellow Grass
Zip Lake

YUKON TERRITORIES

Big Salmon
Champagne
Destruction Bay
Flat Top
Hungry Lake
Midnight Dome
Money Creek
Mount Cockfield
Nogold Creek
Rough Top
Snafu Creek
Snag
Published on: 2005-10-21 (56696 reads)
[ Go Back ]