Posted:
Sun May 26, 2019 1:21 pm
YouTube Censors Lauren Southern Documentary 'Borderless'
Quote:
YouTube censored 'Borderless,' a new documentary about mass immigration from independent filmmaker Lauren Southern, on the day of its release.

The feature-length documentary was taken down from YouTube less than 24 hours after it was uploaded, and is currently unavailable. YouTube has yet to give Southern an explanation for its removal.

Southern has since uploaded a backup version to YouTube, although the loss of the original is likely to skew the documentary's view count. Southern's previous documentary, about the racially-motivated murder of white farmers in South Africa, accumulated over 2.3 million views on the platform.
https://www.blazingcatfur.ca/2019/05/26 ... orderless/
Here it is for now. It's powerful. You can see why YouTube doesn't want anybody to know what's in it. Hopefully somebody will always be ghosting it somewhere. I'll try to keep it updated:
OK, this is not Canadian immigration but conceptually, at least, what happens elsewhere can happen here. Anyway...Lauren Southern is Canadian. And my God but that woman's got guts. She needs our clicks.
Posted:
Tue Jun 18, 2019 2:23 pm
FUREY: The Liberals need to do some soul-searching on immigration
Quote:
Once again, Immigration Minister Ahmed Hussen is tsk-tsking his fellow Canadians for their views on the portfolio he manages.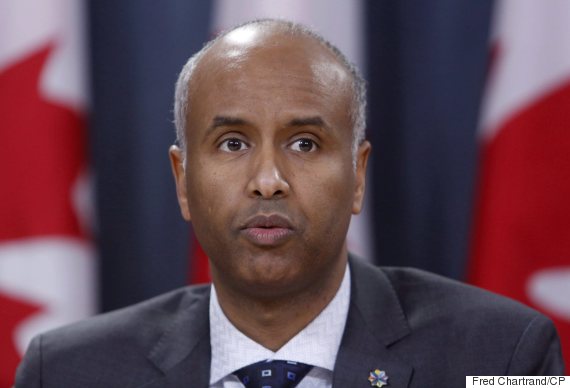 A recent poll by Leger revealed that two-thirds of respondents agreed that the feds ought to "prioritize limiting the number of immigrants we welcome to Canada each year as we may be reaching our limit to integrate them in our communities."

Hussen finds this "concerning." Although his concern doesn't seem to be a genuine desire to understand what the people he's tasked with serving are getting at here, but rather a concern about how to best browbeat what seems to be a majority consensus into getting in line with his views.

"We used to have a political consensus on immigration, but what worries me is looking at the other side and seeing the leader of the official Opposition taking a stance that is rooted in misinformation and conspiracy theories… basically spreading myths about immigration," Hussen is quoted as saying in a Canadian Press story.

It's clear by now that the Liberals get giddy at any poll that questions immigration numbers, eager to use it as an excuse to label Conservative leader Andrew Scheer nasty things.

After seeing Hussen's hyper-partisan response to these poll findings, I sought out an essay I'd read from last year that the immigration minister would be wise to read and reflect on.

"The real debate should instead be about the best strategies for assimilating immigrants into a country's creedal national identity," the piece notes. "Well-assimilated immigrants bring a healthy diversity to any society; poorly assimilated immigrants are a drag on the state and in some cases constitute security threats."

Uh oh, what am I quoting from? It sounds like the sort of stuff that might by banned by Trudeau's Digital Charter.

But the piece continues: "Assimilation into a dominant culture becomes much harder as the numbers of immigrants rise relative to the native population. As immigrant communities reach a certain scale, they tend to become self-sufficient and no longer need connections to groups outside themselves."

I better stop quoting from this incendiary piece, right? This column may soon get disappeared a la Michael Cooper's comments.

One more though, bear with me: "Democratic societies are fracturing into segments based on ever-narrower identities, threatening the possibility of deliberation and collective action by society as a whole. This is a road that leads only to state breakdown and, ultimately, failure."

Who's the angry white guy behind these dreadful remarks? And please tell me he's now been deplatformed and fired.

Time out. These are actually excerpts from an essay by Francis Fukuyama in Foreign Affairs magazine – one of the world's most celebrated political science professors (and, as the name should tell you, not a white supremacist) writing in one of the world's most prominent foreign policy publications.

Fukuyama's essay "Against Identity Politics: The New Tribalism and the Crisis of Democracy" isn't entirely about integration and it's certainly no safe space for right-wing views either, with it's very critical takes on President Trump's policies.

But its balanced and sober discussion of integration matters is a refreshing reminder that they are legitimate fodder for mainstream conversation, something Hussen seems to deny.

The Liberals should study this essay and then do some soul-searching as to why their knee jerk reaction is to vilify Canadians — the majority, it now seems — who share the sorts of concerns raised by the likes of Fukuyama.
https://torontosun.com/opinion/columnis ... mmigration
Posted:
Mon Jul 08, 2019 1:12 pm
Canada replaces the United States as the world's top destination for refugees
Quote:
Canada has replaced the United States as the number one country to admit the most refugees in the world.

According to the United Nations, Canada has admitted a total of 28,100 refugees in 2018 alone. Another 18,000 were also naturalized into Canadian citizens also.

"Canada admitted the largest number of resettled refugees (28,100). The United States of America was second with 22,900. Other countries that admitted large numbers of resettled refugees during the year were Australia (12,700), the United Kingdom

Liberal Immigration Minister Ahmed Hussen has said that he would like to see Canada's refugee admissions go up and had even suggested admitting them into the country as economic migrants.

"My wish is that we continue to increase levels in our immigration system for refugees. I'm very open to saying that, and I will do whatever I can, in whatever position I am in, to continue to push for higher refugee numbers every single year," said Hussen in June.
https://tnc.news/2019/07/07/canada-repl ... -refugees/
Posted:
Sat Aug 10, 2019 10:27 am
South American thieves flock to Toronto area, stay as refugees when nabbed
Quote:
The man in the prisoner's box came here as a tourist — but he had no plans to visit the CN Tower.

Instead, he and his Colombian pals arrived at Pearson airport earlier this year on Mexican passports. Unlike Colombians, Mexicans no longer require a visa to Canada thanks to the Liberal government's change of policy as of Dec. 1, 2016.

Immediately upon arrival, according to police, he and his three compadres went to work — one of many South American crime cells that have come through Mexico and gone on to steal millions of dollars in high-end home break ins, distraction thefts and boosting from expensive shops.

And like the accused in the box, many quickly claim refugee status if they're caught and enjoy welfare and legal aid as they postpone their deportation.

"It's called criminal tourism," a frustrated undercover officer — who asked that his name, special unit and GTA police service not be identified as they're currently in the midst of a project targeting South American thieves — said outside of court.

Since the visa requirement from Mexico was dropped, his team alone has arrested 120 foreign criminals and laid 400 theft charges.

"It's time the public knows," he said. "It's all being swept under the table."

"The majority are Colombian nationals who are obtaining, probably with help from someone in the Mexican government, legitimate Mexican drivers' licences and passports under fake identities which give them free access to Canada," he says.

Many of these break-and-enter specialists, known as South American Theft Groups, have records in their own countries and are being dispatched by cartels, the detective said.

"They're being told where to go, where to get accommodation, vehicles, cellphones and what wealthy neighbourhoods to target," he added.

Their strategy is simple: send the woman to the door in a headscarf. If no one answers, break in through the back, head to the master bedroom and zero in on jewelry, designer goods and cash.

"The only good news is they're not into violent crime. They're purely here to make as much money as they can before they go back," the officer said.

Most arrive between April and October and leave before winter.

"They don't like the cold," he said with a laugh.

The 31-year-old suspect in the prisoner's box — we'll call him Juan — and his group were under police surveillance when they were nabbed executing a trademark distraction theft: they'd punctured the tire of a man they'd seen withdrawing a large sum of cash at a bank.

They followed the vehicle, the detective explained, and when the tie went flat, one of the group offered to help change it while another stole his $54,000 in cash from the car.

Once under arrest, Juan made a refugee claim, of course. He also applied for bail but was denied after it turned out his sureties didn't even know him — they'd been paid by his compatriots to vouch for his release.

On this day in court, everyone expected a guilty plea had been worked out. But then Juan fired his lawyer and demanded Spanish-speaking counsel, so another hearing date is set. And naturally, his legal defence and court translator are all courtesy of taxpayers.

Infuriating? It gets worse, the cop continued.

In a recent case, a Colombian woman who arrived through Mexico with her daughters was arrested as part of one of these theft cells and then proceeded to claim refugee status. She pleaded guilty to theft under $5,000, got a 90-day sentence and is now free on an immigration hold while her refugee case is pending.

"She and her daughters are now living in a brand new $1,400 a month apartment — all being paid for by welfare thanks to Joe Blow the taxpayer," said the detective. "And one of the daughters has had a baby. So the chances of the family being deported now are zero to none."

"It's frustrating. It's really frustrating."

It also doesn't help that these crime tourists are only receiving a judicial slap on the wrist.

"The sentences are so lenient that we're finding that there's no deterrent," the detective said. "They just see it as an occupational hazard. They do their three months in jail and get deported home."

And they're all the richer for it.

No wonder we're such a popular destination.
https://canoe.com/news/local-news/mande ... c08eb171bd
Posted:
Sun Aug 11, 2019 12:39 pm
N_Fiddledog wrote:
Here's the same story in print:
Illegal border crossings in Canada? Yes, it's still happening
Quote:
On Monday, a man was arrested by First Nations police in rural Manitoba after illegally crossing into Canada via the U.S. border. As has become the norm, there was barely any news coverage. Much of the media didn't bat an eye.

Over the last three-and-a-half years, tens of thousands of people have illegally walked across the border in between official ports of entry — of those, 58,054 have been arrested and detained by the RCMP.

Since 2016, Justin Trudeau's first full year in office, 156,155 people have arrived in Canada under false pretenses — walking in illegally, using fake documents or pretending to be tourists — only to make asylum claims in the hopes of becoming refugees in Canada. This is according to data from the Government of Canada on asylum claims from January 2016 to June 2019.

This staggering figure is in addition to Canada's planned annual intake of immigrants and refugees, people who apply in advance, wait in a queue and come to Canada through official immigration channels.

The problem of illegal entry into Canada has shown no sign of slowing down.
https://torontosun.com/opinion/columnis ... -happening
| | | |
| --- | --- | --- |
| | Page 3 of 6 | [ 78 posts ] |
Who is online
Users browsing this forum: No registered users and 1 guest