The Fantasy of Opting Out
Those who know about us have power over us. Obfuscation may be our best digital weapon.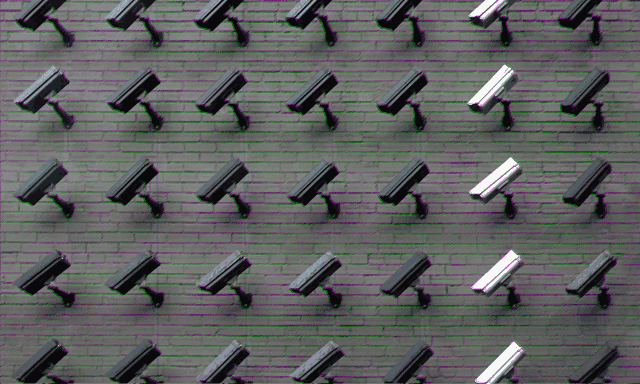 Consider a day in the life of a fairly ordinary person in a large city in a stable, democratically governed country. She is not in prison or institutionalized, nor is she a dissident or an enemy of the state, yet she lives in a condition of permanent and total surveillance unprecedented in its precision and intimacy.
As soon as she leaves her apartment, she is on camera: while in the hallway and the elevator of her building, when using the ATM outside her bank, while passing shops and waiting at crosswalks, while in the subway station and on the train — and all that before lunch. A montage of nearly every move of her life in the city outside her apartment could be assembled, and each step accounted for. But that montage would hardly be necessary: Her mobile phone, in the course of its ordinary operation of seeking base stations and antennas to keep her connected as she walks, provides a constant log of her position and movements. Her apps are keeping tabs, too.
Any time she spends in "dead zones" without phone reception can also be accounted for: Her subway pass logs her entry into the subway, and her radio-frequency identification badge produces a record of her entry into the building in which she works. (If she drives a car, her electronic toll-collection pass serves a similar purpose, as does automatic license-plate imaging.) If her apartment is part of a smart-grid program, spikes in her electricity usage can reveal exactly when she is up and around, turning on lights and ventilation fans and using the microwave oven and the coffee maker.
Surely some of the fault must lie with this individual for using services or engaging with institutions that offer unfavorable terms of service and are known to misbehave. Isn't putting all the blame on government institutions and private services unfair, when they are trying to maintain security and capture some of the valuable data produced by their users? Can't we users just opt out of systems with which we disagree?
Before we return to the question of opting out, consider how thoroughly the systems mentioned are embedded in our hypothetical ordinary person's everyday life, far more invasively than mere logs of her daily comings and goings. Someone observing her could assemble in forensic detail her social and familial connections, her struggles and interests, and her beliefs and commitments. From Amazon purchases and Kindle highlights, from purchase records linked with her loyalty cards at the drugstore and the supermarket, from Gmail metadata and chat logs, from search history and checkout records from the public library, from Netflix-streamed movies, and from activity on Facebook and Twitter, dating sites, and other social networks, a very specific and personal narrative is clear.
The Feds are building an America-wide face surveillance system – and we're going to court to prove it, says ACLU
The American Civil Liberties Union (ACLU) is suing the FBI, the Drug Enforcement Agency (DEA), and the Department of Justice (DoJ) in an effort to find out what the US federal government's systems and policies are around facial recognition.
Following a freedom-of-information request in January that Uncle Sam still has not responded to, the ACLU has demanded [PDF] the release of the TLA trio's guidelines and rules regarding what the union terms "face surveillance technology," as well as details of any contracts or pilot programs it has with private companies over the technology.
Specifically, the civil-rights warriors have filed suit in Massachusetts against the Feds, requesting the district court forces the agencies and department to cough up "public records pursuant to the Freedom of Information Act."
"Technology has outpaced our civil rights law," said the director of the Technology for Liberty Program at the ACLU of Massachusetts, Kade Crockford, in a statement.
"Face surveillance technology poses unique risks to people's privacy, safety, and civil liberties. As state lawmakers consider a statewide moratorium on the government's use of this technology, and Congress considers its own legislation, the public urgently needs to know how the federal government is using face surveillance and other remote biometric monitoring systems in Massachusetts and across the nation."
Fears of both bias in, and misuse of, facial recognition technology have been growing in recent years, especially as the technology matures and has become both more accurate and cheaper. San Francisco banned the use of such technologies by any city department, including the police, earlier this year unless there is a broader review. Other cities have done likewise while several states are considering similar legislation