Posted:
Thu Feb 11, 2021 2:40 pm
Flynt was scum, but his war against the religious right was absolutely necessary. Hate to think about how much those pseudo-Christian totalitarians would have gotten away with in destroying the rights of others if someone like Flynt wasn't there to pile up a string of court victories against them.
Posted:
Thu Feb 11, 2021 8:14 pm
I wouldn't go quite so far as 'scum', he just wasn't a pretentious bastard claiming what he did was classy or artistic.
You got a split beaver, not some airbrushed Barbie doll, which is what you really wanted to see in the first place.
No 1980 workplace men's room was complete without a Hustler magazine.
Posted:
Thu Feb 11, 2021 11:36 pm
I don't disagree mostly. Porn is the ultimate double edged sword though. Whatever is has in individual choice and freedom is more than balanced out by the devastating toll it takes in lives, especially among the young women who get swallowed up in it. There's just been too many dead & destroyed to come out of that business to ever put the rose-coloured glasses on when looking at it's impact.

So, Flynt? Free speech hero? Or scumbag? Probably both in equal measure, simply because the men in charge of porn are all pretty much scum. No different than any other industry in that the ones controlling it and making the money from it really just don't care at all about those who get ruined along the way.
Posted:
Fri Feb 12, 2021 12:32 pm
Some of them are. Some of them aren't. Some of them are women. Some of the actors are gay. Like everything else, you can't generalize.
In today's world of YouTube and Chaturbate, no one's really exploiting anyone and hell of a lot of the audience are women.
Hell, after all these years in computer services, I'm not gonna feign shock or look down on anyone. It's MOST people not SOME people.
Posted:
Fri Feb 12, 2021 1:56 pm
Everyone thought that Ron Jeremy was some kind of pop-culture hero, just some friendly guy with a big dick. Now he's in jail and looking at life in prison just for all the casual rapes he committed because, just like Harvey Weinstein, he genuinely believes he was entitled to commit them.

The only business that probably has less actual "good guys" in it per capita than porn would probably be the financial sector. And I have no problem generalizing against the bankers because whatever good the tiny minority of them in that world ever do is drowned into irrelevance by their daily scheming and outright malice. Ditto with porn. Porn is what it is. I'm no saint, I've watched enough of it over my lifetime. I'm just not gonna put a smiley face on it because, once you get past the party, in the background it's a genuine horror show.
Posted:
Mon Mar 08, 2021 10:23 am
$1:
Family and friends are mourning the loss and remembering the legacy of Dr. David Schindler, nationally and internationally-renowned environmental conservationist at the University of Alberta, following his death Thursday.

Schindler was a co-founder of the Experimental Lakes Area in Ontario where whole lake studies are performed on freshwater bodies. His work over his 50-year career in the field was instrumental in forming public policy around acid rain, including restrictions on acid emissions and the amount of chemicals in detergent.

. . .

Boyce said Schindler's work on documenting the effects of phosphorous in lakes causing algae blooms and the ensuing ban of the chemical in detergents was a "huge ramification for society."

"It's a never-ending battle, of course, dealing with the effects of humans on the environment and Dave was in the thick of it on a number of very contentious issues," said Boyce. "The oilsands, for example, and acid rain, he was right in the thick of all of that, and he did not hesitate to explain the consequences of development, and consequences of the industry to the environment."

Dr. David Schindler, world renowned environmental conservationist, dead at 80
Posted:
Tue Mar 16, 2021 12:39 pm
Yaphet Kotto, star of Live and Let Die and Alien, dies aged 81
$1:
Yaphet Kotto, the African-American actor best known for memorable roles in Alien and the 007 film Live and Let Die, as well as the hit TV series Homicide: Life on the Street, has died aged 81 in the Philippines.
https://www.theguardian.com/film/2021/m ... es-aged-81
I know it was one of his lesser known roles, but he was awesome as FBI agent Alonzo Mosely in Midnight Run.
RIP Agent Mosely
Posted:
Wed Mar 17, 2021 9:44 am
Sabine Schmitz, Queen of the Nurburgring and Former Top Gear Presenter, Dies at 51
$1:
Calling Sabine Schmitz just a legend of the Nürburgring is short-changing her. The undisputed queen of Eifel racing, her skill and bravery as a driver were as awe-inspiring to watch as they were downright fun. She was someone who understood the thrill of driving and openly shared her passion with those of us not gifted with godlike talents like hers.

Today, the circuit announced she won't run another lap; a huge loss to the motorsport community, her family, and friends. In a short statement on social media, it was announced: "The Nürburgring has lost its most famous female racing driver. Sabine Schmitz passed away far too early after a long illness. We will miss her and her cheerful nature. Rest in peace Sabine!"

Schmitz is the only woman so far to have won the 24 hours of the Nürburgring, in 1996 and 1997, driving a BMW M3. She was regarded as one of the best drivers of the Nordschleife and reported to have done more than 20,000 laps of the full layout.

Her warmth and grit made her a personality not just in motorsport but more widely, she first appeared on Top Gear trying to beat Jeremy Clarkson's Nordschleife time in a Transit van (and came pretty close!), then became a regular presenter and expert driving coach on the show in 2016. She was still regularly racing in VLN in 2017 as a Porsche works driver, the same year she was diagnosed with cancer.

The episode of Top Gear airing this weekend in the U.K. will be dedicated to Schmitz, with executive producer Claire Pizey saying, "Sabine was a beloved member of the Top Gear family and presenting team since 2016, having first appeared on the show in 2004, and everyone who had the pleasure of working with her on the team is in shock at this news."

"Sabine radiated positivity, always wore her cheeky smile no matter how hard things got, and was a force of nature for women drivers in the motoring world. Like everyone else who knew her, we will truly miss her, Sabine really was one of a kind. Our thoughts are with her partner Klaus, who was always by her side and who we welcomed to Dunsfold many times, and her family in Germany," added Pizey.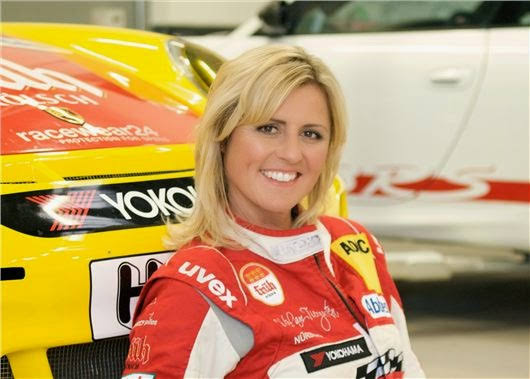 | | | |
| --- | --- | --- |
| | Page 12 of 18 | [ 260 posts ] |
Who is online
Users browsing this forum: No registered users and 19 guests