And it's not just in Britain.
Don't be thinking you're going to be naming buildings after
President Woodrow Wilson
at Princeton, or for that matter dressing like a flapper on
Halloween at Yale
. (They'd love my Zombie Jihadist costume, I bet.
)
Think you're safe with that free speech crap on a Canadian University? Fugedda bout it.
Meet Vagina girl at the University of Waterloo.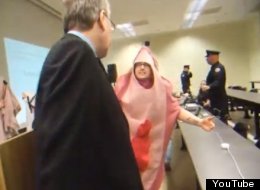 Or how about big red at the U of T?