Author
Topic Options

Posted:

Sun Jun 30, 2019 3:07 pm

Christians in Africa: "You have three days to go or you will be killed!"

Quote:

Persecution of Christians in the Middle East is now close to "genocide", a UK-commissioned report just revealed. The same threat has also become critical for Christian communities in Africa.

Some say it began in Algeria in the 1990s, when 19 monks, bishops, nuns and other Catholics were killed during the civil war. Since then, in Nigeria, Christian faithful have been massacred in their churches; in Kenya, Christians have been killed in universities; in Libya, Christians have been beheaded on beaches; in Yemen, nuns have been assassinated and in Egypt, massive anti-Christian violence is prompting an exodus. It is the new African archipelago of persecution.

Distressingly, these Christians have been finding themselves in the blind spot of the West: they are "too Christian" to get the Left's attention, but too far away for the Right. Africa's Christians are orphans. They have no "allies", John O'Sullivan writes.

Christian families recently fled the city of Diffa, in Niger, after Boko Haram delivered the message: "You have three days to go or you will be killed!". "There is no Christian anymore in this town", someone reported to the non-governmental organization, the Barnabas Fund. The town, Arbinda, is in Burkina Faso. Numbers are telling: 82 pastors, 1,145 Christians and 151 households have fled from violence in the Muslim-majority nation. Just in the last few weeks, several of the Christian faithful and clergy have been murdered. Jihadists killed six Christians in a Catholic church in the town of Dablo. A pastor was murdered in an attack in Silgadji, Catholic parades have been targeted.

Jihadists apparently want to "cleanse" these areas of Christians -- and they are succeeding. "There is an atmosphere of panic in the town," the mayor of Dablo, Ousmane Zongo, said. "People are holed up in their homes, nothing is going on. The shops and stores are closed. It's practically a ghost town".

In Nigeria, attacks on Christians never stop. The country has become a "war zone for Christians".

"The attacks on Christians are growing more flagrant and more aggressive," Father John Bakeni from the Maiduguri Diocese, northern Nigeria, said. "We consider each day we live in safety a blessing because we do not know what will happen the next day".

"We Christians are at risk of extinction and an attempt is being made to Islamize the whole country because controlling Nigeria means expelling Christians from all of West Africa", said Father Joseph Fidelis Bature, a Catholic priest in the Nigerian diocese of Maiduguri, in the Italian monthly Tempi.

Unfortunately, we Westerners have a short memory. Al Qaeda's first attacks took place in Africa: the bombings against US embassies in Kenya and Tanzania. Africa matters for the West. That is why we should take this monstrous new anti-Christian persecution more seriously. "Christianity originated in the Middle East", the Egyptian Coptic Pope Tawadros II said in Germany, where he was inaugurating a new Coptic church in May for his exiled community. "Thus, the displacement or evacuation of Christians from the Middle East is very dangerous for the safety of the region, not only in the Middle East but also in the Mediterranean Sea region. Europe is affected by this, and the Arab countries as well". The West should take much more seriously these appeals from the Eastern Christian leaders...

More at link:

https://www.gatestoneinstitute.org/1443 ... ersecution
Posted:
Mon Jul 01, 2019 8:34 am
Fair comment or racism? Award-winning German artist under fire over 'Islamophobic' cartoons
Quote:
A German feminist artist who has been honored by a journalist group for her caricatures, is now facing a fiery backlash over a series of "racist" and "Islamophobic" cartoons – many of them relentlessly poking fun at Sharia law.
Franziska Becker's works have come under the spotlight after the Female Journalists Association (Journalistinnenbund) awarded her a prize for her "keen-witted and sharp-tongued" depiction of men and women. The group hailed Becker as "one of the most prominent, feminism-oriented successful personalities" – but the praise hit a nerve with some Germans.

Criticism began amassing on social media shortly after news of the award broke. Sibel Schick, a contributor to women's Missy Magazine and TAZ outlet – and, ironically, a self-described pro-choice feminist – was one of the first to post some of Becker's cartoons which she dubbed "anti-Islam and racist."

READ MORE: Integration or indoctrination? Video of Danish schoolkids chanting Allahu Akbar triggers DEBATE

One caricature depicts a kindergarten where children – girls all wearing headscarves – are seen playing with toy "suicide" trucks or hijacked planes. Others are building a mosque and erecting a minaret.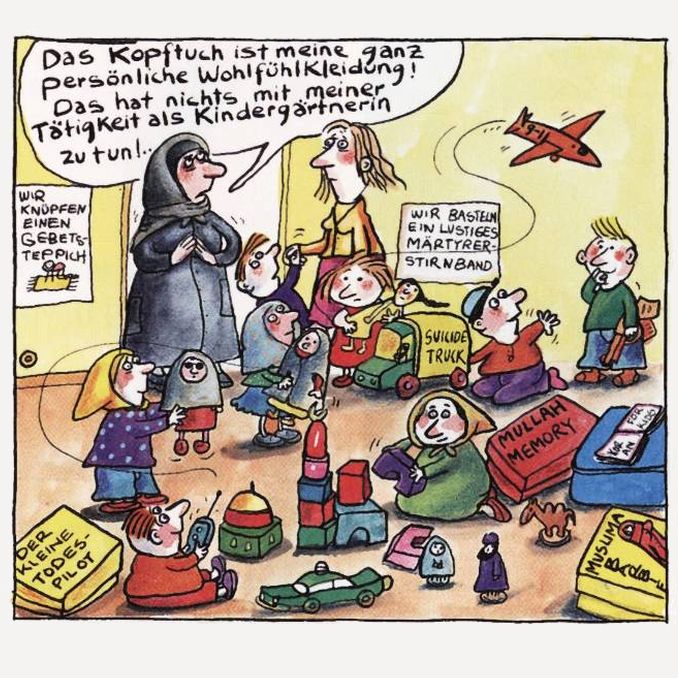 Another one portrays a supposedly Muslim bank employee who tells her non-Muslim client that withdrawing cash is only possible with "a written permission from a husband, a father, a brother or a son."

There was also a Becker cartoon in which a Muslim policewoman deals with a shoplifter using an axe – a blunt reference to a Sharia provision which prescribes that theft be punished by severing the thief's hand.

Naturally, there was no shortage of criticism on social media, with users venting anger at both the artist and the journalists' association.

The journalists' group, meanwhile, has backtracked on promoting Becker's award and said that "we take the criticism seriously and are currently discussing it intensively, but at first privately."

However, those defending Becker pointed out that she isn't overly obsessed with Islam. Other caricatures that she's created have been equally critical of Christian preachers and Buddhists, it turns out.

Becker has always been a "super-left, super-feminist cartoonist," one user wrote, wondering why "this woman is now supposed to be "racist" because she is critical of Islam (like any religion)?"

Twitter users aside, women's magazine 'Emma,' where Becker works as an illustrator and cartoonist, has thrown its weight behind the embattled artist. The magazine publisher insisted that Becker, who has created satirical cartoons about "Islamic fanatics" since as early as 1991 had fallen victim to "a smear campaign and censorship."

As controversy mounted, Becker spoke out about her stance, telling the media that her satire was directed against violent Islamism, but had nothing to do with Islam as such.

"I am not concerned with the headscarf itself, but with the headscarf as a symbol of the oppression worn by female Islamists and converts," she argued.
https://www.rt.com/news/463051-germany- ... -backlash/
Attachments:
Franziska-Becker-Islamophobic-cartoon-1-620x619.jpg [ 103.42 KiB | Viewed 220 times ]
Posted:
Wed Jul 03, 2019 10:30 pm
Catholic woman faces five years in jail after she is accused of blasphemy for letting her DOG run around in a mosque in Indonesia

Woman filmed taking dog inside Indonesian mosque, and also wore shoes inside
Both actions are considered blasphemous, and she now faces five years in jail
In the video she calls herself Catholic before scuffle breaks out with worshippers
Police believe she may have psychiatric problems and have sent her to a hospital
Dog later died after being hit by a car. It is not clear if the two events are related
Posted:
Thu Jul 11, 2019 10:01 pm
'Give these beasts the death penalty they deserve': Mother of Danish student beheaded along with Norwegian woman in Morocco calls for their ISIS killers to be executed

Helle Petersen said her life was destroyed by her daughter's brutal death
The bodies of Louisa Vesterager Jespersen, 24, and Maren Ueland 28, were found in the Atlas Mountains on December 17, 2019
The men on trial claimed allegiance to ISIS though the terror group has never claimed responsibility for the murders
Posted:
Fri Jul 12, 2019 7:42 am
Iraqi asylum seeker, 24, who wanted to flee Britain and join ISIS is found guilty of plotting Christmas car bomb attack with a driverless vehicle after being snared in police raid on chip shop

Farhad Salah, 24, was found guilty of preparing to commit acts of terrorism
Wannabe jihadi posted on social media about using driverless car in an attack
But the jury cleared his co-defendant, Chesterfield chip shop owner Andy Star
Star claimed gunpowder found in his flat were connected to firework fascination
Posted:
Fri Jul 12, 2019 1:42 pm
That last one is worth a more detailed telling of the tale:
Quote:
A man has been found guilty of planning a terror attack using a bomb in a remotely-controlled vehicle.

Farhad Salah, 24, was found guilty at Sheffield Crown Court of preparing to commit acts of terrorism.

Jurors heard that Salah posted on social media about using a driverless car in an attack.

But the jury cleared his co-defendant, Chesterfield chip shop owner Andy Star, 32, who was charged with the same offence.

This is the second time Salah and Mr Star have been tried on these charges.

A jury failed to reach verdicts on either man following a trial last year.


Judge Paul Watson QC told Mr Star a decision had been made that he should not face a second retrial and a not guilty verdict was recorded in his case.

He said Mr Star could go free but was informed that he will continue to be detained on immigration matters.

The judge said Salah will be sentenced on July 24.

Prosecutors told the five-week trial that Salah and Mr Star were in the early stages of testing small improvised explosive devices when they were arrested in high-profile raids on their homes in a Sheffield community centre and a Chesterfield fish and chip shop in December 2017.

But Mr Star has always insisted that gunpowder and other items found in his flat above the chip shop were all connected to his long-standing interest in fireworks.

Salah was found guilty on a majority of 10 to 2 after the jury deliberated for almost three days.

When the judge recorded Star's formal acquittal, a woman shouted "Terrorist" loudly from the jury box.

Counter-terror police said Salah was not close to achieving his aim of putting a device in a vehicle but officers believe he was a "very real risk to the safety of the public in the UK".

The raids in Sheffield and Chesterfield happened in the months following the Manchester Arena explosion, the terror attacks on Westminster and London Bridge, and at a time when there were fears that another atrocity was being planned for the Christmas period.

But police said they have never been able to identify Salah's intended target.

Opening the case, prosecutor Anne Whyte QC told the jury: "The intention was to manufacture a device which would be placed in a vehicle but controlled remotely so that no-one had to martyr themselves in the process."

She said that, a week before he was arrested, Salah messaged a contact on Facebook saying: "My only attempt is to find a way to carry out martyrdom operation with cars without driver, everything is perfect only the programme is left ..."

The prosecutor said: "Farhad Salah had decided that improvised explosive devices could be made and used in a way here in the UK that spared his own life preferably but harmed others he considered to be infidels."

The court heard how both defendants are Iraqi nationals.


Salah arrived at Heathrow Airport in December 2014 and applied for asylum. This application had not been determined by the time he was arrested.

Mr Star was arrested in 2008 on suspicion of being an illegal immigrant and later told officials he had arrived in the UK by lorry.

He was given "leave to remain" in 2010 and eventually given refugee status, with "indefinite leave to remain" in February 2016.

At the beginning of the trial, Miss Whyte told the jury that Salah was a supporter of Islamic State (IS), despite him being an Iraqi-Kurd - a nationality usually associated with the fight against the terror group.

Gunpowder, homemade fuses and explosive chemicals were found when Mr Star's Mermaid Fish Bar, in Chesterfield, was raided by armed police and similar items were found in the Fatima Community Centre, in Sheffield, were Salah lived.

Prosecutors told the jury that the items found in the raided premises showed the pair were testing small-scale explosive devices at both locations and the primary "laboratory" was at the chip shop, but Mr Star told police and both his trials that it was just paraphernalia connected with making fireworks.

Salah, of Sheffield, showed no emotion as he was led from the dock.
https://www.mirror.co.uk/news/uk-news/b ... r-18019868
How long before they're dropping bombs from drones, I wonder.
Posted:
Fri Jul 12, 2019 1:50 pm
I think the Ramadanabombathon is over, isn't it?
Thank God (the real one, I mean.
):
Quote:
A man living in Sweden was found guilty of physically abusing his wife and children but blamed his actions on being hungry due to Ramadan fasting.

The unidentified man, who lives in the south-west Swedish province of Dalsland, was sentenced to six months in prison after being convicted of five separate counts of assault, Swedish radio broadcaster Sveriges Radio reports.

The man denied culpability, claiming that intense hunger, due to fasting during the Islamic holy month of Ramadan, had made it so that he could not control his own actions

He was accused of multiple assaults which included shoving paper into the mouth of his two-year-old daughter and beating her on the hands and feet.

The defence of "Ramadan rage" was also used by another Muslim man in France as part of a case where he was accused of shaking his five-month-old daughter to death last year

The 42-year-old man was said to have been angered by the infant crying and threw her on a hotel bed twice, with the child bouncing off the bed the second time and landing head-first into the floor. The child was later taken to a hospital with a skull fracture and died.

Earlier this year, French business owners in the city of Montpellier went as far as demanding the government provide extra security to their businesses ahead of Ramadan, arguing that they had seen an increase in violence during the holy month for the last four years.

"Ramadan rage" has not been limited to Europe. Within the first three weeks of Ramadan this year, 20 countries saw over 100 jihadist attacks with a death toll of 531 people and another 556 maimed.
https://www.breitbart.com/europe/2019/0 ... -children/
Posted:
Sat Jul 13, 2019 8:58 am
Briton and Canadian journalist are among 26 victims killed in Somalia hotel terror attack launched by Islamist car bomber and gunmen

At least one Briton confirmed dead in bomb attack on hotel in southern Somalia
Death toll has now risen to 26 victims including Americans and Kenyans
Canadian-Somalia journalist Hodan Naleyeh has also been confirmed as dead
Posted:
Thu Jul 18, 2019 5:41 am
Manchester Arena bomber Salman Abedi's brother 'helped buy chemicals and shrapnel to make IED then kept them in his Nissan Micra' - as he denies 22 murder charges following his extradition from Libya

Hashem Abedi is accused of aiding his brother's terror plot which killed 22
He gives nationality as British in court as lawyer says he wants to clear his name
Court hears he will deny 22 counts of murder and conspiring with his brother
Posted:
Thu Jul 18, 2019 9:09 pm
Private Islamic school that had extremist library book on how to help the Taliban with 'Don't make the Jews and the Christians your friends' on page one is rated 'inadequate' by Ofsted

Book at Jamia Islamia Birmingham also supported creation of an Islamic State
School had an open gate and playground doubling up as car park, report said
Extra-curricular activities limited to Islamic chanting and badminton, it added
Posted:
Fri Jul 19, 2019 12:25 pm
JIHADISTS RAPE, STONE CHRISTIAN WOMAN TO DEATH IN SYRIA
Quote:
Islamic terrorists from the Jihadist organization Jabhat al-Nusra stoned to death an Armenian Christian woman living in the Syrian province of Idlib.

Christian and human rights groups reported over the last week that the 60-year-old Suzan Der Kirkour was found dead outside of her village, al-Yaqoubiyeh.

According to the website of International Christian Concern (ICC), "An autopsy revealed that Suzan was tortured and repeatedly raped over an estimated period of nine hours. She was then stoned to death."

The French Christian humanitarian organization SOS Chrétien's d'Orient, wrote that "cruel was her ordeal. The reality is just as much… (a) virgin at sixty, she died under the repeated assaults of the jihadists of al-Nusra."

"The autopsy reveals that Suzan had been subjected to repeated rape since the afternoon of Monday (the 8th) until early Tuesday morning, only hours before her discovery. As a martyr, she is joined in heaven by thousands of Christian brothers, who died in the arena of barbarism," SOS Chrétien's d'Orient added.
https://www.jpost.com/Middle-East/Jihad ... ria-595978
Posted:
Sun Jul 21, 2019 9:37 am
Why WERE flights to Cairo suddenly suspended? ISIS terrorism fears as Lufthansa resumes flights but British Airways says cancellations will continue

Thousands of holidaymakers face disappointment as BA cancels flights to Cairo
The halted flights will remain in suspense for another six days over security fears
Germany's Lufthansa has resumed flights to Egyptian capital after suspension
BA said they are reviewing security arrangements in Cairo as a precaution
Posted:
Sun Jul 21, 2019 11:39 am
Posted:
Tue Jul 23, 2019 10:34 am
Feminist Magazine Admits Migrants Behind Most Pool Sex Assaults
Quote:
While police and other authorities have been hesitant to blame migrants for pool sex assaults, one German feminist magazine has published an article admitting most assaults are carried out by them.

The article, published by Cologne-based feminist magazine Emma, admitted that young migrant men were responsible for the majority of sex attacks in outdoor pools across the country.

"Women are massively harassed by migrants. Swimming champions are abused. In addition, there is a high degree of violence and the lack of any respect! An outdoor swimming pool should be a place of recreation and not a place of horror!" president of the Federal Association of German Swimming Champions Peter Harzheim told the magazine.

"Since 2015 there are problems in our baths with young migrants. It was a slow process. In the meantime, the impression prevails that only young Arab-born men can dare to go to the outdoor pool," Harzheim added.

According to the police of North Rhine-Westphalia, where the majority of sex attacks in outdoor pools are said to occur, most perpetrators are "young men of North African, Arab, and Turkish origin".



Switzerland: Pool Lifeguards Under Constant Threat From Migrant Men


President of the Swiss lifeguard association claims lifeguards across the country are threatened and abused by migrant-background youths.

https://www.breitbart.com/europe/2019/0 ... grant-men/

The magazine goes on to assert that women and even young girls are often harassed by migrant men claiming they are often fondled by them underwater, have their bikinis pulled down or are molested and filmed while in the pool's showers.

Some pools have attempted to alleviate the issues of sex attacks by banning migrants from the pools, but such bans have been overturned after being met with outrage from leftist groups.

"We need more backing from the police and also from politicians. These rioters must be cracked harder. Those who do not mention the problem by name, only aggravate it!" Harzheim said.

As early as 2016, Breitbart London reported on the rise of migrant sex attacks after a report from the Dusseldorf police was leaked in July of that year.
https://www.breitbart.com/europe/2019/0 ... -assaults/
| | | |
| --- | --- | --- |
| | Page 163 of 168 | [ 2515 posts ] |
Who is online
Users browsing this forum: No registered users and 13 guests