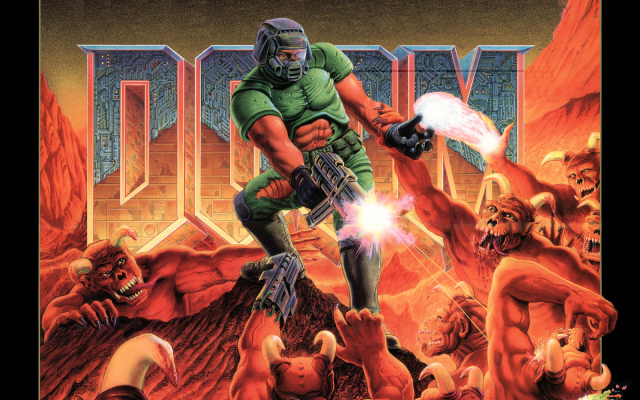 $1:
Ars editors remember their first taste of Doom, 20 years later
Looking back on two decades of fragging, from computer lab LANs to the TI-85.

On December 10, 1993, id Software uploaded the first publicly available version of Doom to a crowded BBS and FTP server, unleashing on the world the most influential game this side of Super Mario Bros. There were first-person shooters before Doom, notably id's own Wolfenstein 3D from 1992. Still, Doom added fiercer weapons and enemies, angled walls, and the illusion of height to really complete the faux 3D effect. Whatever came before it, Doom was the shooter that went on to become a cultural phenomenon that helped make the genre the market-leading force it is today.

To celebrate the important anniversary in gaming history, we went around the Ars Orbital HQ offices and asked the editors what they remembered about first being exposed to Doom two decades ago. Here's what sprang to mind.
Kyle Orland, Gaming Editor

Back in late 1993, my family didn't have a computer capable of running Doom, but my school had a whole lab full of them. This fact was pretty useless to me for gaming purposes, though: the most game-like thing we students were allowed to do with those educational machines was play around with Hypercard stacks.

The teachers, however, were not bound by such rules... at least not after hours. I distinctly remember being quickly shooed out of HTML club (where I learned my first tags) some time in early 1994 as a group of a half-dozen or so teachers filed in the door past me. It seems our computer teacher had found a cool new game and was eager to show it off to his colleagues. Of course, we kids begged and pleaded to be let in on the fun when we caught wind of this, but the best he could do was leave the door open so we could watch the first LAN party we had ever seen.

I had played Wolfenstein 3D a bit at this point, so I wasn't wowed by the smooth 3D world so much as the ability for multiple players to shoot at each other from different computers. The idea of each player needing a machine worth thousands of dollars to play multiplayer seemed so extravagant but also so enticing: no more tiny split screens on the living room TV, no more worrying that the other player could see my display for vital gameplay information ("No fair, you shouldn't have seen that red shell coming!").

It wasn't until years later that a decent PC and modem setup in my house made multi-computer gaming an actual thing for me, but I held the promise of that vicarious LAN party through those years and on to this day.

More:
http://arstechnica.com/gaming/2013/12/a ... ars-later/