Posted:
Fri Jul 16, 2021 9:04 am
Posted:
Mon Jul 19, 2021 9:58 am
Posted:
Wed Jul 21, 2021 6:26 am
$1:
Setting the (temperature) record straight in the Northwest Territories
It was hot at the end of June throughout much of the Northwest Territories, but no all-time, territory-wide weather records were broken, at least not officially.
During that heatwave a temperature sensor at the Fort Smith airport recorded 39.9 C.
That June 30 temperature could have been a record for the N.W.T., but it's not been made official because it's based on data from the wrong temperature sensor.
The official hottest day registered in the Northwest Territories remains 39.5 C in Deline on Thursday, August 6, 2015. That Deline record broke the previous record of 39.4 C recorded in Fort Smith on July 18, 1941, something that has escaped notice on some fronts.
Whaddya mean 'wrong temperature sensor'?
Fort Smith has two weather stations. There's an Environment Canada climate station — built and maintained to exacting World Meteorological Organization standards — and a NAV Canada temperature sensor at the Fort Smith airport that isn't.
The Environment Canada sensor generally provides official temperature records, but it was preoccupied on June 30.
Sara Hoffman, a meteorologist with Environment and Climate Change Canada in Edmonton, told CBC that it had gone into a routine diagnostic self-check late that afternoon. The good news is that the sensor works fine. The bad news is that it didn't record the temperature during the hottest part of the day.
"So ... at this time, we don't have an official value or daytime high for June 30, 2021," Hoffman said.
"What we can do is use the NAV Canada site as an estimate of the daytime high ... but that estimated value would not go into records or establish a record for the territory."
The 39.9 C recorded at the Fort Smith airport is also the temperature reported in Environment Canada's historical weather data online, but with the caveat that it's based on incomplete data.
The Environment Canada climate station for Fort Smith did record 38.6 C on June 30, but that's not official either because of the self-diagnostic routine that turned the sensor off.
"Because the data is missing an hour, we unfortunately have to go through a process of quality control to see whether or not we can accept the data before it will make its way into our database," Hoffman said.
https://www.cbc.ca/news/canada/north/nw ... -1.6110221
And there is another reason why temperature records need to be adjusted.
Posted:
Thu Jul 22, 2021 7:28 am
IPCC IPCC:
In summary, there is medium confidencethat since the 1950s some regions of the world have experienced trends toward more intense and longer droughts, in particular in southern Europe and West Africa, but in some regions droughts have become less frequent, less intense, or shorter, for example, central North America and northwestern Australia. There is medium confidence that anthropogenic influence has contributed to some changes in the drought patterns observed in the second half of the 20th century, based on its attributed impact on precipitation and temperature changes (though temperature can only be indirectly related to drought trends; see Box 3-3). However there is low confidence in the attribution of changes in droughts at the level of single regions due to inconsistent or insufficient evidence.
Post-AR4 studies indicate that there is medium confidence in a projected increase in duration and intensity of droughts in some regions of the world, including southern Europe and the Mediterranean region, central Europe, central North America, Central America and Mexico, northeast Brazil, and southern Africa.
Elsewhere there is overall low confidence because of insufficient agreement of projections of drought changes (dependent both on model and dryness index). Definitional issues and lack of data preclude higher confidence than medium in observations of drought changes, while these issues plus the inability of models to include all the factors likely to influence
droughts preclude stronger confidence than medium in the projections.
3.5.2. Floods
. . .
In summary, there is limited to medium evidence available to assess climate-driven observed changes in the magnitude and frequency of floods at a regional scale because the available instrumental records of floods at gauge stations are limited in space and time, and because of confounding effects of changes in land use and engineering. Furthermore, there is low agreement in this evidence, and thus overall low confidence at the global scale regarding even the sign of these changes. There is low confidence (due to limited evidence) that anthropogenic climate change has affected the magnitude or frequency of floods, though it has detectably influenced several components of the hydrological cycle such as precipitation and snow melt (medium confidence to high confidence), which may impact flood trends. Projected precipitation and temperature changes imply possible changes in floods, although overall there is low confidence in projections of changes in fluvial floods. Confidence is low due to limited evidence and because the causes of regional changes are complex, although there are exceptions to this statement.
There is medium confidence(based on physical reasoning) that projected increases in heavy rainfall (Section 3.3.2) would contribute to increases in rain-generated local flooding, in some catchments or regions.
Earlier spring peak flows in snow melt- and glacier-fed rivers are very likely, but there is low confidence in their projected magnitude.
https://www.ipcc.ch/site/assets/uploads ... INAL-1.pdf
Posted:
Sat Jul 24, 2021 7:59 am
$1:
Nuclear power's reliability is dropping as extreme weather increases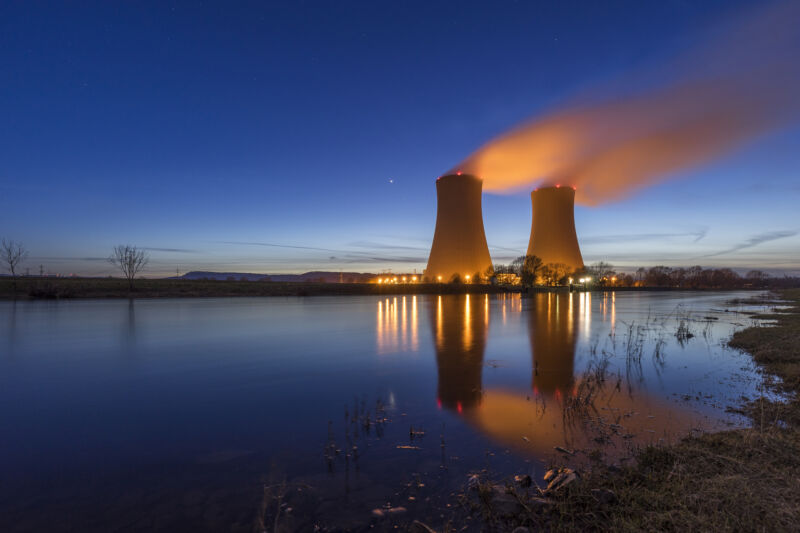 With extreme weather causing power failures in California and Texas, it's increasingly clear that the existing power infrastructure isn't designed for these new conditions. Past research has shown that nuclear power plants are no exception, with rising temperatures creating cooling problems for them. Now, a comprehensive analysis looking at a broader range of climate events shows that it's not just hot weather that puts these plants at risk—it's the full range of climate disturbances.
Heat has been one of the most direct threats, as higher temperatures mean that the natural cooling sources (rivers, oceans, lakes) are becoming less efficient heat sinks. However, this new analysis shows that hurricanes and typhoons have become the leading causes of nuclear outages, at least in North America and South and East Asia. Precautionary shutdowns for storms are routine, and so this finding is perhaps not so surprising. But other factors—like the clogging of cooling intake pipes by unusually abundant jellyfish populations—are a bit less obvious.
Overall this latest analysis calculates that the frequency of climate-related nuclear plant outages is almost eight times higher than it was in the 1990s. The analysis also estimates that the global nuclear fleet will lose up 1.4 percent—about 36 TWh—of its energy production in the next 40 years, and up to 2.4 percent, or 61 TWh, by 2081-2100.
Heat, storms, drought
The author analyzed publicly available databases from the International Atomic Energy Agency to identify all climate-linked shutdowns (partial and complete) of the world's 408 operational reactors. Unplanned outages are generally very well documented, and available data made it possible to calculate trends in the frequency of outages that were linked to environmental causes over the past 30 years. The author also used more detailed data from the last decade (2010 – 2019) to provide one of the first analyses of which types of climate events have had the most impact on nuclear power.
While the paper doesn't directly link the reported events to climate change, the findings do show an overall increase in the number of outages due to a range of climate events.
The two main categories of climate disruptions broke down into thermal disruptions (heat, drought, and wildfire) and storms (including hurricanes, typhoons, lightning, and flooding). In the case of heat and drought, the main problem is the lack of cool enough water—or in the case of drought, enough water at all—to cool the reactor. However, there were also a number of outages due to ecological responses to warmer weather; for example, larger than usual jellyfish populations have blocked the intake pipes on some reactors.
Storms and wildfires, on the other hand, caused a range of problems, including structural damage, precautionary preemptive shutdowns, reduced operations, and employee evacuations. In the timeframe of 2010 to 2019, the leading causes of outages were hurricanes and typhoons in most parts of the world, although heat was still the leading factor in Western Europe (France in particular). While these represented the most frequent causes, the analysis also showed that droughts were the source of the longest disruptions, and thus the largest power losses.
The author calculated that the average frequency of climate-linked outages went from 0.2 outages per year in the 1990s to 1.5 outages in the timeframe of 2010 to 2019. A retrospective analysis further showed that for every 1°C rise in temperature (above the average temperature between 1951 and 1980), the energy output of the global fleet fell about 0.5 percent.
https://arstechnica.com/science/2021/07 ... r-outages/
Posted:
Sat Jul 24, 2021 8:24 am
DrCaleb DrCaleb:
So....they want to trap all that useable oil and not make any money whatsoever to help themselves? I dunno about that line of thinking. Oil still makes the world go around. Shunning it is dumb.
$1:
Nuclear power's reliability is dropping as extreme weather increases
Until someone invents reliable fusion-powered energy, nuclear is by far still the way to go. Clean, efficient, and plentiful. I support nukes!
-J.
Posted:
Sat Jul 24, 2021 3:16 pm
CDN_PATRIOT CDN_PATRIOT:
DrCaleb DrCaleb:
So....they want to trap all that useable oil and not make any money whatsoever to help themselves? I dunno about that line of thinking. Oil still makes the world go around. Shunning it is dumb.
So, they have the freedom to do with their land whatever doesn't offend your sensibilities?
Perhaps they care more about their environment changing than they do about money.
CDN_PATRIOT CDN_PATRIOT:
$1:
Nuclear power's reliability is dropping as extreme weather increases
Until someone invents reliable fusion-powered energy, nuclear is by far still the way to go. Clean, efficient, and plentiful. I support nukes!
-J.
I prefer nuclear too, but it has limitations. Nuclear doesn't turn on and turn off, it's more like steering a container ship full of eggs. And there is the annoying part where you have to keep it cool, or it kills everything around it. Like in the article, it's harder to keep it cool, if you have no cool water.
Posted:
Fri Jul 30, 2021 9:22 am
$1:
Climate tipping points are difficult to predict. In Canada and beyond, they might have already arrived
Recent extreme weather suggests the climate is no longer changing in a gradual, predictable way
Scientists have been watching extreme weather events unfold all over the world this summer, seeing the many links between heatwaves, floods, droughts and climate change.
But the scale of some of these events, and just how dramatically they have upended previous records, suggests that the climate is no longer changing in a gradual, predictable way.
Deadly heat waves and other wild weather are putting renewed attention on tipping points — the idea that major shifts to key ecosystems, such as Greenland's ice sheets or the Amazon rainforest, can cause large, irreversible changes to the planet's climate balance.
"Tipping points are large-scale changes that could happen abruptly and could be potentially irreversible," said Owen Gaffney, an analyst at the Stockholm Resilience Centre, a research institute
https://www.cbc.ca/news/science/climate ... -1.6122867
Posted:
Fri Jul 30, 2021 10:28 am
There's been a lot of alarming weather incidents this year, although you have to also to remember to remain objective. In any given year, the chances are the main news story of the year will be climate/geo related--earthquakes, tsunamis, volcanoes, floods, hurricanes, etc

Current models didn't predict the heat dome and the European floods as they should have. Or the Blob, which just seems to pop up without anyone really understanding why. The changes in the jet stream are quite alarming.

I think they are talking some countries getting together to invest some super-computing technology to help with forecasting now.

Probably going to start seeing a sharp increase in climate refugees soon as well.
Posted:
Fri Jul 30, 2021 12:08 pm
Zipperfish Zipperfish:
Current models didn't predict the heat dome and the European floods as they should have. Or the Blob, which just seems to pop up without anyone really understanding why. The changes in the jet stream are quite alarming.
Reminds me of a recent interview:
$1:
Goodbye 'normal': What climate change is doing to summer in Canada

While those changes have been predicted as greenhouse gas emissions continue to rise, the deadly late-June heatwave is a clear example that climate change will also bring events we don't see coming.
It was so extreme that when an international team of scientists analyzed the role of climate change in the heatwave, their statistical modelling at first told them the temperatures observed were "impossible," said Geert Jan van Oldenbourgh of the World Weather Attribution Group.
Meteorologist Brett Soderholm was forecasting for the B.C. Wildfire Service in Prince George, and had to completely ignore the climate normals that are usually a "sanity check" for his forecasts —
because the temperatures coming were 20 degrees above normal
.
"Normal is going to be an increasingly difficult concept for us to wrap our heads around," said Soderholm.
"Looking ahead to the future, I think we're just going to be able to use normal as a reference point for how extreme we are from one side to the next."
https://www.cbc.ca/radio/whatonearth/go ... -1.6106020
So temperatures are so off that they run outside the confidence interval.
Posted:
Tue Aug 03, 2021 6:25 am
$1:
June heatwave was the 'most extreme' on record for North America

The devastating heatwave that struck the Northwest US and southwest Canada in June was "the most extreme summer heatwave" ever recorded in North America, according to a new analysis from nonprofit research group Berkeley Earth. That's based on the magnitude of the heatwave, or how much warmer it was than normal. Record temperatures in the region reached roughly 20 degrees Celsius (or 36 °F) hotter than average in June.
Canada recorded its hottest temperature ever on June 29th when the village of Lytton in British Columbia reached an astonishing 49.6 degrees Celsius (121 degrees Fahrenheit). Typical temperatures there in June are closer to 20 to 30 degrees Celsius (68 to 86 degrees Fahrenheit).
The consequences of that heat are staggering. Scorching temperatures fed wildfires, which burned down 90 percent of Lytton. There were at least 570 heat-related deaths in Canada and at least 194 in the US. Thousands more people wound up in emergency departments.
The late June heatwave was a "1,000-year event…hopefully," according to a preliminary analysis by the National Oceanic and Atmospheric Administration (NOAA). The severity of the heat would have been "virtually impossible" without human-caused climate change, both NOAA and a separate analysis from an international team of researchers found.
For the entire Northern Hemisphere, it was the warmest June on record averaged across all land areas. Nearly 4 percent of the surface of the Earth hit record high average temperatures during the first half of 2021, according to the Berkeley Earth analysis.
That's despite the cooling effect of a La Niña event
. Looking at the first six months of the year,
"Nowhere has been record cold,"
tweeted Berkeley Earth lead scientist Robert Rohde.
https://www.theverge.com/2021/7/30/2260 ... th-america
Posted:
Tue Aug 03, 2021 9:05 am
$1:
Yukon permafrost thaw reaching 'critical point' in some areas, says researcher
Permafrost in Canada's northwest is thawing much faster than researchers predicted 20 years ago, according to the president of the International Permafrost Association.
And Chris Burn says the rate and extent of the thaw could mean massive problems that are simply impossible, or at least too expensive, to fix.
"In some places, the ground is reaching a critical point where it's very close to thawing out completely," Burn said.
"That really makes a big difference to the ability of the ground to bear structures like roads or buildings."
Burn, a professor at Carleton University, has been studying permafrost in Yukon for four decades. In 2018, he was awarded the governor general's Polar Medal for his ongoing research work.
He's become increasingly alarmed by what he's seen in recent years. It's not just that permafrost is thawing faster, but also that new things are happening as a result.
As an example, he points to slumps and landslides that result from instability in the soil where thaw is happening. Landslides have become more common in many parts of Yukon, he says, including along the Dempster Highway. They're plainly visible along one section near the Tombstone Mountains, he says.
"You can count something like 38 landslide tracks that weren't there in 2015," Burn said.
Some landslides have caused washouts that close the highway for periods of time. Road maintenance costs inevitably go up, he says.
"Those kinds of costs are substantial, and there's no sign that those sorts of costs are going to plateau or decrease. They will just constantly increase as some of these events keep occurring frequently."
https://www.cbc.ca/news/canada/north/yu ... -1.6125023
Posted:
Fri Aug 06, 2021 5:54 am
$1:
Climate contrarians predicted the world would cool—it didn't
Modern climate science is old enough for many of its early predictions to be checked against evidence—the overall global warming trend; specific patterns like nighttime warming exceeding daytime warming; or the cooling of the stratosphere. Even with all that new evidence, the estimated amount of warming you get for a given amount of greenhouse gas emissions hasn't really changed since 1979.
The flip side to this is also true. Those who have opposed climate science's conclusions—they're a broad menagerie, including scientists in different fields, politics-obsessed bloggers, and think-tank employees—have also been squawking long enough for its predictions to be tested. Despite their alternate-reality insistence that climate science never predicted anything, these contrarians don't spend much time showing off their own predictions' track record.
The reason for that is that the track record is very, very bad. Like the cringeworthy poetry you wrote in high school, they probably hope that everyone will just forget about it.
. . .
2008, Don Easterbrook (source): "global climates can be expected to cool over the next 25-30 years[...] The real danger in spending trillions of dollars trying to reduce atmospheric CO2 is that little will be left to deal with the very real problems engendered by global cooling."
Easterbrook, a retired professor of geology, makes this claim based on the appearance of roughly 30-year fluctuations in a Greenland ice core. Inappropriately extrapolating this local record to the entire globe, he declared that warming between 1977-1998 was entirely due to this unidentified cycle. That would mean 30 years of cooling was next—physics of the greenhouse effect be damned.
He repeated this claim over a number of years, starting in 1998, when he predicted that temperatures would start dropping in the first decade of the 2000s. They did not.
2009, Henrik Svensmark (source): "In fact global warming has stopped and a cooling is beginning[...] Everything indicates that the Sun is going into some kind of hibernation[...]"
Svensmark is a Danish physicist who long pushed a hypothesis that climate should fluctuate with solar and orbital cycles because incoming galactic cosmic rays—which are less common when the Sun's magnetic field deflects more of them—controlled the production of condensation nuclei for clouds.
Further Reading
Sun-clouds-climate connection takes a beating from CERN
An experiment at CERN was actually built to test this mechanism, which didn't pan out. It's no surprise, then, that the predictions of imminent cooling (including those in his 2007 book titled The Chilling Stars: A New Theory of Climate Change) didn't pan out, either.
. . .
2013, Judith Curry and Marcia Wyatt (source): "the current pause in global warming could extend into the 2030s."
Curry was a professor of Earth and Atmospheric Sciences at Georgia Tech before retiring to start a consulting business. Through her blog, Curry lent a veneer of seriousness to all manners of low-effort contrarian nonsense while proclaiming herself persecuted by the rest of the scientific community. Her central theme was that natural climate variability was larger than everyone thought, with any clarity about human-caused climate change swallowed up by what she called the "uncertainty monster."
For several years around the time of this paper, Curry pushed a "stadium wave" explanation for recent temperatures. The idea was that the (cherry-picked) flatter temperature trend of the 2000s was evidence of a confluence of natural cycles that would continue to cancel out human-caused global warming for several decades. But instead, the run of La Niña years that was actually causing it soon gave way—as everyone else knew it would—and the long-term warming trend plodded onward.
. . .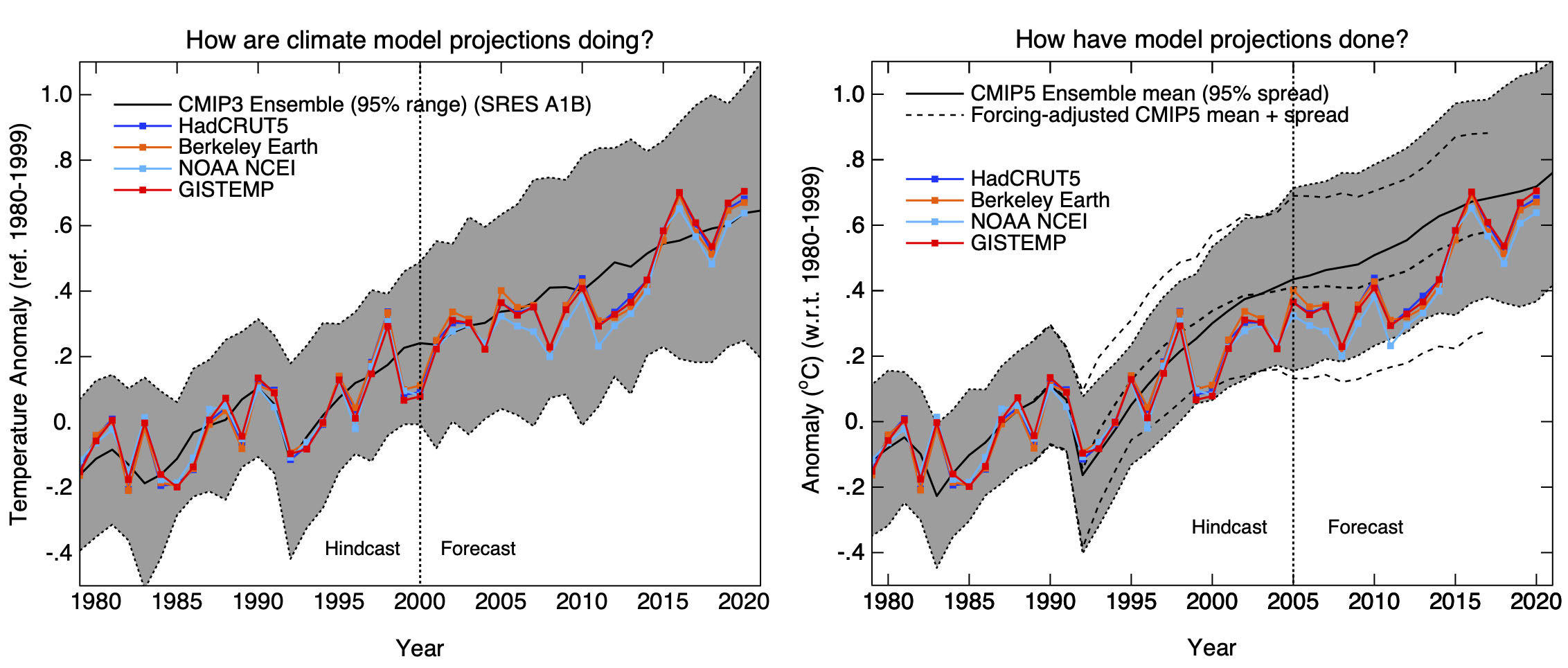 $1:
Here's how the model projections (gray/black) from the last two IPCC reports compare to observed temperatures (colored lines) through 2020.
https://arstechnica.com/science/2021/08 ... l-cooling/
| | | |
| --- | --- | --- |
| | Page 8 of 127 | [ 1898 posts ] |
Who is online
Users browsing this forum: No registered users and 2 guests