Author
Topic Options

Posted:

Sat Sep 04, 2021 3:52 pm

llama66 llama66:

ICE=Internal Combustion Engine

I'm too old to keep track of all these newfangled abbreviations now.

Last edited by raydan on Sat Sep 04, 2021 5:20 pm, edited 1 time in total.
Posted:
Sat Sep 04, 2021 5:22 pm
DrCaleb DrCaleb:
raydan raydan:
llama66 llama66:
ICE=Internal Combustion Engine
I'm too old to keep track all all these newfangled abbreviations now.
They are called TLAs. Three Letter Acronyms.
I would call that a 3LA... but what about FLAs and FLAs, SLAs and SLAs.
I see a problem.
Posted:
Sat Sep 04, 2021 8:03 pm
DrCaleb DrCaleb:
Thanos Thanos:
aka "Let's do nothing at all because the joy of shaming and the thrill of virtue signaling is simply too satisfying to ever give up".
You guys sometimes.
Mmmm, no. More like 'lets stop subsidizing bullshit that prolongs the problem.'.
The companies wouldn't be investing hundreds of millions of dollars into a gimmick. This is real, this isn't the UCP's bogus "War Room".
And O&G will be the main energy source for decades to come, JT's dreaming otherwise. Want to make a difference? Ban coal burning for electrical generation, and do it immediately. That's the shit doing most of the damage and it's our buddies in China that are almost single-handedly killing the world by using coal for their power.
Posted:
Mon Sep 06, 2021 10:32 am
There are plenty of Mennonites here around Vanderhoof. The difference between them and the Amish is that they're allowed to drive an F350 4x4.
So long as they don't exceed the speed of a horse.

Drive that section of Hwy 16, you'll see what I mean quick enough, Literally the only section of highway where I ever passed people when I had the 660cc mini-truck.
Posted:
Tue Sep 07, 2021 7:09 am
$1:
Climate Change Is Bankrupting America's Small Towns
It has been almost five years since Hurricane Matthew flooded the small town of Fair Bluff, on the coastal plain of North Carolina. But somehow, the damage keeps getting worse.
The storm submerged Main Street in 4 feet of water, destroyed the town hall and the police and fire departments, and flooded almost one-quarter of Fair Bluff's homes. After two weeks underwater, the roads buckled. The school and grocery store shut, then did not reopen. When Hurricane Florence submerged the same ground two years later, in 2018, there was little left to destroy.
What started as a physical crisis has become an existential one. The town's only factory, which made vinyl products, closed a few months after Matthew. The population of around 1,000 fell by about half. The federal government tried to help, buying the homes of people who wanted to leave, but those buyouts meant even less property tax, tightening the fiscal noose.
Al Leonard, the town planner, who is responsible for its recovery, said his own job may have to be eliminated, and maybe the police department, too.
Climate shocks are pushing small rural communities like Fair Bluff, many of which were already struggling economically, to the brink of insolvency. Rather than bouncing back, places hit repeatedly by hurricanes, floods and wildfires are unraveling; residents and employers leave, the tax base shrinks, and it becomes even harder to fund basic services.
That downward spiral now threatens low-income communities in the path this week of Hurricane Ida and those hit by the recent flooding in Tennessee — hamlets regularly pummeled by storms that are growing more frequent and destructive because of climate change.
https://news.yahoo.com/climate-change-b ... 47547.html
Posted:
Tue Sep 07, 2021 7:18 am
$1:
21st-century storms are overwhelming 20th-century cities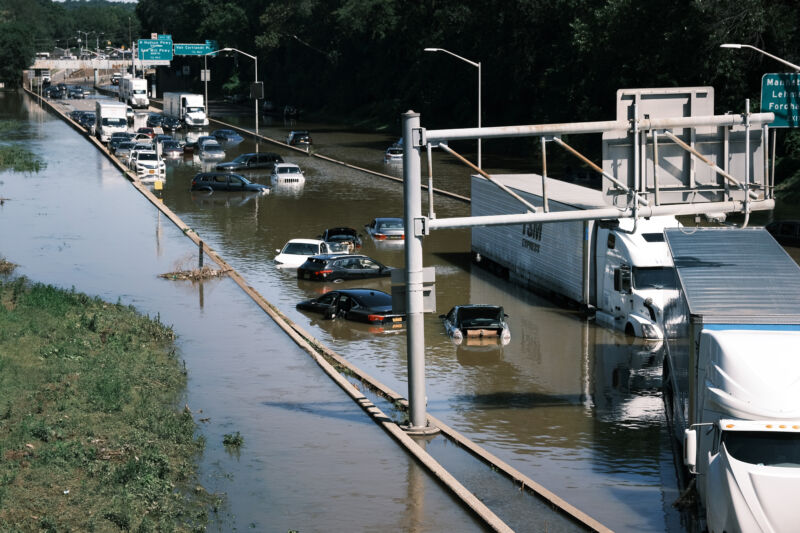 In just a few hours on Wednesday night, between 6 and 10 inches of rain fell on New York City—more than has fallen on San Jose, California, in the past year. Water rose in basement apartments and leaked through roofs. Rain streamed into subway stations and pooled on the tracks. The remains of Hurricane Ida, which had thrashed the Gulf Coast earlier in the week, brought floods to the Northeast. Across the region, the death toll reached 40 by Thursday evening. Subway delays and suspensions continue.
The city's infrastructure, you see, was built in the late 19th and early 20th centuries to withstand the sort of storm that comes every five to 10 years. Now brutal, record-breaking storms are an annual occurrence. What was left of Ida transformed the scene of everyday commutes into a disturbing reminder that climate change comes for us all. Wildfire thunderclouds in the West, blackouts in Texas, hurricanes in the South, torrential downpours in the East: "It's all the stuff we said would happen 20 years ago," says Zeke Hausfather, a climate scientist and the director of climate and energy at the Breakthrough Institute. "It's just a little crazy to see it all happening at once."
The storm flooded roadways. But it also inundated the alternatives aimed at getting people out of their cars: bike lanes, sidewalks, and public transit systems. For a time in New York on Thursday, all that was underwater. The images of water spilling into subway stations brought the crisis home. "You don't have to be a person with a great understanding of infrastructure to know that that is a problem," says Michael Horodniceanu, former president of the Metropolitan Transportation Authority's Capital Construction Company and now the chair of the Institute of Construction Innovations at NYU. "We're starting to see the results of what is, in my view, a certain amount of lax attention to what our infrastructure is doing."
New York had its first climate-related wake-up call nine years ago, when Hurricane Sandy brought a storm surge that flooded low-lying areas and, yes, subway stations. Since then, the city has spent almost $20 million on climate-proofing the city, according to the Mayor's Office of Resiliency. But some of that funding went to solving a different problem than the one presented by Ida: water coming from the rivers. This week, all the wet stuff fell from the sky, threatening even areas above sea level.
Ida's remnants dumped all that water on the Northeast because of a climatic quirk. You might expect less rainfall on a warming planet, but some parts of the world, including the US' Northeast and Midwest, are seeing an increase in heavy precipitation. Temperature directly affects how much moisture the atmosphere can "hold" before it starts raining, says Hausfather. Cooler air holds less moisture—and hotter air holds more moisture that then falls as rain.
https://arstechnica.com/science/2021/09 ... ry-cities/
Posted:
Tue Sep 07, 2021 8:17 am
$1:
Why the North Saskatchewan River has gone from brown to blue
The North Saskatchewan River looks less like chocolate milk than usual.
The clear, aquamarine waters have revealed hidden sandbars, darting fish, submerged shopping carts — and a flood of questions from Edmontonians seeking clarity on the colour change.
The river, which starts at the Saskatchewan Glacier in the Columbia Icefields in Alberta and flows through to central Saskatchewan, is usually a murky brown by the time it reaches Edmonton in summer.
In recent weeks, however, the water has taken on the hues of Alberta's glacial lakes, thanks to dry, hot weather combined with maintenance at a major dam.
"It's unusual," said Mark Loewen, a University of Alberta professor of water resources engineering. "Of all the years I've lived in Edmonton and been paying attention to the river, which is quite a few now, this is the clearest [it's been]."
Settled sediment
The drought conditions along the river basin have reduced the amount of water flowing through the river, meaning sediment isn't being stirred up, Loewen said.
Provincial data shows the highest flow rate recorded this year was 350 cubic metres of water per second — a huge drop from normal.
The river's average flow usually peaks at 1,200 cubic metres per second, Loewen said. Last year, it hit 1,900 during heavy rains in July.
"That's when you see the really muddy-looking, sediment-laden water in the river," Loewen said. "If you don't have any higher flows like that, the water will be clearer."
https://www.cbc.ca/news/canada/edmonton ... -1.6162861
Posted:
Tue Sep 07, 2021 11:04 am
Posted:
Tue Sep 07, 2021 12:24 pm
Posted:
Fri Sep 10, 2021 6:13 am
Posted:
Fri Sep 10, 2021 7:32 am
DrCaleb DrCaleb:
I think people will respond to that just as negatively.
No one wants to hear: "We're fucked and we're not doing anything to help the situation." Or: "To keep this planet some kind of livable, everyone on the west is going to have to radically alter their lifestyle."
Posted:
Fri Sep 10, 2021 7:51 am
xerxes xerxes:
DrCaleb DrCaleb:
I think people will respond to that just as negatively.
No one wants to hear: "We're fucked and we're not doing anything to help the situation." Or: "To keep this planet some kind of livable, everyone on the west is going to have to radically alter their lifestyle."
You are right, it's been said over the last 30 - 40 years, and no one listened. So I agree no one wants to hear it, but with the signs becoming more and more obvious, and actually killing people, I think people are starting to listen.
| | | |
| --- | --- | --- |
| | Page 19 of 42 | [ 627 posts ] |
Who is online
Users browsing this forum: No registered users and 2 guests