Author
Topic Options

Posted:

Thu Dec 01, 2011 8:36 pm

A few thoughts on Helene.

wiki wiki:

Helene (moon)
Helene ( /ˈhɛlɨniː/ hel-ə-nee;[4] Greek: Ἑλένη) is a moon of Saturn. It was discovered by Pierre Laques and Jean Lecacheux in 1980 from ground-based observations at Pic du Midi Observatory, and was designated S/1980 S 6.[5] In 1988 it was officially named after Helen of Troy, who was the granddaughter of Cronus (Saturn) in Greek mythology.[6] The moon is also designated Saturn XII (12), a number which it received in 1982, under the designation Dione B,[7] because it is co-orbital with Dione and located in its leading Lagrangian point (L4). It is one of four known trojan moons.

Exploration

Helene was initially observed from Earth in 1980,[5] and Voyager flybys of Saturn in the early 1980s allowed much closer views. The Cassini–Huygens mission, which went into orbit around Saturn in 2004, provided still better views, and allowed more in-depth analysis of the moon, including views of the surface under different lighting conditions. Some of the closest images of Helene to date are from the Cassini spacecraft's 1800 km flyby on March 3, 2010, and another very successful imaging sequence occurred in June 2011. There have been many other approaches over the course of the C-H mission, and future flybys may yield even more data.


Oddly, I find this moon quite impressive, and I suspect it must be the illusion of it being snow covered. The final image I threw in suggests a snow covered plain with hills and valleys.

A beautiful moon.
Posted:
Sat Dec 03, 2011 5:56 am
Themista Themista:
Love the Enceladus photos! Can anyone give me the story behind the name? You know, Io and Europa were love interests of Jupiter in mythology, something like that. Would appreciate it. Thanks!
Enceladus
Posted:
Sat Dec 03, 2011 7:27 am
Musing on Mimas.
wiki wiki:
Mimas is a moon of Saturn which was discovered in 1789 by William Herschel.[8] It is named after Mimas, a son of Gaia in Greek mythology, and is also designated Saturn I.

By diameter (396 kilometers) the twentieth-largest moon in the Solar System, Mimas is the smallest known astronomical body that is rounded in shape due to self-gravitation.

Discovery

Mimas was discovered by the astronomer William Herschel on 17 September 1789. He recorded his discovery as follows: "The great light of my forty-foot telescope was so useful that on the 17th of September, 1789, I remarked the seventh satellite, then situated at its greatest western elongation."[9]

Name

Mimas is named after one of the Titans in Greek mythology, Mimas. The names of all seven then-known satellites of Saturn, including Mimas, were suggested by William Herschel's son John in his 1847 publication Results of Astronomical Observations made at the Cape of Good Hope.[10][11] He named them after Titans specifically because Saturn (the Roman equivalent of Kronos in Greek mythology), was the leader of the Titans and ruler of the world for some time.

The adjectival form of Mimas is Mimantean or Mimantian,[12][13] and this is accepted by the Cassini mission at JPL.[14]

Physical characteristics

For more details on this topic, see List of geological features on Mimas.

Cassini view of Mimas's trailing hemisphere, showing craters up to 6 km deep and 1-km-deep chasmata (grooves). The large crater near center is Morgan; Arthur is close to the lower right limb. Pelion Chasma is faintly visible as a horizontal trough left of Arthur and below Morgan.
The low density of Mimas, 1.15 g/cm3, indicates that it is composed mostly of water ice with only a small amount of rock. Due to the tidal forces acting on it, the moon is not perfectly spherical; its longest axis is about 10% longer than the shortest. The ellipsoid shape of Mimas is especially noticeable in recent images from the Cassini probe.

Mimas' most distinctive feature is a colossal impact crater 130 kilometres (81 mi) across, named Herschel after the moon's discoverer. Herschel's diameter is almost a third of the moon's own diameter; its walls are approximately 5 kilometres (3.1 mi) high, parts of its floor measure 10 kilometres (6.2 mi) deep, and its central peak rises 6 kilometres (3.7 mi) above the crater floor. If there were a crater of an equivalent scale on Earth it would be over 4,000 kilometres (2,500 mi) in diameter, wider than Australia. The impact that made this crater must have nearly shattered Mimas: fractures can be seen on the opposite side of Mimas that may have been created by shock waves from the impact travelling through the moon's body.[citation needed]

The Mimantean surface is saturated with smaller impact craters, but no others are anywhere near the size of Herschel. Although Mimas is heavily cratered, the cratering is not uniform. Most of the surface is covered with craters greater than 40 kilometres (25 mi) in diameter, but in the south polar region, craters greater than 20 kilometres (12 mi) are generally lacking.


Orbital resonances

A number of features in Saturn's rings are related to resonances with Mimas. Mimas is responsible for clearing the material from the Cassini Division, the gap between Saturn's two widest rings, the A ring and B ring. Particles in the Huygens Gap at the inner edge of the Cassini division are in a 2:1 resonance with Mimas. They orbit twice for each orbit of Mimas. The repeated pulls by Mimas on the Cassini division particles, always in the same direction in space, force them into new orbits outside the gap. The boundary between the C and B ring is in a 3:1 resonance with Mimas. Recently, the G ring was found to be in a 7:6 co-rotation eccentricity resonance with Mimas; the ring's inner edge is about 15,000 kilometres (9,300 mi) inside Mimas' orbit.[citation needed]

Mimas is also in a 4:2 mean motion resonance with the larger moon Tethys, and in a 2:3 resonance with the outer F ring shepherd moonlet, Pandora.

Exploration

Pioneer 11 flew by Saturn in 1979, and its closest approach to Mimas was 104,263 km on September 1, 1979.[15] Voyager 1 flew by in 1980, and Voyager 2 in 1981.

Mimas has been imaged several times by the Cassini orbiter, which entered into orbit around Saturn in 2004. A close flyby occurred on February 13, 2010, when Cassini passed by Mimas at 9,500 km (5,900 mi).

Unusual resemblances

When seen from certain angles, Mimas closely resembles the Death Star, a fictional space station known from the film Star Wars Episode IV: A New Hope, which is said to be roughly 140 kilometres in diameter. This resemblance stems from the fact that Herschel can appear in Mimas' northern hemisphere, much like the concave disc of the Death Star's "superlaser". This is purely coincidental, as the first film was made three years before the first close-up photographs of Mimas were taken.[16]

In 2010, NASA revealed a temperature map of Mimas, using images obtained by Cassini. The warmest regions, which are along one edge of the moon, create a shape similar to the video game character Pac-Man, with Herschel Crater assuming the role of an "edible dot" known from Pac-Man gameplay.[17][18][19]


Saturn's moon are wondrous in their differences - whether Titan, Hyperion, or Mimas. Cassini has offered an amazing opportunity to image these moons, but it is a physical landing I hope to see. The Hyugens probe to Titan offered a tantilizing but ultimately a terribly teasing glimpse of Titan.
A landing on Mimas wouldn't be my first choice, but Mimas demands some very close attention come missions in the future.
Posted:
Thu Dec 08, 2011 6:06 pm
Eros
$1:
433 Eros is a near-Earth asteroid (NEA) discovered in 1898, and the first asteroid to be orbited by a probe (in 2000). It is an S-type asteroid approximately 34.4×11.2×11.2 km in size, the second-largest NEA after 1036 Ganymed, and belongs to the Amor group.

Eros is a Mars-crosser asteroid, the first known to come within the orbit of Mars. Objects in such an orbit can remain there for only a few hundred million years before the orbit is perturbed by gravitational interactions. Dynamical integrations suggest that Eros may evolve into an Earth-crosser within as short an interval as 2 million years, and has a roughly 50% chance of doing so over a time scale of 108–109 years.[4] It is a potential Earth impactor,[4] believed to be larger than the impactor that created the Chicxulub Crater that led to the extinction of the dinosaurs.[5]

The NEAR Shoemaker probe visited Eros twice, first with a 1998 flyby, and then by orbiting it in 2000 when it extensively photographed its surface. On February 12, 2001, at the end of its mission, it landed on the asteroid's surface using its maneuvering jets.

The rarely used adjectival form of the name Eros is Erotian ( /ɪˈroʊʃən/). Eros is pronounced /ˈɪərɒs/ irr-os and the Greek is Ἔρως. It is named after the Greek god of love, Eros.

Surface gravity depends on the distance from a spot on the surface to the center of a body's mass. The Erotian surface gravity varies greatly, since Eros is not a sphere but an elongated peanut-shaped (or potato- or shoe-shaped) object. The daytime temperature on Eros can reach about 100 °C at perihelion. Nighttime measurements fall near -150 °C. Eros's density is 2,400 kg/m3, about the same as the density of Earth's crust. It rotates once every 5.27 hours.

NEAR scientists have found that most of the larger rocks strewn across Eros were ejected from a single crater in a meteor collision approximately 1 billion years ago. This impact may also be responsible for the 40 percent of the Erotian surface that is devoid of craters smaller than 0.5 kilometers across. It was originally thought that the debris thrown up by the collision filled in the smaller craters. An analysis of crater densities over the surface indicates that the areas with lower crater density are within 9 kilometers of the impact point. Some of the lower density areas were found on the opposite side of the asteroid but still within 9 kilometers.[6]

It is theorized that seismic shockwaves propagated through the asteroid, shaking smaller craters into rubble. Since Eros is irregularly shaped, a 9-kilometer straight line through the asteroid can reach locations that would be further away if travelling across the surface, thus leading to the uneven pattern of crater density on the surface.[6]

History

Regolith of Eros, area shown is about 12 meters (40 feet) across and taken during NEAR's descent
As one of the larger near-Earth asteroids (NEAs), Eros has played a significant role in history. It was discovered on the same night (13 August 1898) by Gustav Witt in Berlin and Auguste Charlois at Nice.[7] Witt was taking a 2-hour exposure of Beta Aquarii to secure astrometric positions of asteroid 185 Eunike.[8]

During the opposition of 1900–1901, a worldwide program was launched to make parallax measurements of the asteroid to determine the solar parallax (or distance to the sun), with the results published in 1910 by Arthur Hinks of Cambridge.[9] A similar program was then carried out, during a closer approach, in 1930–1931 by Harold Spencer Jones.[10] The value obtained by this program was considered definitive until 1968, when greater faith was placed in radar and dynamical parallax methods.

Eros was one of the first asteroids to be visited by a spacecraft, and the first to be orbited and soft-landed on. NASA spacecraft NEAR Shoemaker entered orbit around Eros in 2000, and came to rest on its surface in 2001.

Visibility from Earth

On January 31, 2012, Eros will pass the Earth at 0.17867 AU (26,729,000 km; 16,608,000 mi),[11][12] about 70 times the distance to the Moon, with a visual magnitude of +8.1.[13] During rare oppositions, every 81 years, such as in 1975 and 2056, Eros can reach a magnitude of +7.0,[3] which is brighter than Neptune and brighter than any main-belt asteroid except 4 Vesta and, rarely, 2 Pallas and 7 Iris. Under this condition, the asteroid actually appears to stop, but unlike the normal condition for a body in heliocentric conjunction with the Earth, it never appears to be retrograde. Its synodic period of over 846 earth days is among the largest of any body in the Solar System.

Legal controversy

In an experimental legal case, Eros was claimed as property by Gregory W. Nemitz of OrbDev. Nemitz argued that, according to the homestead principle, he had the right to claim ownership of any celestial body that he made use of; he claimed he had designated Eros a spacecraft parking facility and wished to charge NASA a parking and storage fee of twenty cents per year for NEAR Shoemaker. An expert in extraterrestrial real estate issues, Virgiliu Pop, responded by using the same novelty-deed registry Nemitz had used for Eros to claim ownership of the Sun, stating:

I, for one, intended this move only to show how ridiculous a property rights system in outer space would be if it were to be based solely on claim unsubstantiated by any actual possession.

—Virgiliu Pop [14]
Posted:
Wed Jan 04, 2012 6:50 pm
Oh that Dione...
Wiki Wiki:
Dione ( /daɪˈoʊniː/;[6] Greek: Διώνη) is a moon of Saturn discovered by Cassini in 1684.[7] It is named after the titan Dione of Greek mythology. It is also designated Saturn IV.

Cassini named the four moons he discovered (Tethys, Dione, Rhea and Iapetus) Sidera Lodoicea ("the stars of Louis") to honor king Louis XIV. Cassini found Dione using a large aerial telescope he set up on the grounds of the Paris Observatory.[8] The satellites of Saturn were not named until 1847, when William Herschel's son, John Herschel published Results of Astronomical Observations made at the Cape of Good Hope, and suggested the names of the Titans, sisters and brothers of Cronos (the Greek Saturn), be used.[9]

[edit] Physical characteristics

See also: List of geological features on Dione

Cassini enhanced-color composite of Dione, showing the darker, fractured terrain of the trailing hemisphere. The Padua Chasmata trace an arc on the left, interrupted near the top by central peak crater Ascanius. The Janiculum Dorsa extend along the upper right terminator. Near the lower left limb is the small crater Cassandra with its prominent ray system.
At 1122 km in diameter, Dione is the 15th largest moon in the Solar System, and is more massive than all known moons smaller than itself combined.[10] It is composed primarily of water ice, but as the third densest of Saturn's moons (after Enceladus and Titan, whose density is increased by gravitational compression) it must have a considerable fraction (~ 46%) of denser material like silicate rock in its interior.

Though somewhat smaller and denser, Dione is otherwise very similar to Rhea. They both have similar albedo features and varied terrain, and both have dissimilar leading and trailing hemispheres. Dione's leading hemisphere is heavily cratered and is uniformly bright. Its trailing hemisphere, meanwhile, contains an unusual and distinctive surface feature: a network of bright ice cliffs.

Scientists recognise Dionean geological features of the following types:
Chasmata (chasms; long, deep, steep-sided depressions)
Dorsa (ridges)
Fossae (long narrow depressions)
Craters
Catenae (crater chains)

When the Voyager space probe photographed Dione in 1980, it showed what appeared to be wispy features covering its trailing hemisphere. The origin of these features was mysterious, as all that was known was that the material has a high albedo and is thin enough that it does not obscure the surface features underneath. One hypothesis was that shortly after its formation Dione was geologically active, and some process such as ice volcanism resurfaced much of its surface, with the streaks forming from eruptions along cracks in Dione's surface that fell back to the surface as snow or ash. Later, after the internal activity and resurfacing ceased, cratering continued primarily on the leading hemisphere and wiped out the streak patterns there.

This theory was proven wrong by the Cassini probe flyby of December 13, 2004, which produced close-up images. These revealed that the 'wisps' were in fact not ice deposits at all, but rather bright ice cliffs created by tectonic fractures (chasmata); Dione has been revealed as a world riven by enormous fractures on its trailing hemisphere.

The Cassini orbiter performed a closer flyby of Dione at 500 km (310 mi) on October 11, 2005, and captured oblique images of the cliffs, showing that some of them are several hundred metres high.

Dione's icy surface includes heavily cratered terrain, moderately cratered plains, lightly cratered plains, and areas of tectonic fractures. The heavily cratered terrain has numerous craters greater than 100 kilometres (62 mi) in diameter. The plains areas tends to have craters less than 30 kilometres (19 mi) in diameter. Some of the plains are more heavily cratered than others. Much of the heavily cratered terrain is located on the trailing hemisphere, with the less cratered plains areas present on the leading hemisphere. This is the opposite of what some scientists expected; Shoemaker and Wolfe[11] proposed a cratering model for a tidally locked satellite with the highest cratering rates on the leading hemisphere and the lowest on the trailing hemisphere. This suggests that during the period of heavy bombardment, Dione was tidally locked to Saturn in the opposite orientation. Because Dione is relatively small, an impact causing a 35 kilometer crater could have spun the satellite. Since there are many craters larger than 35 kilometres (22 mi), Dione could have been repeatedly spun during its early heavy bombardment. The pattern of cratering since then and the bright albedo of the leading side suggests that Dione has remained in its current orientation for several billion years.

Like Callisto, Dione's craters lack the high relief features seen on the Moon and Mercury; this is probably due to slumping of the weak icy crust over geologic time.

Dione was first imaged by the Voyager space probes. It has also been imaged several times from closer distances by the Cassini orbiter. There was one close targeted fly-by, at a distance of 500 km on 2005 October 11; another similarly close fly-by was performed on 2010 April 7. A third fly-by is scheduled for 2011 December 12 at an altitude of 99 km..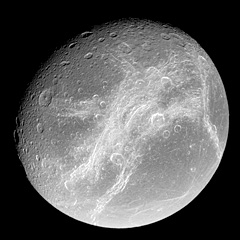 | | | |
| --- | --- | --- |
| | Page 2 of 214 | [ 3201 posts ] |
Who is online
Users browsing this forum: No registered users and 3 guests