Author
Topic Options

Posted:

Thu Jun 21, 2018 7:45 am

Quote:

Hayabusa2 to clarify the origin and evolution of the solar system as well as life matter

Asteroid Explorer "Hayabusa2" is a successor of "Hayabusa" (MUSES-C), which revealed several new technologies and returned to Earth in June 2010.

While establishing a new navigation method using ion engines, Hayabusa brought back samples from the asteroid "Itokawa" to help elucidate the origin of the solar system. Hayabusa2 will target a C-type asteroid "Ryugu" to study the origin and evolution of the solar system as well as materials for life by leveraging the experience acquired from the Hayabusa mission.

http://global.jaxa.jp/projects/sat/hayabusa2/

Quote:

Ryugu seen from 330-240km

The ONC-T (Optical Navigation Camera - Telescopic) captured images of Ryugu on June 17, 2018 at around 15:00 JST and June 18 at around 06:00 JST. At 15:00 JST on June 17, the distance to Ryugu was approximately 330 km, which had decreased to 240 km by June 18 at 06:00 JST.

Quote:

Figure 1: Images of Ryugu taken with the ONC-T. These photographs were taken on June 17, 2018 at around 15:00 and June 18 at around 06:00 JST. They are arranged in order of rotation; a, b, c, d.
ONC team: JAXA, University of Tokyo, Koichi University, Rikkyo University, Nagoya University, Chiba Institute of Technology, Meiji University, University of Aizu and AIST.

http://www.hayabusa2.jaxa.jp/topics/201 ... dex_e.html
Posted:
Thu Jun 21, 2018 10:53 am
Quote:
China appears to be preparing to deorbit its Tiangong-2 space lab
HELSINKI, Finland — China has lowered the orbit of its Tiangong-2 space lab, likely in preparation for deorbiting the orbital facility and thus averting a similar scenario to the uncontrolled re-entry of Tiangong-1 earlier this year.
Tiangong-2 was launched in September 2016 to test advanced life support and refueling and resupply capabilities via the crewed Shenzhou-11 and uncrewed Tianzhou-1 cargo missions, in preparation for constructing a large, modular space station in low Earth orbit.
Orbital information published by the U.S. Strategic Command's Joint Force Space Component Command, through the Joint Space Operations Center, indicates that Tiangong-2 has moved from an altitude of around 380 by 386 kilometers down to 292 by 297 kilometers.
No announcement regarding the status of the Tiangong-2 space lab has been made. The China Manned Space Engineering Office (CMSE), which manages China's human spaceflight and space station related missions, did not respond to a SpaceNews request for comment.
Jonathan McDowell, an astrophysicist at the Harvard-Smithsonian Center for Astrophysics, told SpaceNews that, "it seems likely that the lowering of Tiangong-2's orbit is the first step in safely disposing of it."
McDowell says the orbit of Tiangong-2 was most likely lowered through two burns early June 13.
Tiangong-2 is a more advanced version of the Tiangong-1 space lab launched in 2011. Both were designed as stepping stones for developing and verifying technologies for larger 20-metric-ton modules for the planned Chinese Space Station, a long-term ambition laid out in 1992.
http://spacenews.com/china-appears-to-b ... space-lab/
Posted:
Thu Jun 21, 2018 2:32 pm
Two stars will merge in 2022 and explode into red fury
Quote:
In 2022, there will be a spectacular sky show. Two stars will merge into one, pushing out excess gas into an explosion known as a red nova. At magnitude 2, it will be as bright as Polaris in the sky, and just behind Sirius and Vega in brightness. The collision in the constellation of Cygnus will be visible for up to six months.

That's pretty impressive. What's more impressive: we've never been able to predict a nova before. But Lawrence Molnar, a professor of astronomy and physics at Calvin College, was able to find a pair of oddly behaving stars giving an indication of what might happen.

The objects, termed KIC 9832227, are currently contact binaries. Contact binary refers to two objects that are so close they are currently touching. The object was discovered by Kepler. The expected outcome is a merger between the two stars that will put on quite a show. Because both are low mass stars, the expected temperature is low, with Molnar terming it a "red nova."

So how does Molnar know what will happen? After all, as he puts it, it's "a very specific prediction that can be tested, and a big explosion." He and his team have an example to look at: V1309 Scorpii. First observed in 2008, astronomers were able to watch the light curve as the event unfolded. First, there were a few "booms" in the sky. Then, a spectacular light show unfolded. Using precovery data, astronomers were able to trace back the evolution from 2001 on, giving a big picture of the decade of progression of the event.

How did they know it was a merging star?


"V1309 was (brightening) before the explosion," Molnar said in a press conference at the 229th meeting of the American Astronomical Society. "It isn't doing it today. That's the smoking gun of a merging star."


Using Kepler data, Molnar found that KIC 9832227 fit the lightcurve of V1309 almost perfectly. All radial velocity measurements seem to indicate a contact binary, and by aligning the light curve to the period in time, he and his team came to the conclusion that the merger would complete in 2022.


"We don't know if it's right or wrong, but it's the first time we can make a prediction," Molnar says. At 2nd magnitude, it'll be easy if it see if the prediction was correct.


"You won't need a telescope in 2022 to tell me if I was wrong or I was right," he says.
http://www.astronomy.com/news/2017/01/2022-red-nova
Posted:
Tue Jun 26, 2018 10:07 am
Quote:
Chaotic clouds of Jupiter
This image captures swirling cloud belts and tumultuous vortices within Jupiter's northern hemisphere.
NASA's Juno spacecraft took this color-enhanced image at 10:23 p.m. PDT on May 23, 2018 (1:23 a.m. EDT on May 24), as the spacecraft performed its 13th close flyby of Jupiter. At the time, Juno was about 9,600 miles (15,500 kilometers) from the planet's cloud tops, above a northern latitude of 56 degrees.
The region seen here is somewhat chaotic and turbulent, given the various swirling cloud formations. In general, the darker cloud material is deeper in Jupiter's atmosphere, while bright cloud material is high. The bright clouds are most likely ammonia or ammonia and water, mixed with a sprinkling of unknown chemical ingredients.
https://phys.org/news/2018-06-image-cha ... piter.html
Posted:
Thu Jun 28, 2018 7:51 am
Quote:
Webb Space Telescope pushed back again, won't launch until 2021
...
The problems come largely from the work of Northrop Grumman, which is building the spacecraft and its sun shield. Incidents detailed in the report include using a solvent to clean valves without checking with the valve manufacturer; the improper solvent damaged the valves and forced their replacement. In another case, managers relied on the word of a single technician that test wiring was installed properly. As a result, hardware was exposed to excess voltage.
In a final case, fasteners for the sunscreen weren't tightened sufficiently prior to testing under simulated launch conditions. Over a dozen of them popped loose, several ended up inside the spacecraft body, and two of them still haven't been definitively located. During a press call today, the chair of the review board, Tom Young, estimated that these instances alone pushed the launch back by six months at the cost of roughly $1 million a day.
The press gave NASA administrators ample opportunity to express anger with Northrop Grumman, but they mostly declined. Thomas Zurbuchen, an associate administrator of NASA's Science Mission Directorate, admitted that "I'm not happy to be sitting here telling this story." But he went on to say that NASA had oversight and therefore takes responsibility. Questions about whether Northrop Grumman would be financially penalized for the problems were answered without putting any dollar figures on the consequences.
Young described how the review had identified a series of problems, including human errors, embedded problems, lack of experience, excessive optimism about the schedule, and the complexity of the spacecraft. Of these, he said the most significant were human error and embedded problems. "Because humans are involved, you can expect errors," Young said, but there are procedures that could catch the errors quickly and minimize their impact.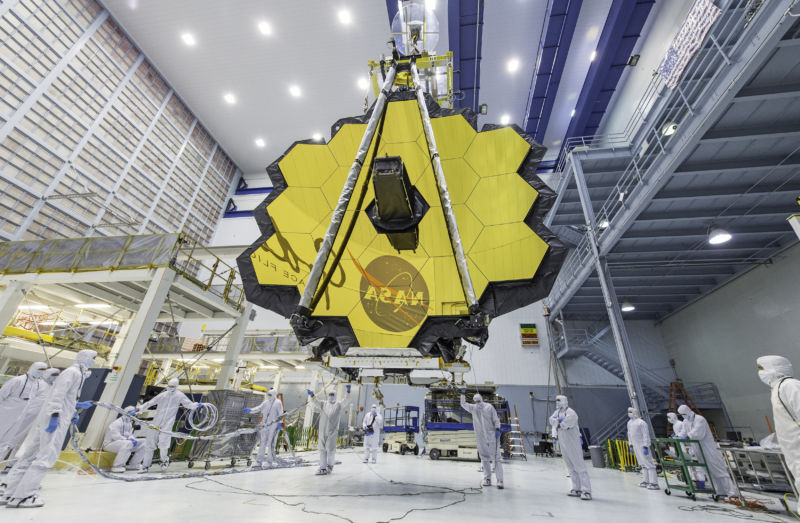 https://arstechnica.com/science/2018/06 ... ntil-2021/
Posted:
Tue Jul 03, 2018 10:45 am
Quote:
NASA Spacecraft Gets Breathtakingly Close to Dwarf Planet
NASA's Dawn spacecraft has entered its nearest orbit ever to the dwarf planet Ceres, an icy body in the asteroid belt left over from the formation of the solar system. And Dawn is already turning up stunning results.
The latest images sent back by the spacecraft were captured just 22 miles above a site called Occator Crater. Before June, Dawn was orbiting hundreds of miles over the surface.
This bright region first stood out to astronomers when Dawn arrived at Ceres in 2015. While much of the dwarf planet is dark, the crater's center has several strange reflective spots that were easily visible from orbit. Scientists suspected that these formed as a mixture of salt and ice erupts onto the world's surface. Astronomers call this process cryovolcanism.
These new observations help confirm that those bright spots are the indeed the result of cryovolcanism. The salty material is sodium carbonate, or soda ash. And astronomers say it likely welled up from a reservoir of briny water below the surface of Ceres and spewed onto the surface. Going forward, the new orbit should give Dawn a view of what, if any, geologic activity is happening on Ceres today. The world is about one-fourth the size of Earth's own moon.
http://www.astronomy.com/news/2018/07/n ... arf-planet
Posted:
Tue Jul 03, 2018 10:51 am
Quote:
NuSTAR mission proves superstar Eta Carinae shoots cosmic rays
A new study using data from NASA's NuSTAR space telescope suggests that Eta Carinae, the most luminous and massive stellar system within 10,000 light-years, is accelerating particles to high energies—some of which may reach Earth as cosmic rays.
"We know the blast waves of exploded stars can accelerate cosmic ray particles to speeds comparable to that of light, an incredible energy boost," said Kenji Hamaguchi, an astrophysicist at NASA's Goddard Space Flight Center in Greenbelt, Maryland, and the lead author of the study. "Similar processes must occur in other extreme environments. Our analysis indicates Eta Carinae is one of them."
Astronomers know that cosmic rays with energies greater than 1 billion electron volts (eV) come to us from beyond our solar system. But because these particles—electrons, protons and atomic nuclei—all carry an electrical charge, they veer off course whenever they encounter magnetic fields. This scrambles their paths and masks their origins.
Eta Carinae, located about 7,500 light-years away in the southern constellation of Carina, is famous for a 19th century outburst that briefly made it the second-brightest star in the sky. This event also ejected a massive hourglass-shaped nebula, but the cause of the eruption remains poorly understood.
https://phys.org/news/2018-07-nustar-mi ... rinae.html
Posted:
Wed Jul 04, 2018 8:08 am
Quote:
Fireworks, Planets, Comets, a Nova — July's Got it All!
. . .
Quote:
Each panel shows the bright planets and stars visible at dusk on July 4th. Look low in the northwest to see Venus and Mercury and to the south for bright Jupiter and Saturn.
Stellarium
This season, there's much to see at dusk, including Venus and Mercury in the western sky and Jupiter and Saturn in the south. The Summer Triangle shines in the east with campfire-colored Arcturus twinkling high in the southwestern sky. Show the kids how to connect Jupiter, Arcturus, and Spica into the giant "Jupiter Triangle."
Don't forget Antares! Located not quite midway between Saturn and Jupiter, this red supergiant star is the summer version of winter's famous giant, Betelgeuse. Both are likely to explode as supernovae in the not-too-distant future, returning freshly forged elements to the interstellar medium that might be come in handy for another special occasion in a far off time.
. . .
Quote:
Astrophotographer Damian Peach created this animation using a Mars Global Surveyor reference image and his own photo of Mars taken on June 28th to highlight how dust has transformed the planet's appearance.
NASA / Damian Peach
Once the kids are in bed, point a scope at the next planet in the parade, Mars. The recent planet-swallowing dust storm continues to transform the appearance of surface features on the Red Planet. The club of Sinus Meridiani, the Solis Lacus "eye", and even mighty Syrtis Major have been so altered they're nearly impossible to recognize. Only parts and pieces remain in view under expansive clouds of obscuring dust. Debris even covers much of the south polar cap, which otherwise would gleam snowy white.
Quote:
Comet 21P/Giacobini-Zinner is getting closer and brighter! This photo, taken July 1st, shows a compact coma and short tail pointing southwest. North is up. Comet 21P is a small comet with a 2-km-wide nucleus.
Alfons Diepvens
Turning from planets to deep-sky objects, amateurs can also get their first look at returning comet 21P/Giacobini-Zinner as it tracks north across Cygnus into Cepheus this month. Though still only magnitude 11-11.5, it's brightening rapidly and expected to reach magnitude 7 by late August. Am I wrong or does it feel like forever since we had a binocular comet? I found the little fuzzy on July 2.16 UT in my 15-inch reflector. With a magnification of 64× I saw a 1′-diameter, moderately condensed coma with a faint, star-like false nucleus and a 2′-long tail pointing southwest.
. . .
That's not all the comet news this month. Comet PanSTARRS (C/2017 S3), which had been chillin' at magnitude 12.5, experienced an outburst some time on June 30th, rocketing to magnitude ~9.5 overnight. Located in Camelopardalis northeast of the Double Cluster, it was super obvious in the 15-inch at low power on July 2.18 UT, appearing as a dense, tailless cotton ball about 3′ across. It looked suspiciously "gassy," so I applied the Swan Band filter and both the brightness and size of the coma increased, a sure sign of a gas blast from the outburst.
Quote:
Comet PanSTARRS (C/2017 S3) on July 2nd showed a bright, greenish coma. Two nights earlier it was three magnitudes fainter.
Michael Mattiazzo
. . .
We end where we began — with an explosion. On June 29th, Yukio Sakurai of Japan discovered a new nova, shining in Scutum at magnitude 10.3. Although it's since faded a touch to ~11.0, this "guest star" is easy to find just a few arc minutes northeast of the 4.6-magnitude star Gamma (γ) Scuti. You can star-hop there from Saturn and then use this AAVSO chart to suss out the nova and estimate its brightness. A 6-inch telescope should suffice.
Quote:
Use this map to help you find Gamma (γ) Scuti then click and download the AAVSO chart at the link above (or just click the map).
Stellarium
https://www.skyandtelescope.com/observi ... fireworks/
Posted:
Mon Jul 09, 2018 9:09 am
Quote:
Lunar mystery solved by recovery of lost Apollo mission tapes
NASA's Apollo missions in the 1960s and '70s served not only to land Americans on the lunar surface but to answer key questions about the moon that could be answered only by going there.
As often happens, those answers sometimes stirred up more questions -- or, as in this case, an abiding mystery.
During the Apollo 15 and 17 missions in 1971 and 1972, astronauts installed probes at two sites to measure the moon's temperature below the surface. The Apollo program ended in 1972, but raw data on the temperature of the moon's surface, as well as a few meters below it, was transmitted from the probes and recorded on magnetic tapes at NASA's Johnson Space Center in Houston from 1971 to 1977.
In 1974, the subsurface of the moon unexpectedly rose in temperature by 1.8 degrees to 3.6 degrees Fahrenheit near the probes. The possible reasons for this change were debated by planetary scientists for decades. The mystery was only deepened by lost mission tapes that would account for temperature data from 1975 to 1977.
For the past eight years, a team of researchers has dedicated themselves to recovering the lost data and solving the mystery. Now, their findings and recovered Apollo mission data that weren't previously well-publicized can see the light of day. The study was published this month in the American Geophysical Union's Journal of Geophysical Research: Planets.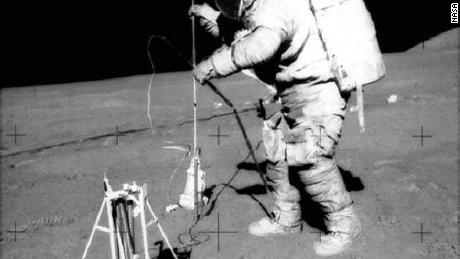 https://www.cnn.com/2018/07/09/us/apoll ... index.html
Posted:
Mon Jul 09, 2018 9:11 am
Quote:
Dawn's Latest Orbit Reveals Dramatic New Views of Occator Crater
NASA's Dawn spacecraft reached its lowest-ever and final orbit around dwarf planet Ceres on June 6 and has been returning thousands of stunning images and other data.
The flight team maneuvered the spacecraft into an orbit that dives 22 miles (35 kilometers) above the surface of Ceres and viewed Occator Crater, site of the famous bright deposits, and other intriguing regions. In more than three years of orbiting Ceres, Dawn's lowest altitude before this month was 240 miles (385 kilometers), so the data from this current orbit bring the dwarf planet into much sharper focus.
These low orbits have revealed unprecedented details of the relationships between bright and dark materials in the region of Vinalia Faculae. Dawn's visible and infrared mapping spectrometer had previously found the bright deposits to be made of sodium carbonate, a material commonly found in evaporite deposits on Earth. Last week Dawn fired its ion engine, possibly for the final time, to fly nearer Cerealia Facula, the large deposit of sodium carbonate in the center of Occator Crater.
Quote:
This mosaic of a prominent mound located on the western side of Cerealia Facula was obtained by NASA's Dawn spacecraft on June 22, 2018 from an altitude of about 21 miles (34 kilometers)
https://www.jpl.nasa.gov/news/news.php?release=2018-157
Posted:
Mon Jul 09, 2018 9:33 am
Quote:
Building the world's highest-resolution telescope
If Lowell Observatory's Gerard van Belle gets his way, someday soon you'll be watching an exoplanet cross the face of its star, hundreds of light-years from the Earth. He can't show you that right now, but he should be able to when the new mirrors are installed at the Navy Precision Optical Interferometer in northern Arizona. They're arriving now, and should soon start collecting starlight—and making it the highest-resolution optical telescope in the world.
Van Belle recently showed Ars around the gigantic instrument, which bears almost no resemblance to what a non-astronomer pictures when they hear the word "telescope." There are a couple of more traditional telescopes in dome-topped silos on site, including one built in 1920s in Ohio, where it spent the first few decades of its life.
The best way to improve imagery on these traditional scopes is to increase the diameter of the mirror catching light. But this has its limits—perfect mirrors can only be built so large.
The Keck Telescopes in Hawaii pushed the boundary by constructing a 10-meter mirror made of many smaller hexagonal mirrors arranged together. The Keck works because the only requirement for a telescope, van Belle explained, is that every ray of celestial light must travel exactly the same distance, even as it strikes the telescope's primary mirror, bounces off the smaller secondary mirror at the telescope's snout, and arrives at the camera. No matter where light hits the hardware, every possible bouncing path must be the same length to within 50 nanometers—just one-thousandth the width of a human hair.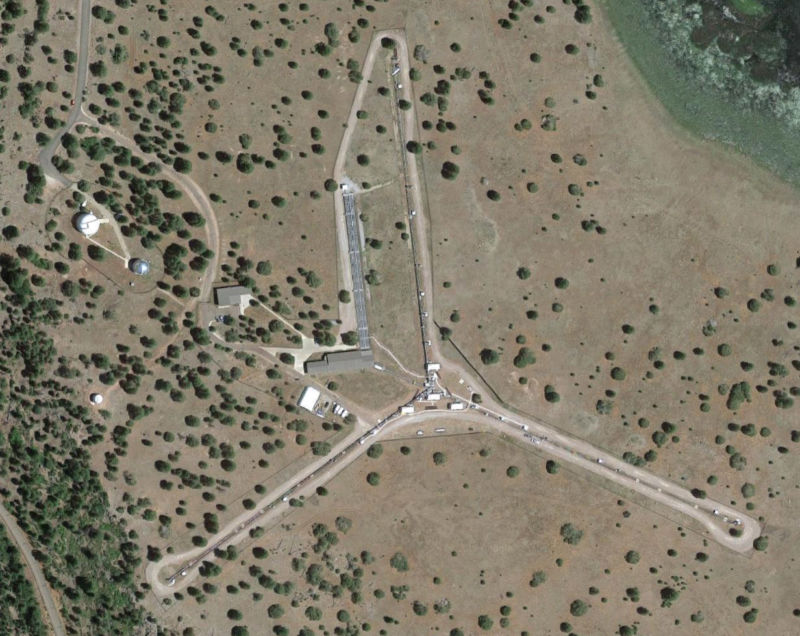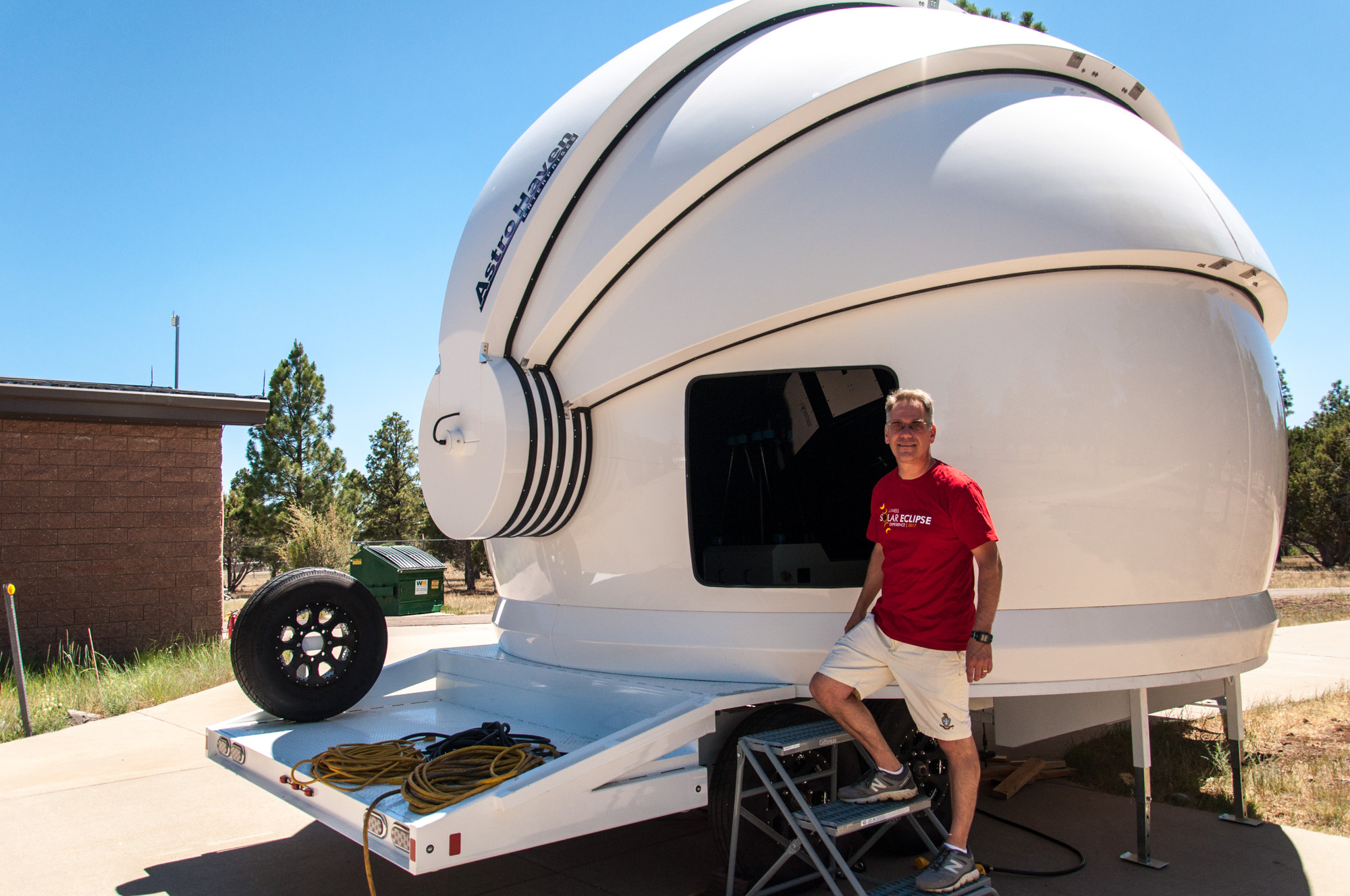 ...
But what is this telescope used for, you ask? The US Navy's interest in this facility is in cataloging the positions of objects very precisely. While naval ships aren't exactly following the North Star anymore, the world's GPS navigation still depends on the stars, in part. Stars define the reference frame used to pinpoint the position of GPS satellites so that their signals can tell you exactly where you are.
And astronomers have taken advantage of the Navy's interests. Scientists at the Lowell Observatory have used this telescope to study the surfaces of nearby stars, for example. And with new mirrors comes new possibilities. "The thing that I really want to do, that would be just, kind of mind-blowing…" van Belle says with a grin. "We're finding more and more planets around other stars, and some of them line up so they pass between the host and us, and we could actually make a movie of the shadow of another world as it goes in front of its host. It's not quite imaging the surface of the planet, but you know, you're basically seeing 'not-planet', which is kind of cool."
They'll also be able to push further into still-forming stellar systems of planets. Astronomers have imaged some of these rotating disks of dust and clumping baby planets, but we can't make out too many details. At the wavelength used by these telescopes, we can really only see the cold outer reaches of these disks. With the new, larger mirrors, van Belle and his colleagues should be able to see into the warmer portions of the disk where liquid water could exist and planets could be forming.
This is, after all, ultimately how the game is played in astronomy: build a better telescope and see the next level of things you'd only dreamed of.
https://arstechnica.com/science/2018/07 ... o-eclipse/
| | | |
| --- | --- | --- |
| | Page 132 of 142 | [ 2121 posts ] |
Who is online
Users browsing this forum: No registered users and 1 guest