Author
Topic Options

Posted:

Wed Nov 07, 2018 8:35 am

Quote:

Earth has two extra, hidden 'moons'

Earth's moon may not be alone. After more than half a century of speculation and controversy, Hungarian astronomers and physicists say they have finally confirmed the existence of two Earth-orbiting "moons" entirely made of dust.

As they describe in the Monthly Notices of the Royal Astronomical Society, the team managed to capture snapshots of the mysterious clouds lurking just 250,000 miles away, roughly the same distance as the moon.

Researchers previously inferred the presence of multiple natural companions to Earth, but the dust clouds weren't actually seen until 1961, when their namesake, Polish astronomer Kazimierz Kordylewski, got a glimpse. Even then, their presence was questioned.

"The Kordylewski clouds are two of the toughest objects to find, and though they are as close to Earth as the moon, are largely overlooked by researchers in astronomy," says study coauthor Judit Slíz-Balogh, an astronomer at Eötvös Loránd University in Hungary. "It is intriguing to confirm that our planet has dusty pseudo-satellites in orbit alongside our lunar neighbor."

https://www.nationalgeographic.com/scie ... ets-space/
Posted:
Fri Nov 09, 2018 8:17 am
Quote:
Supermassive Black Holes Collide in Galactic Merger Grand Finales
For the first time, astronomers have observed the final stages of galactic mergers, peering through thick walls of gas and dust to see pairs of supermassive black holes drawing closer together and the black holes' rapid growth.
At the centers of most, if not all, galaxies are supermassive black holes with masses that are millions to billions of times that of Earth's sun. For instance, at the heart of our Milky Way galaxy lies Sagittarius A*, which is about 4.5 million solar masses in size.
Previous work found that mergers of galaxies might help fuel the growth of supermassive black holes. That research suggested that black holes at the cores of colliding galaxies may combine to become even larger black holes. [When Galaxies Collide: Photos of Great Galactic Crashes]
Galactic mergers likely give supermassive black holes ample opportunities to rip apart stars and devour matter. Such destruction releases extraordinary amounts of light and likely serves as the driving force behind quasars, which rank among the brightest objects in the universe.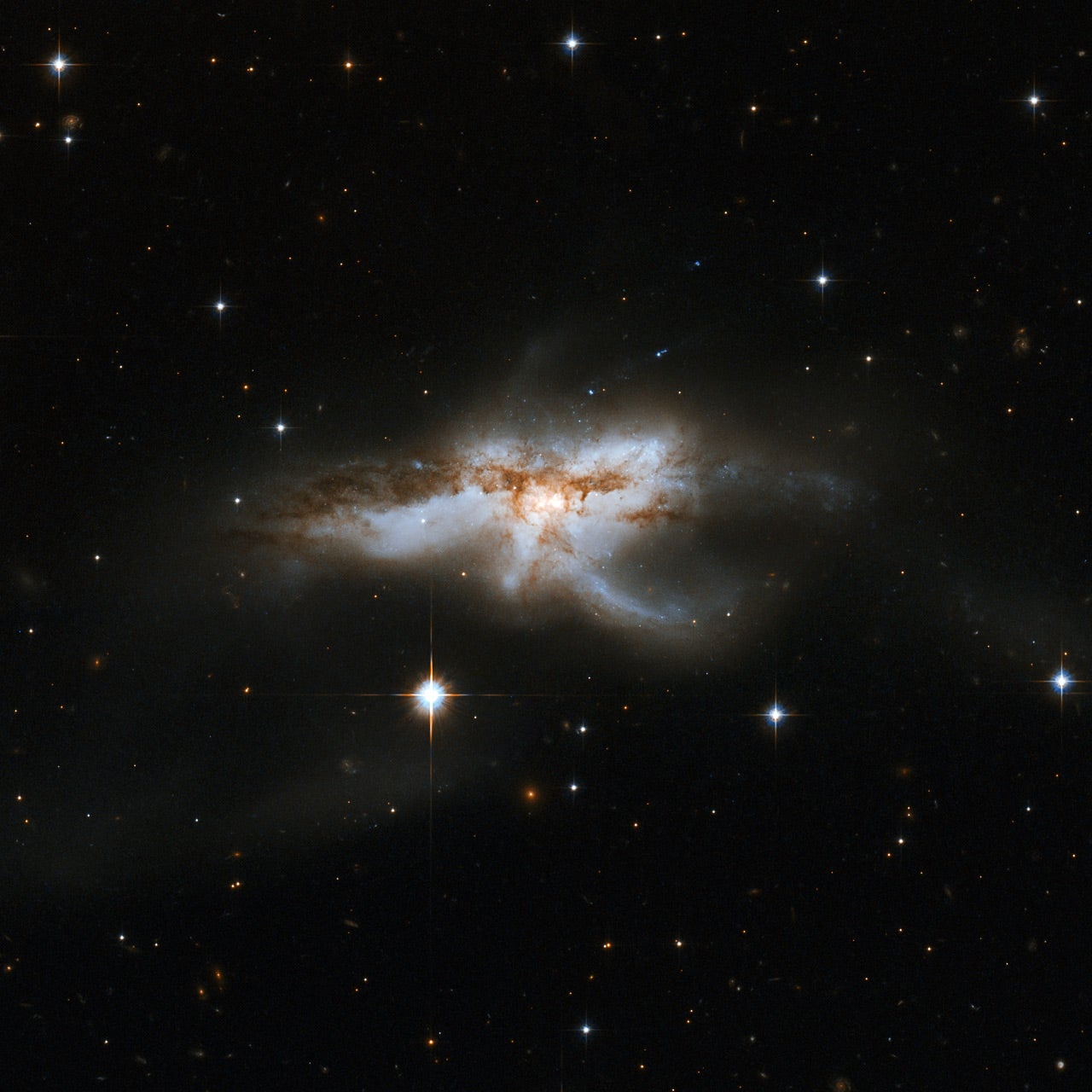 Quote:
The galaxy NGC 6240's peculiar shape comes from the fact that it is actually two galaxies in the final stages of merging. Recent observations suggest pairs of supermassive black holes are on the verge of colliding in the gassy, dusty cores of such late-stage merging galaxies, providing new details about how these gigantic black holes grow over time. Credit: NASA, ESA, the Hubble Heritage team, and A. Evans
https://www.scientificamerican.com/arti ... d-finales/
Quote:
Astronomers Get Best View Yet of Supermassive Black Holes in Merging Galaxies, Slowly Moving on a Collision Course with Each Other
Maunakea, Hawaii – Two galaxies, drawn together by the force of gravity, are merging into a tangled mass of dense gas and dust. Structure is giving way to chaos, but hiding behind this messy cloud of material are two supermassive black holes, nestled at the center of each of the galaxies, that are now excitingly close, giving astronomers the best view yet of the pair marching toward coalescence into one mega black hole.
"Seeing the pairs of merging galaxy nuclei associated with "huge" black holes so close together was pretty amazing," said study leader, Michael Koss of Eureka Scientific Inc. in Kirkland, Washington. "The images are pretty powerful since they are ten times sharper than images from normal telescopes on the ground. It's similar to going from legally blind (20/200 vision) to perfect 20/20 vision when you put on your eyeglasses. In our study, we see two galaxy nuclei right when the images were taken. You can't argue with it; it's a very clean result which doesn't rely on interpretation."
The team's results appear online in the November 7, 2018 issue of the journal Nature.
Koss and his team of researchers made the discovery after completing the largest systematic survey of nearby galaxies using high-resolution images taken with W. M. Keck Observatory's adaptive optics (AO) system and near-infrared camera (NIRC2), along with over 20 years of archival Hubble Space Telescope images. With this survey, astronomers can pinpoint the type of galaxy most likely to harbor close pairs of supermassive black holes.
Quote:
These images reveal the final stage of a union between pairs of galactic nuclei in the messy cores of colliding galaxies. The image at top left, taken by Hubble's Wide Field Camera 3, shows the merging galaxy NGC 6240. A close-up of the two brilliant cores of this galactic union is shown at top right. This view, taken in infrared light, pierces the dense cloud of dust and gas encasing the two colliding galaxies and uncovers the active cores. The hefty black holes in these cores are growing quickly as they feast on gas kicked up by the galaxy merger. The black holes' speedy growth occurs during the last 10 million to 20 million years of the merger. Images of four other colliding galaxies, along with close-up views of their coalescing nuclei in the bright cores, are shown beneath the snapshots of NGC 6240. The images of the bright cores were taken in near-infrared light by the W. M. Keck Observatory in Hawaii, using adaptive optics to sharpen the view. The reference images (left) of the merging galaxies were taken by the Panoramic Survey Telescope and Rapid Response System (Pan-STARRS). The two nuclei in the Hubble and Keck Observatory photos are only about 3,000 light-years apart — a near embrace in cosmic terms. If there are pairs of black holes, they will likely merge within the next 10 million years to form a more massive black hole. These observations are part of the largest-ever survey of the cores of nearby galaxies using high-resolution images in near-infrared light taken by the Hubble and Keck observatories. The survey galaxies' average distance is 330 million light-years from Earth. CREDIT: NASA/ESA/M. KOSS (EUREKA SCIENTIFIC, INC.)/PAN-STARRS/W. M. KECK OBSERVATORY
http://keckobservatory.org/hidden_mergers/
Posted:
Wed Nov 14, 2018 6:56 am
Quote:
Large, strangely dim galaxy found lurking on far side of Milky Way
Circling our galaxy is a stealthy giant. Astronomers have discovered a dwarf galaxy, called Antlia 2, that is one-third the size of the Milky Way itself. As big as the Large Magellanic Cloud, the galaxy's largest companion, Antlia 2 eluded detection until now because it is 10,000 times fainter. Such a strange beast challenges models of galaxy formation and dark matter, the unseen stuff that helps pull galaxies together.
"It's a very odd object and kind of exciting because we don't know yet how to interpret all of its properties," says Andrey Kravtsov of The University of Chicago in Illinois, who was not involved in the work.
The galaxy was discovered with data from the European Space Agency's Gaia satellite, a space telescope measuring the motions and properties of more than 1 billion stars in and around the Milky Way. Gabriel Torrealba, an astronomy postdoc at the Academia Sinica in Taipei, decided to sift the data for RR Lyrae stars. These old stars, often found in dwarf galaxies, shine with a throbbing blue light that pulses at a rate signaling their inherent brightness, allowing researchers to pin down their distance.
"RR Lyrae are so rare at these distances that even if you see two, you question why they are together," says Vasily Belokurov, an astronomer at the University of Cambridge in the United Kingdom and a collaborator on the discovery. When the team found three, some 420,000 light-years away, it was "an overwhelming signal" of a large cluster of stars in that location, Belokurov says. But because the RR Lyrae stars lie on the far side of the disk of the Milky Way and its obstructing veil of stars and gas, finding their companions was not easy.
Gaia data helped the team see past the foreground stars. Objects in the Milky Way's disk are close enough for Gaia to measure their parallax: a shift in their apparent position as Earth moves around the sun. More distant stars appear fixed in one spot. After removing the parallax-bearing stars, the researchers homed in on more than 100 red giant stars moving together in the constellation Antlia, they report in a paper posted to the preprint server arXiv this week. The giants mark out a sprawling companion galaxy 100 times less massive than anything of similar size, with far fewer stars.
Quote:
Antlia 2 (upper left), hidden on the Milky Way's far side, is as big as the Large Magellanic Cloud (lower right) but much dimmer. (A bright, artificial blob representing Antlia 2 was added to show its location.)
G. Torrealba, Academia Sinica, Taiwan; V. Belokurov, Cambridge, U.K. and CCA, New York, U.S., based on an image by ESO/S. Brunie

https://www.sciencemag.org/news/2018/11 ... -milky-way
Posted:
Wed Nov 14, 2018 12:37 pm
Quote:
Exoplanet discovered around neighbouring star
Nearby planets like this are likely to be prime targets in the search for signatures of life, using the next generation of telescopes.
The planet's mass is thought to be more than three times that of our own, placing it in a category of world know as "super-Earths".
It orbits Barnard's star, which sits "just" six light-years away.
Writing in the journal Nature, Guillem Anglada Escudé and colleagues say this newly discovered world has a mass 3.2 times bigger than the Earth's.
"We think that this is what we call a Super-Earth - that would be possibly a mostly rocky planet with a massive atmosphere. It's probably very rich in volatiles like water, hydrogen, carbon dioxide - things like this. Many of them are frozen on the surface," Dr Anglada Escudé, from Queen Mary University of London, told BBC News.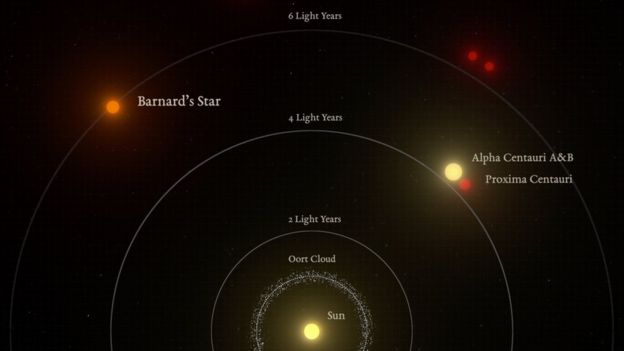 https://www.bbc.com/news/science-environment-46196279
Posted:
Mon Nov 26, 2018 1:09 pm
Quote:
Mars: Nasa lands InSight robot to study planet's interior
US space agency Nasa has landed a new robot on Mars after a dramatic seven-minute plunge to the surface of the Red Planet.
The InSight probe aims to study the deep interior of Mars, and make it the only planet - apart from Earth - that has been examined in this way.
The touchdown confirmation came through shortly after 19:50 GMT.
It ended an anxious seven minutes in which the robot radioed home updates on its descent.
Nasa's mission control in California erupted with delight when it became clear InSight was safe on the ground.
The probe landed safely on a flat plain known as Elysium Planitia, close to the Red Planet's equator.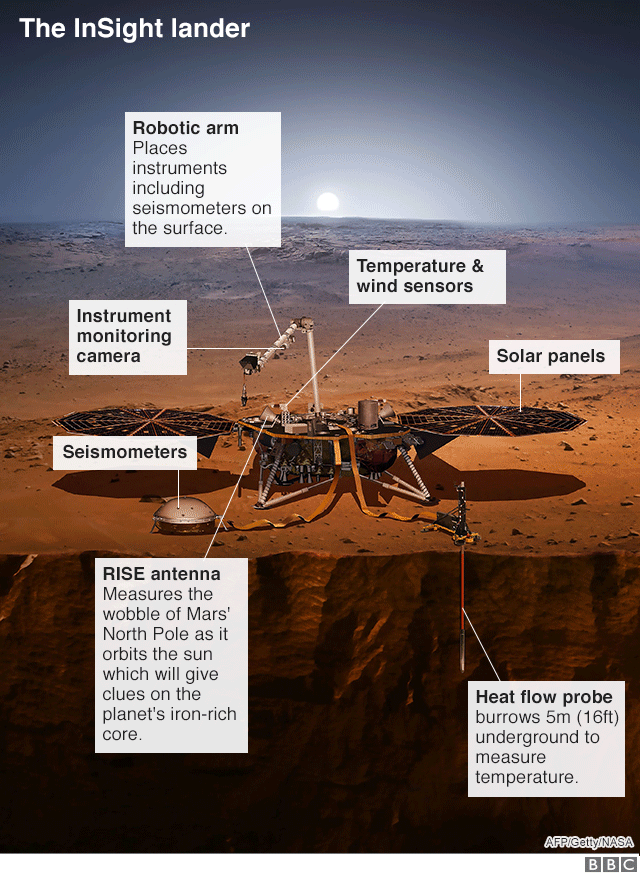 https://www.bbc.com/news/science-environment-46351114
Posted:
Tue Dec 11, 2018 7:38 am
Quote:
NASA's Voyager 2 Probe Enters Interstellar Space
For the second time in history, a human-made object has reached the space between the stars. NASA's Voyager 2 probe now has exited the heliosphere - the protective bubble of particles and magnetic fields created by the Sun.
Members of NASA's Voyager team will discuss the findings at a news conference at 11 a.m. EST (8 a.m. PST) today at the meeting of the American Geophysical Union (AGU) in Washington. The news conference will stream live on the agency's website.
Comparing data from different instruments aboard the trailblazing spacecraft, mission scientists determined the probe crossed the outer edge of the heliosphere on Nov. 5. This boundary, called the heliopause, is where the tenuous, hot solar wind meets the cold, dense interstellar medium. Its twin, Voyager 1, crossed this boundary in 2012, but Voyager 2 carries a working instrument that will provide first-of-its-kind observations of the nature of this gateway into interstellar space.
Voyager 2 now is slightly more than 11 billion miles (18 billion kilometers) from Earth. Mission operators still can communicate with Voyager 2 as it enters this new phase of its journey, but information - moving at the speed of light - takes about 16.5 hours to travel from the spacecraft to Earth. By comparison, light traveling from the Sun takes about eight minutes to reach Earth.
https://www.jpl.nasa.gov/news/news.php?feature=7301
Posted:
Thu Dec 13, 2018 12:55 pm
Quote:
Branson's Virgin Galactic reaches edge of space
The firm's SpaceShipTwo passenger rocket ship reached a height of 82.7km, beyond the altitude at which Nasa awards astronaut status.
It marked the plane's fourth test flight and followed earlier setbacks in the firm's space programme.
Sir Richard is in a race with Elon Musk and Jeff Bezos to send the first fee-paying passengers into space.
He founded the commercial spaceflight company in 2004, shortly after Mr Musk started SpaceX and Jeff Bezos established Blue Origin.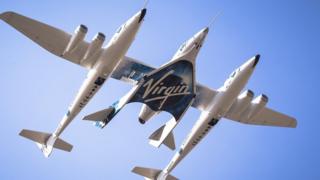 https://www.bbc.com/news/business-46550862
| | | |
| --- | --- | --- |
| | Page 140 of 145 | [ 2166 posts ] |
Who is online
Users browsing this forum: No registered users and 1 guest