Author
Topic Options

Posted:

Tue Jul 02, 2019 6:28 am

Quote:

NASA's restored Apollo Mission Control is a slice of '60s life, frozen in amber

HOUSTON—Following the completion of a multi-year, multi-million-dollar restoration, NASA's historic Apollo Mission Operations Control Room 2 ("MOCR 2") is set to reopen to the public next week. The $5 million in funding for the restoration was partially provided by Space Center Houston, but the majority of the money was donated by the city of Webster, the Houston suburb where the Johnson Space Center is located. Another half-million in funding came from the general public via a Kickstarter campaign (disclosure: your humble author was a backer).

For the past two years, historians and engineers from the Kansas Cosmosphere's Spaceworks team have been lovingly restoring and detailing the 1,200-pound (544kg) historic sage green Ford-Philco consoles that populated the control room—repairing damage from decades of casual neglect and also adding in the correct control panels so that each console now correctly mirrors how it would have been configured for an Apollo flight.

Ars was invited to view the restored MOCR 2 last week as the final finishing restoration touches were still being applied. We conducted some interviews and shot some photos while technicians and construction workers bustled around us, hammering and screwing the last bits and bobs into place. The room's lighting system was in the process of being worked on, and the room flickered several times between fully illuminated daytime lighting and dim twilight—providing an even more accurate glimpse of what it might have looked like during an actual mission.

https://arstechnica.com/science/2019/06 ... n-control/

More:

Former NASA Flight Director Gene Kranz Restores Mission Control In Houston
Posted:
Tue Jul 02, 2019 6:30 am
Quote:
On Tuesday, Orion will fly 55 seconds before violently escaping from its rocket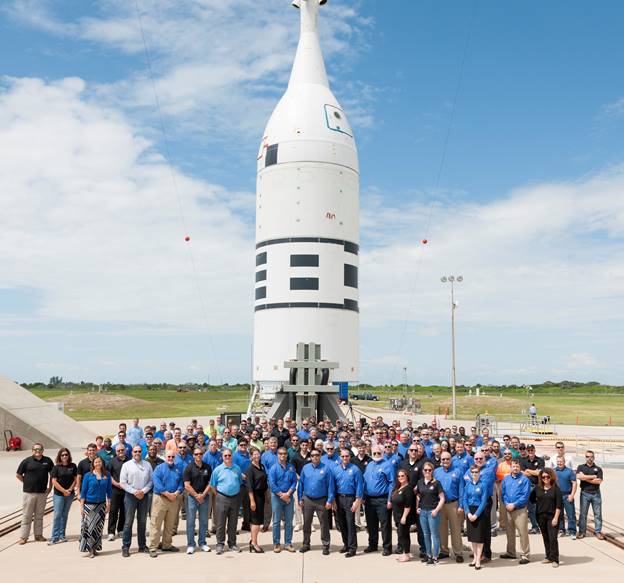 Nearly five years have passed since NASA first launched its Orion spacecraft to an apogee of 5,800km above the Earth, completing a successful test flight of the capsule intended to carry astronauts to lunar orbit in the 2020s.
Now, NASA is preparing for its second Orion launch, although this flight will be considerably shorter. On Tuesday morning, NASA intends to launch a boilerplate version of Orion—essentially a well instrumented vehicle without any life-support equipment or many other critical systems—on top of a solid rocket booster built by Northrop Grumman.
The rocket is actually an old Peacekeeper intercontinental ballistic missile, now refurbished for commercial purposes. It will launch the Orion to an altitude of nearly 9.5km above the Florida coast in order to test Orion's launch abort system at the point of maximum dynamic pressure. This will occur about 55 seconds after launch.
"This will simulate a really bad day for Orion, where there's a problem with the launch vehicle at the worst possible moment," said Orion Program Deputy Manager Charlie Lundquist in an interview with Ars.
https://arstechnica.com/science/2019/07 ... ng-rocket/
Posted:
Tue Jul 02, 2019 6:32 am
Quote:
Hubble captures cosmic fireworks in ultraviolet
Hubble offers a special view of the double star system Eta Carinae's expanding gases glowing in red, white, and blue. This is the highest resolution image of Eta Carinae taken by the NASA/ESA Hubble Space Telescope.
Imagine slow-motion fireworks that started exploding nearly two centuries ago and haven't stopped since then. This is how you might describe this double star system located 7500 light-years away in the constellation Carina (The Ship's Keel). In 1838 Eta Carinae underwent a cataclysmic outburst called the Great Eruption, quickly escalating to become in 1844 the second brightest star in the sky by April of that year. The star has since faded, but this new view from the NASA/ESA Hubble Space Telescope shows that the spectacular display is still ongoing, and reveals details that have never been seen before.
Violent mass ejections are not uncommon in Eta Carinae's history; the system has been blighted by chaotic eruptions, often blasting parts of itself into space But the Great Eruption was particularly dramatic. The larger of the two stars is a massive, unstable star nearing the end of its life, and what astronomers witnessed over a century and a half ago was, in fact, a stellar near-death experience.
https://phys.org/news/2019-07-hubble-ca ... iolet.html
Posted:
Thu Jul 04, 2019 10:48 am
Quote:
Black hole brings down curtain on jellyfish galaxy's star turn
The role of an excited black hole in the death of an exotic 'jellyfish' galaxy will be presented today (3 July) by Callum Bellhouse of the University of Birmingham at the RAS National Astronomy Meeting in Lancaster. The supermassive black hole at the centre of jellyfish galaxy JO201 is stripping away gas and throwing it out into space, accelerating suppression of star formation and effectively 'killing' the galaxy.
Jellyfish galaxies are spectacular objects that undergo a dramatic process of transformation as they plunge through the dense core of a galaxy cluster at supersonic speeds. External drag forces tear away the galaxy's gas, in a process known as ram-pressure stripping, leaving extended tentacles of trailing material.
The fate of JO201 has been revealed as part of a study of 114 jellyfish galaxies by the GASP (GAs Stripping Phenomena) collaboration, an international team of researchers led by Dr. Bianca Poggianti.
To explore the structure of the jellyfish galaxies in 3-D and estimate the timescales of their transformation, Bellhouse has created interactive models that can also be experienced in virtual reality.
https://phys.org/news/2019-07-black-hol ... alaxy.html
The 3D simulations at the end of the article are worth the time to explore. You really get a sense of how the black holes are throwing matter out of the galaxies.
Posted:
Tue Jul 09, 2019 7:11 am
Quote:
Space-based gravitational-wave detector may detect strange exoplanets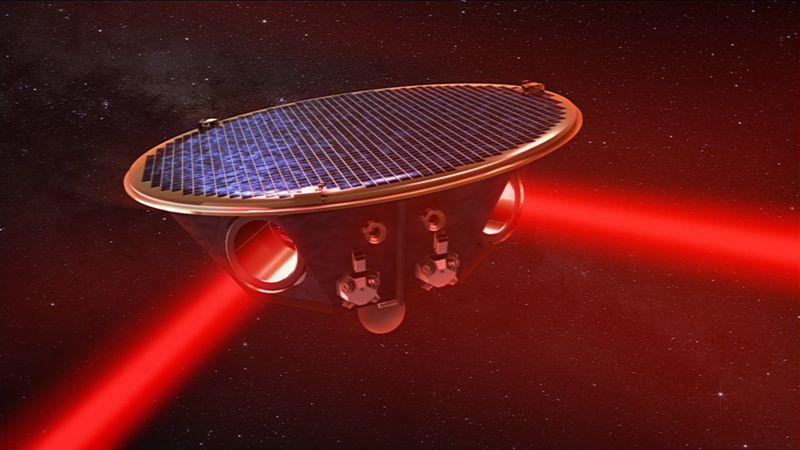 The first detection of gravitational waves came via LIGO (the Laser Interferometer Gravitational-Wave Observatory)—an instrument that has to strain to overcome the constant background noise of vibrations and jolts that occur on Earth. Its success has helped push for the pursuit of a project that would rise above all that noise. LISA—the Laser Interferometer Space Antenna—would detect gravitational waves using the same technique as LIGO but place its hardware in space, free of any ground-based vibrations. Preliminary tests of prototype hardware have found that the idea should work.
LISA isn't expected to be put in place until the 2030s, but that hasn't stopped astronomers and physicists from contemplating the things that it might possibly detect. Two of these astronomers, Nicola Tamanini and Camilla Danielski, are now suggesting that LISA could be used to identify a very strange class of planets: heavy planets orbiting binary pairs of white dwarf stars. But because of its exquisite sensitivity, LISA could potentially spot them orbiting outside our own galaxy.
How would this work?
Gravitational waves are produced when any two objects with mass interact but are too tiny to be detected unless the objects in question are both massive and near to each other. The LIGO detector is sensitive enough to pick up things like neutron stars and black holes, all of which are both incredibly dense and have masses on the order of the Sun's and larger. But—due to its enhanced sensitivity and the frequencies of gravitational waves that it will be sensitive to—LISA will be able to pick up objects that are dense but not as massive.
A prime candidate here is a white dwarf star, which is the remains of a sun-like star after it has burned out most of its hydrogen and helium, producing a core that's primarily carbon and oxygen. Without the energy provided by fusion, gravity will crush these objects down to a dense ball of atoms, but they lack sufficient mass to crush the atoms themselves. If there are no other sources of mass, they simply stay as they are and gradually glow as they lose the heat they started with.
https://arstechnica.com/science/2019/07 ... xoplanets/
Posted:
Thu Jul 11, 2019 11:49 am
Quote:
Hubble discovers mysterious black hole disc
Quote:
Artist's impression of the peculiar thin disc of material circling a supermassive black hole at the heart of the spiral galaxy NGC 3147, located 130 million light-years away. Credit: ESA/Hubble, M. Kornmesser
Astronomers using the NASA/ESA Hubble Space Telescope have observed an unexpected thin disc of material encircling a supermassive black hole at the heart of the spiral galaxy NGC 3147, located 130 million light-years away.
The presence of the black hole disc in such a low-luminosity active galaxy has astronomers surprised. Black holes in certain types of galaxies such as NGC 3147 are considered to be starving as there is insufficient gravitationally captured material to feed them regularly. It is therefore puzzling that there is a thin disc encircling a starving black hole that mimics the much larger discs found in extremely active galaxies.
Of particular interest, this disc of material circling the black hole offers a unique opportunity to test Albert Einstein's theories of relativity. The disc is so deeply embedded in the black hole's intense gravitational field that the light from the gas disc is altered, according to these theories, giving astronomers a unique peek at the dynamic processes close to a black hole.
"We've never seen the effects of both general and special relativity in visible light with this much clarity," said team member Marco Chiaberge of AURA for ESA, STScI and Johns Hopkins Univeristy.
The disc's material was measured by Hubble to be whirling around the black hole at more than 10% of the speed of light. At such extreme velocities, the gas appears to brighten as it travels toward Earth on one side, and dims as it speeds away from our planet on the other. This effect is known as relativistic beaming. Hubble's observations also show that the gas is embedded so deep in a gravitational well that light is struggling to escape, and therefore appears stretched to redder wavelengths. The black hole's mass is around 250 million times that of the Sun.
Quote:
A Hubble Space Telescope image of the spiral galaxy NGC 3147 appears next to an artist's illustration of the supermassive black hole residing at the galaxy's core. Credit: Hubble Image: NASA, ESA, S. Bianchi (Università degli Studi Roma Tre University), A. Laor (Technion-Israel Institute of Technology), and M. Chiaberge (ESA, STScI, and JHU); Illustration: NASA, ESA, and A. Feild and L. Hustak (STScI)
https://phys.org/news/2019-07-hubble-my ... -disc.html
Posted:
Tue Jul 16, 2019 10:54 am
Quote:
No exomoons yet, but we may have spotted a disk that will form them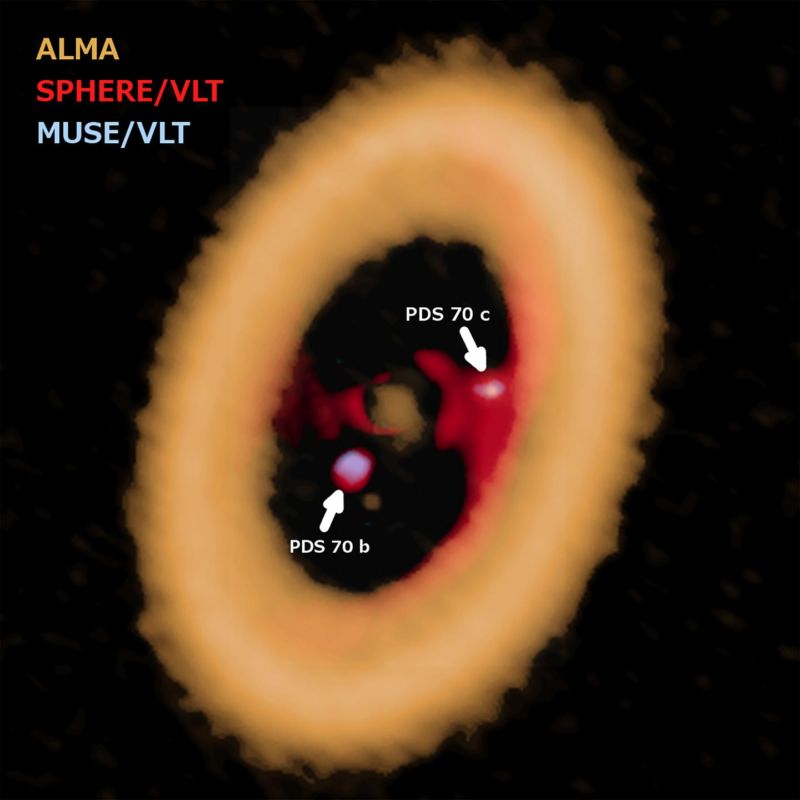 Up until the last few decades, our picture of what might reside around distant stars was shaped entirely by the planets, moons, asteroids, and other bodies in our own Solar System. But the discovery of thousands of exoplanets has dramatically improved our picture of what's out there in terms of large bodies. Comets and asteroids, by contrast, are well below our ability to image for the indefinite future.
Moons, however, are awkwardly in between. It should be possible to image them indirectly, as their gravitational influence will alter the timing with which their planets orbit the star. And we might get a more direct indication of their presence as they will sometimes add to the shadow cast as transiting planets pass in front of their host star. We've searched for these effects, but they'll be subtle, so it could be that it will take years of observations for them to rise above the noise.
But now scientists are suggesting that we've observed an exomoon in the making. By looking at some planets forming around a young star, they think they've spotted a disk around one of the planets that may ultimately condense into moons. And, as a bonus, they found an odd, diffuse structure around a second planet that they can't explain.
https://arstechnica.com/science/2019/07 ... form-them/
Posted:
Mon Jul 22, 2019 12:07 pm
ByThe Associated Press


Posted at 1:34 PM

      

Scientists at the mission control center burst into applause as the rocket lifted off in clear weather as scheduled at 2:43 p.m. from Sriharikota in southern India. K. Sivan, head of India's space agency, said the rocket successfully injected the spacecraft into orbit.

NEW DELHI — India successfully launched an unmanned spacecraft to the far side of the moon Monday, a week after aborting the mission because of a technical problem.

Scientists at the mission control center burst into applause as the rocket lifted off in clear weather as scheduled at 2:43 p.m. from Sriharikota in southern India. K. Sivan, head of India's space agency, said the rocket successfully injected the spacecraft into orbit.

The spacecraft — named Chandrayaan, the Sanskrit word for "moon craft" — is scheduled to land on the lunar south pole in September and send a rover to explore water deposits confirmed by a previous mission that orbited the moon.

If India did manage the soft landing, it would be only the fourth to do so, following the U.S., Russia and China.

India's first moon mission orbited the moon in 2008 and helped confirm the presence of water. The country plans to send its first manned spaceflight by 2022.

India's launch coincided with the 50th anniversary of the Apollo 11 mission this month. It came at a time when the world's biggest space agencies are returning their gaze to the moon, seen as an ideal testing ground for technologies required for deep space exploration, and with the confirmed discovery of water, as a possible pit stop along the way. The U.S. is working to send a manned spacecraft to the moon's south pole by 2024.

Indian Prime Minister Narendra Modi said the country's lunar program will get a substantial boost, writing on Twitter that the country's existing knowledge of the moon "will be significantly enhanced."


Sivan said at a news conference that the successful launch of the spacecraft was the "beginning of India's historic journey" to the moon.

The launch of the $141 million moon mission a week earlier was called off less than an hour before liftoff because of a "technical snag." Media reports said the launch was aborted after scientists from the Indian Space Research Organization identified a leak while filling helium in the rocket's cryogenic engine. The space agency neither confirmed nor denied the reports, saying instead that the problem had been identified and corrected.

The spacecraft that launched Monday is carrying an orbiter, lander and rover that will move around on the lunar surface for 14 Earth days. It will take around 47 days to travel before landing on the moon.

India put a satellite into orbit around Mars in the nation's first interplanetary mission in 2013 and 2014.

With India poised to become the world's fifth-largest economy, Modi's ardently nationalist government is eager to show off the country's prowess in security and technology.

India successfully test-fired an anti-satellite weapon in March, which Modi said demonstrated the country's capacity as a space power alongside the United States, Russia and China.
Posted:
Tue Jul 23, 2019 8:06 am
Quote:
With a launch and a hop coming up, SpaceX has a big week ahead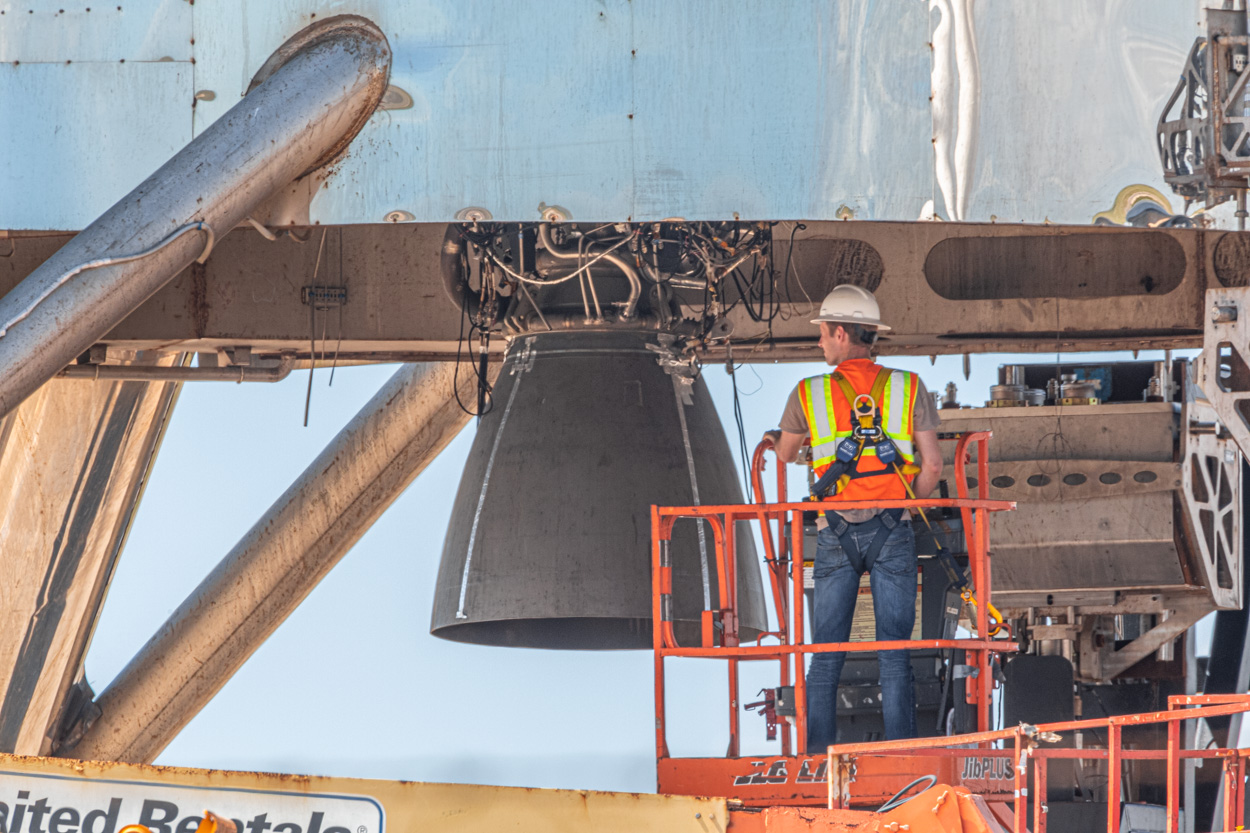 Quote:
A close-up of the crew working on the Raptor engine after the test.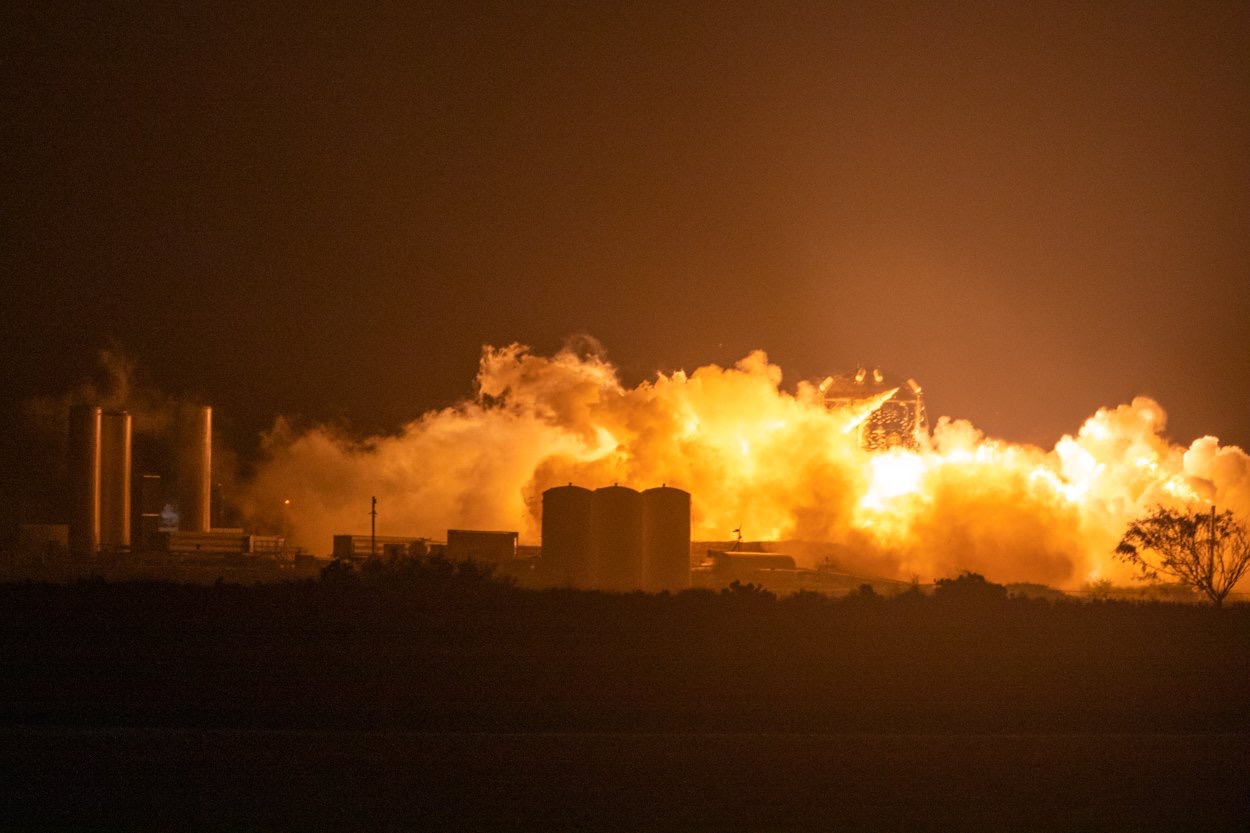 Quote:
And here's a photo of the static fire test.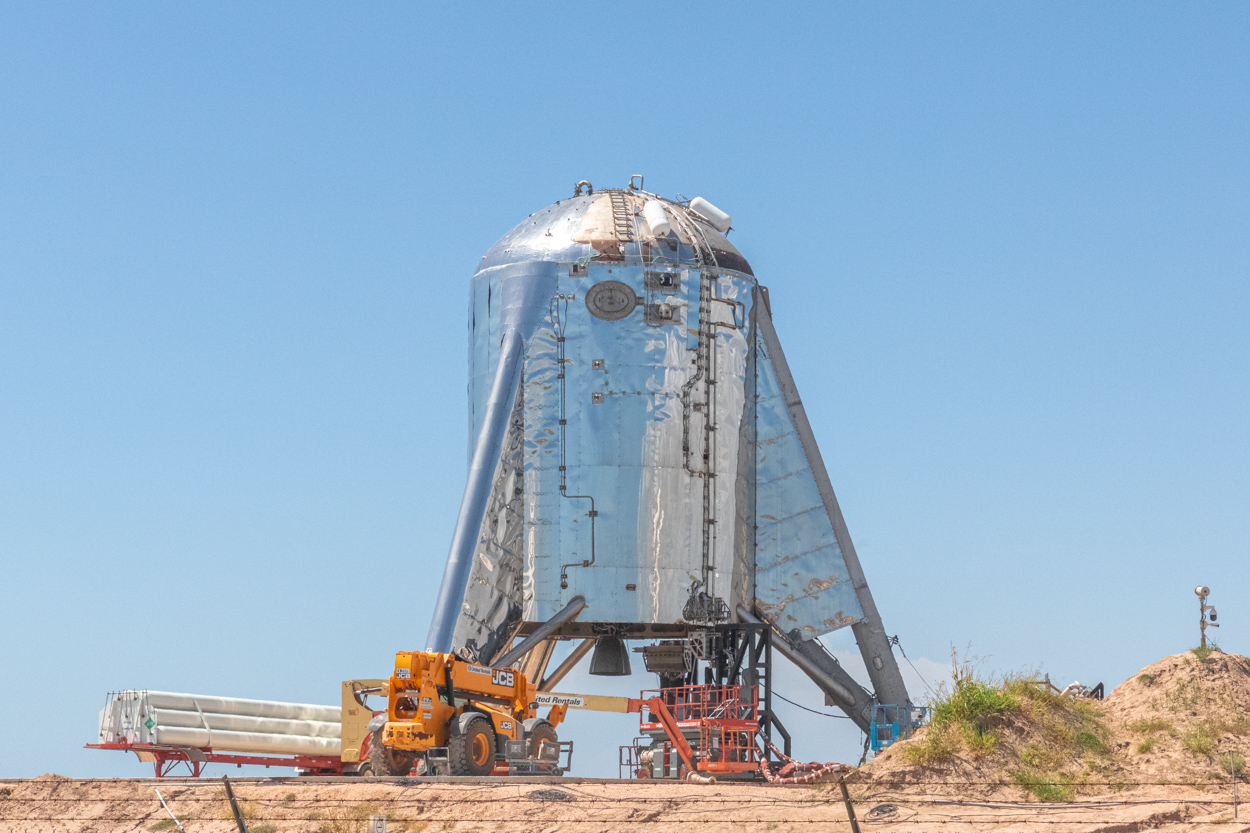 Quote:
Starhopper the day after the test fire. It showed few signs of damage despite the anomalous "fireball" after the static fire test.
. . .
Meanwhile, SpaceX employees have been hard at work in southern Texas working on a prototype "Starship." The company wants to test the ability of the vehicle (nicknamed Starhopper) to take off vertically and land. The next big milestone is a "hop" test that will see an untethered version of the vehicle rise about 20 meters, move horizontally relative to the surface, and then land. Starhopper has not been unleashed before, so we can probably expect some drama with this test flight.
Once completed, Starship will be powered by six Raptor engines and have the capacity to propulsively land and take off from distant worlds, including the Moon and Mars. It will serve as the "upper stage" for a large booster SpaceX is also developing, called Super Heavy. Recently, Musk confirmed that the current design of Super Heavy has 35 Raptor engines.
For the upcoming hop test in Boca Chica, Texas, SpaceX has attached one Raptor engine to the Starship prototype. In preparation, at 10:25pm local time in Texas on July 16 (03:25 UTC July 17), engineers test-fired the Raptor engine attached to Starhopper for five seconds, producing smoke and fire as expected. About four minutes later, however, a secondary fireball briefly engulfed the engine and vehicle.
https://arstechnica.com/science/2019/07 ... eek-ahead/
Posted:
Wed Jul 24, 2019 6:26 am
Quote:
Satellites play chase to measure gravity, achieve picometer accuracy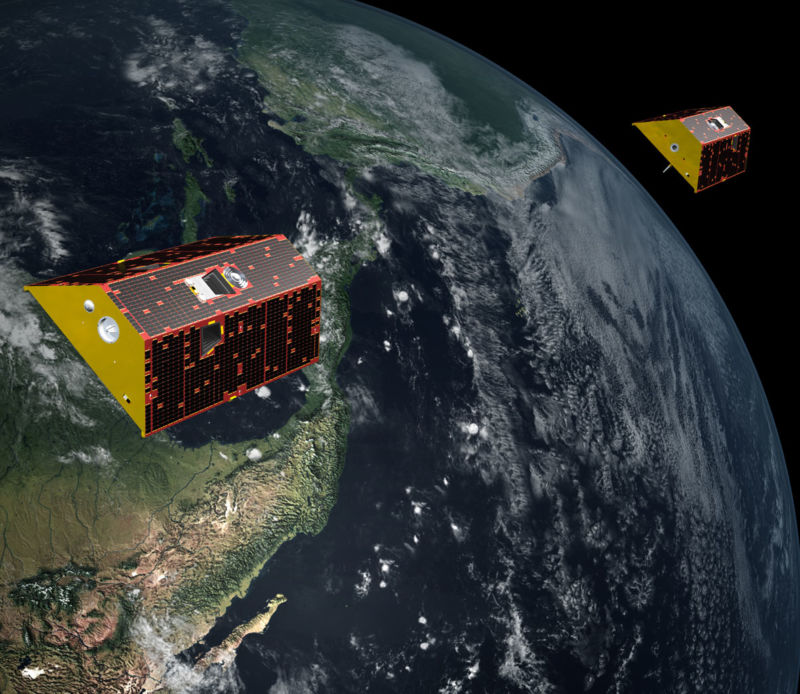 The spinoffs from gravitational wave detectors are not just new scientific discoveries. The technology also has other uses. A good example of this is the gravity-measuring mission, GRACE Follow On, which was launched last year. The first reports on its laser rangefinder's performance have been released, and it makes for impressive reading.
Gravitational wave detectors work by measuring tiny changes in the distance between two mirrors. Ripples in space-time cause a tiny oscillation in that distance, which is then detected by comparing the phase shift between light that has traveled between the two mirrors and light that has traveled along a path that was unaffected by the gravitational wave. To put it in perspective, a gravitational wave detector measures changes that are far smaller than the diameter of an atom and are more like the diameter of a single proton.
The gravity of GRACE

Similar technology found its way into space to increase the sensitivity of Earth-monitoring instruments. On Earth, we have stationary detectors that wait for gravitational waves to pass through them. In orbit, the detector is moving and can measure subtle changes in the Earth's gravitational field.
That brings us to GRACE—a backronym for gravity recovery and climate experiment—a pair of satellites that orbited the Earth at a fixed distance from each other. Or they would be fixed if the Earth's gravity didn't change in time and space. GRACE used a radar system to measure the distance between the two satellites to track those changes, providing information about the gravitational field it was traveling through.
Changes in that distance could be translated into local measurements of the acceleration due to gravity. This, in turn, is used to measure things like the volume of water in aquifers.
GRACE turned out to be hugely useful but, like all satellite missions, eventually died. In this case, the battery on GRACE-2 failed, and the pair was cremated in the Earth's atmosphere. The follow-up to GRACE, called GRACE-FO (follow on), was launched in 2018.
GRACE-FO is mostly a copy of GRACE, but scientists took the opportunity to include a new distance-measuring tool that would outperform the old GRACE radar system. This, if successful, would mean that the measurement data would not put a limit on how we interpreted the data. Instead, models of the tides would need to be improved.
https://arstechnica.com/science/2019/07 ... -accuracy/
Posted:
Thu Jul 25, 2019 12:01 pm
Quote:
Fastest eclipsing binary, a valuable target for gravitational wave studies
Observations made with a new instrument developed for use at the 2.1-meter (84-inch) telescope at the National Science Foundation's Kitt Peak National Observatory have led to the discovery of the fastest eclipsing white dwarf binary yet known. Clocking in with an orbital period of only 6.91 minutes, the rapidly orbiting stars are expected to be one of the strongest sources of gravitational waves detectable with LISA, the future space-based gravitational wave detector.
The Dense "Afterlives" of Stars
After expanding into a red giant at the end of its life, a star like the Sun will eventually evolve into a dense white dwarf, an object with a mass like that of the Sun squashed down to a size comparable to Earth. Similarly, as binary stars evolve, they can engulf their companion in the red giant phase and spiral close together, eventually leaving behind a close white dwarf binary. White dwarf binaries with very tight orbits are expected to be strong sources of gravitational wave radiation. Although anticipated to be relatively common, such systems have proven elusive, with only a few identified to date.
Record-setting White Dwarf Binary
A new survey of the night sky, currently underway at Palomar Observatory and Kitt Peak National Observatory, is changing this situation.
Each night, Caltech's Zwicky Transient Facility (ZTF), a survey that uses the 48-inch telescope at Palomar Observatory, scans the sky for objects that move, blink, or otherwise vary in brightness. Promising candidates are followed up with a new instrument, the Kitt Peak 84-inch Electron Multiplying Demonstrator (KPED), at the Kitt Peak 2.1-meter telescope to identify short period eclipsing binaries. KPED is designed to measure with speed and sensitivity the changing brightness of celestial sources.
This approach has led to the discovery of ZTF J1539+5027 (or J1539 for short), a white dwarf eclipsing binary with the shortest period known to date, a mere 6.91 minutes. The stars orbit so close together that the entire system could fit within the diameter of the planet Saturn.
"As the dimmer star passes in front of the brighter one, it blocks most of the light, resulting in the seven-minute blinking pattern we see in the ZTF data," explains Caltech graduate student Kevin Burdge, lead author of the paper reporting the discovery, which appears in the today's issue of the journal Nature.
A Strong Source of Gravitational Waves
Closely orbiting white dwarfs are predicted to spiral together closer and faster, as the system loses energy by emitting gravitational waves. J1539's orbit is so tight that its orbital period is predicted to become measurably shorter after only a few years. Burdge's team was able to confirm the prediction from general relativity of a shrinking orbit, by comparing their new results with archival data acquired over the past ten years.
J1539 is a rare gem. It is one of only a few known sources of gravitational waves—ripples in space and time—that will be detected by the future European space mission LISA (Laser Interferometer Space Antenna), which is expected to launch in 2034. LISA, in which NASA plays a role, will be similar to the National Science Foundation's ground-based LIGO (Laser Interferometer Gravitational-wave Observatory), which made history in 2015 by making the first direct detection of gravitational waves from a pair of colliding black holes. LISA will detect gravitational waves from space at lower frequencies. J1539 is well matched to LISA; the 4.8 mHz gravitational wave frequency of J1539 is close to the peak of LISA's sensitivity.
https://phys.org/news/2019-07-fastest-e ... ional.html
| | | |
| --- | --- | --- |
| | Page 152 of 180 | [ 2687 posts ] |
Who is online
Users browsing this forum: No registered users and 1 guest