Posted:
Tue Aug 27, 2019 9:39 am
Quote:
Mysterious cloud 'absorbers' seen to drive Venusian albedo, climate
As planets in our solar system go, Venus is one for the textbooks.
Although about the same size as Earth, Venus is a terrestrial planet with a similar composition to our planet, and has about the same proximity to the sun. But the parallels pretty much end there. Venus is much hotter—in the neighborhood of 860 degrees Fahrenheit (460 degrees Celsius) at the surface—due to a runaway greenhouse effect caused by a thick, carbon dioxide rich atmosphere and a blanket of clouds composed mostly of droplets of sulfuric acid. The planet rotates in the opposite direction of Earth (the sun rises in the west), and its surface has never been seen by the human eye as it is completely obscured by its banks of opaque, highly reflective clouds.
But like Earth, the Venusian weather is driven by solar radiation and is deeply influenced by changes in the reflective properties or albedo of the clouds that envelop the planet. And now a better picture of that weather and how it is influenced by changes in the reflectivity of the clouds has emerged, thanks to an international team of researchers using a suite of satellites to assess in ultraviolet light the long-term variations in Venus' albedo. The new study is published today (August 26, 2019) in the Astronomical Journal.
"The difference between Earth and Venus is that on Earth most of the energy from the sun is absorbed at ground level while on Venus most of the heat is deposited in the clouds," explains Sanjay Limaye, a University of Wisconsin–Madison planetary scientist and a co-author of the new study.
What is curious about Venus' clouds—other than that they are unlike anything on Earth—is that in those clouds are mysterious dark patches, dubbed "unknown absorbers" by scientists as the tiny particles that make up the patches soak up most of the ultraviolet and some of the visible light from the sun and thus affect the planet's albedo and energy budget.
The patches were first observed by ground-based telescopes more than a century ago. They ebb and flow over time, changing their distributions and contrasts.
"The particles that make up the dark splotches, have been suggested to be ferric chloride, allotropes of sulfur, disulfur dioxide and so on, but none of these, so far, are able to satisfactorily explain their formation and absorption properties," explains Yeon Joo Lee, the senior author of the new report.
On the other hand, Limaye notes observations that the particles are about the same size and have the same light-absorbing properties as microorganisms found in Earth's atmosphere, and scientists, beginning with the noted biophysicist Harold Morowitz and astronomer Carl Sagan, have long speculated about the possibility that the shadowy patches in the clouds of Venus are, in fact, microscopic life.
https://phys.org/news/2019-08-mysteriou ... lbedo.html
Posted:
Wed Aug 28, 2019 7:40 am
Quote:
Starhopper aces test, sets up full-scale prototype flights this year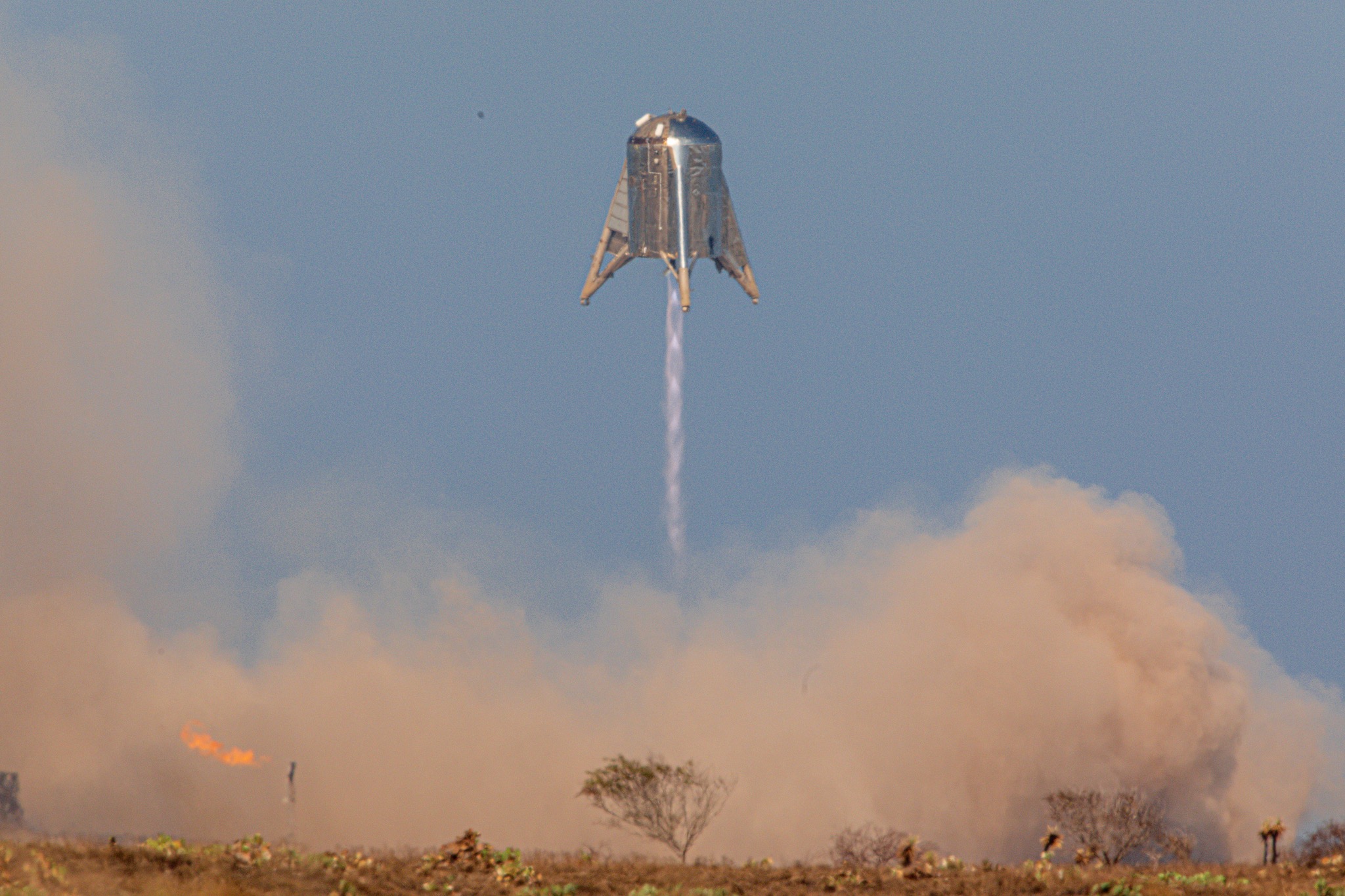 Quote:
On Tuesday evening, Starhopper launched from South Texas.
On Tuesday evening, in South Texas, SpaceX launched its Starhopper test vehicle for the second time. During this test, it flew much higher than last month, nearly straight up to 150 meters. Then, under the power of a single Raptor engine, the vehicle smoothly moved laterally for about 100 meters before a controlled descent and touchdown in the center of a landing pad.
From a technical standpoint, the test was impressive, demonstrating the thrust and vector control of the new Raptor engine. This was the first time a large rocket engine burning liquid-methane propellant made a significant flight, and it appeared to be mostly, if not entirely, successful. SpaceX engineers can take confidence from this test as they move into finishing their builds of Starship orbital prototypes in Texas and Florida later this year.
The test may have had more political significance, however. SpaceX seeks to demonstrate that Starship is a viable vehicle for NASA to consider flying astronauts to and from the Moon and other destinations. Visually, the flight of the stubby Starhopper was arresting: it took off in a cloud of smoke and landed in the reddish—almost Mars-red—dust it kicked up at the landing site.
https://arstechnica.com/science/2019/08 ... this-year/
Posted:
Wed Aug 28, 2019 8:13 am
Astronomers find bizarre planet 'unlike any other discovered so far'
Watching stars "wobble" is a tried-and-true method astronomers use to find huge planets lurking in the outer reaches of the cosmos. If a planet is big enough, its gravity tugs on its parent star just enough that we can see the faint changes in starlight. Using this method, a team of astronomers watched the star HR 5183 with three telescopes for 20 years and found a massive planet, around three times the mass of Jupiter, spinning around it on a highly unusual, egg-shaped orbit.
https://www.cnet.com/news/astronomers-f ... ed-so-far/
Posted:
Wed Aug 28, 2019 11:01 am
Quote:
Europa: there may be life on Jupiter's moon and two new missions will pave the way for finding it
It's brilliant news. In just over a decade, there will be two spacecraft exploring one of the most habitable worlds in the solar system—Jupiter's moon Europa. That's thanks to a recent announcement by NASA that the orbiter Europa Clipper has been given the go ahead, scheduled to reach the moon at the beginning of the 2030s.
In April this year, the European Space Agency also approved development of the Jupiter Icy Moons Explorer (JUICE), which is currently slated to reach the Jupiter system in 2029.
At the dawn of the space age, it was imagined that all life was ultimately dependent on energy from the sun. The frozen ice ball moons of the outer planets seemed unlikely abodes for any kind of life. Discoveries of thriving ecosystems at the bottom the oceans of Earth, relying on hydrothermal vents for both energy and molecular fuel, changed all that. Now we know that life can thrive in environments that are completely isolated from the sun.
Europa is thought to be able to harbour simple, microbial life in its liquid, internal ocean beneath its icy surface. That is because it has each of three essential prerequisites for life in abundance: a source of biochemically useful molecules, a source of energy and a liquid solvent (water) in which dissolved substances can chemically react with each other.
Europa's energy comes from a combination of its slightly elliptical orbit about Jupiter and its gravitational interaction with two other moons. This combination of forces subject Europa to a tidal variation in gravity with each orbit, causing it to flex and release heat, which prevents the water from freezing.
Europa's biochemically useful molecules may come from impacts by comets or from deep within the moon's rocky core.
https://phys.org/news/2019-08-europa-li ... sions.html
Posted:
Wed Aug 28, 2019 11:34 am
Quote:
Possible Detection of a Black Hole So Big It 'Should Not Exist'
Black hole physicists have been excitedly discussing reports that the LIGO and Virgo gravitational-wave detectors recently picked up the signal of an unexpectedly enormous black hole, one with a mass that was thought to be physically impossible.
"The prediction is no black holes, not even a few" in this mass range, wrote Stan Woosley, an astrophysicist at the University of California, Santa Cruz, in an email. "But of course we know nature often finds a way."
Seven experts contacted by Quanta said they'd heard that among the 22 flurries of gravitational waves detected by LIGO and Virgo since April, one of the signals came from a collision involving a black hole of unanticipated heft — purportedly as heavy as 100 suns. LIGO/Virgo team members would neither confirm nor deny the rumored detection.
. . .
Black holes — dense, paradox-ridden spheres whose gravity traps everything, even light — form from the contracting cores of fuel-spent stars. But in 1967, three physicists at the Hebrew University in Jerusalem realized that when the core of a dying star is very heavy, it won't gravitationally collapse into a black hole. Instead, the star will undergo a "pair-instability supernova," an explosion that totally annihilates it in a matter of seconds, leaving nothing behind. "The star is completely dispersed into space," the three physicists wrote.
A pair-instability supernova happens when the core grows so hot that light begins to spontaneously convert into electron-positron pairs. The light's radiation pressure had kept the star's core intact; when the light transforms into matter, the resulting pressure drop causes the core to rapidly shrink and become even hotter, further accelerating pair production and causing a runaway effect. Eventually the core gets so hot that oxygen ignites. This fully reverses the core's implosion, so that it explodes instead. For cores with a mass between about 65 and 130 times that of our sun (according to current estimates), the star is completely obliterated. Cores between about 50 and 65 solar masses pulsate, shedding mass in a series of explosions until they drop below the range where pair instability occurs. Thus there should be no black holes with masses in the 50-to-130-solar-mass range.
"The prediction comes from straightforward calculations," said Woosley, whose 2002 study of this "pair-instability mass gap" is considered definitive.
Black holes can exist on the other side of the mass gap, weighing in at more than 130 solar masses, because the runaway implosion of such heavy stellar cores can't be stopped, even by oxygen fusion; instead, they continue to collapse and form black holes. But because stars shed mass throughout their lives, a star would need to be born weighing at least 300 suns in order to end up as a 130-solar-mass core, and such behemoths are rare. For this reason, most experts assumed black holes detected by LIGO and Virgo should top out at around 50 solar masses, the lower end of the mass gap. (The million- and billion-solar-mass supermassive black holes that anchor galaxies' centers formed differently, and rather mysteriously, in the early universe. LIGO and Virgo are not mechanically capable of detecting the collisions of supermassive black holes.)
https://www.quantamagazine.org/possible ... -20190828/
Posted:
Thu Sep 05, 2019 6:48 am
Quote:
One Number Shows Something Is Fundamentally Wrong with Our Conception of the Universe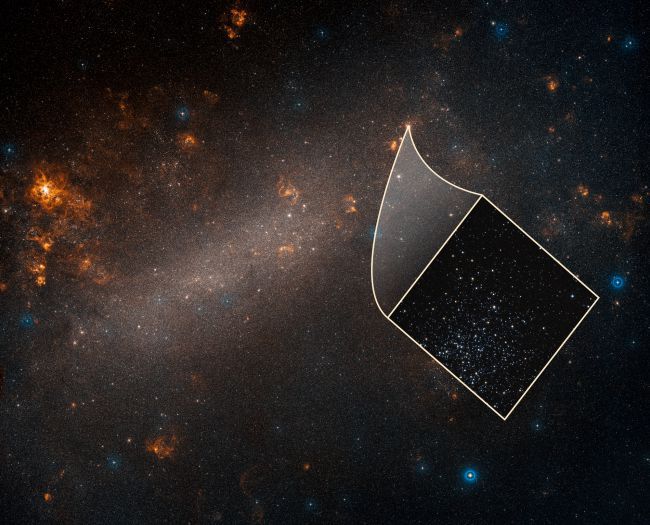 Quote:
An image of the Large Magellanic Cloud taken with a ground-based telescope. The inset image was captured by the Hubble Space Telescope, and shows a galaxy cluster teeming with variable Cepheids, a class of stars that flicker regularly. Using this pulsation rate, scientists have calculated the universe's expansion rate, but that number doesn't match with values derived from other cosmic phenomena, such as the echo of the Big Bang known as the cosmic microwave background radiation.
(Image: © An image of the Large Magellanic Cloud taken with a ground-based telescope. The inset image was captured by the Hubble Space Telescope, and shows a galaxy cluster teeming with variable Cepheids, a class of stars that flicker regularly. Using this pulsation rate, scientists have calculated the universe's expansion rate, but that number doesn't match with values derived from other cosmic phenomena, such as the echo of the Big Bang known as the cosmic microwave background radiation.)
There's a puzzling mystery going on in the universe. Measurements of the rate of cosmic expansion using different methods keep turning up disagreeing results. The situation has been called a "crisis."
The problem centers on what's known as the Hubble constant. Named for American astronomer Edwin Hubble, this unit describes how fast the universe is expanding at different distances from Earth. Using data from the European Space Agency's (ESA) Planck satellite, scientists estimate the rate to be 46,200 mph per million light-years (or, using cosmologists' units, 67.4 kilometers/second per megaparsec). But calculations using pulsating stars called Cepheids suggest it is 50,400 mph per million light-years (73.4 km/s/Mpc).
Related: The Biggest Unsolved Mysteries in Physics
If the first number is right, it means scientists have been measuring distances to faraway objects in the universe wrong for many decades. But if the second is correct, then researchers might have to accept the existence of exotic, new physics. Astronomers, understandably, are pretty worked up about this discrepancy.
What is a layperson supposed to make of this situation? And just how important is this difference, which to outsiders looks minor? In order to get to the bottom of the clash, Live Science called in Barry Madore, an astronomer at the University of Chicago and a member of one of the teams undertaking measurements of the Hubble constant.
The trouble starts with Edwin Hubble himself. Back in 1929, he noticed that more-distant galaxies were moving away from Earth faster than their closer-in counterparts. He found a linear relationship between the distance an object was from our planet and the speed at which it was receding.
"That means something spooky is going on," Madore told Live Science. "Why would we be the center of the universe? The answer, which is not intuitive, is that [distant objects are] not moving. There's more and more space being created between everything."
Hubble realized that the universe was expanding, and it seemed to be doing so at a constant rate — hence, the Hubble constant. He measured the value to be about 342,000 miles per hour per million light years (501 km/s/Mpc) — almost 10 times larger than what is currently measured. Over the years, researchers have refined that rate.
Things got weirder in the late 1990s, when two teams of astronomers noticed that distant supernovas were dimmer, and therefore farther away, than expected, said Madore. This indicated that not only was the universe expanding, but it was also accelerating in its expansion. Astronomers named the cause of this mysterious phenomenon dark energy.
. . .
If the Cepheids teams are wrong, that means astronomers have been measuring distances in the universe incorrectly this whole time, Madore said. But if Planck is wrong, then it's possible that new and exotic physics would have to be introduced into cosmologists' models of the universe, he added. These models include different dials, such as the number of types of subatomic particles known as neutrinos in existence, and they are used to interpret the satellite's data of the cosmic microwave background. To reconcile the Planck value for the Hubble constant with existing models, some of the dials would have to be tweaked, Madore said, but most physicists aren't quite willing to do so yet.
https://www.space.com/hubble-constant-d ... ained.html
Posted:
Wed Sep 11, 2019 11:31 am
Quote:
Water found for first time on potentially habitable planet
Astronomers have for the first time discovered water in the atmosphere of a planet orbiting within the habitable zone of a distant star.
The finding makes the world - which is called K2-18b - a plausible candidate in the search for alien life.
Within 10 years, new space telescopes might be able to determine whether K2-18b's atmosphere contains gases that could be produced by living organisms.
Details were published in the scientific journal Nature Astronomy.
The lead scientist, Prof Giovanna Tinetti of University College London (UCL) described the discovery as "mind blowing".
"This is the first time that we have detected water on a planet in the habitable zone around a star where the temperature is potentially compatible with the presence of life," she said.
The habitable zone is the region around a star where temperatures are sufficiently benign for water to exist in liquid form on the surface of a planet.
K2-18b is 111 light-years - about 650 million million miles - from Earth, too far to send a probe. So the only option is to wait for the next generation of space telescopes to be launched in the 2020s and to look for gasses in the planet's atmosphere that could only be produced by living organisms, according to UCL's Dr Ingo Waldmann.
"This is one of the biggest questions in science and we have always wondered if we are alone in the Universe," Dr Waldmann said. "Within the next 10 years, we will know whether there are chemicals that are due to life in those atmospheres."
https://www.bbc.com/news/science-environment-49648746
Posted:
Thu Sep 12, 2019 8:29 am
Quote:
Another Interstellar Visitor Is Headed Our Way
Quote:
The possible interstellar comet C/2019 Q4 (Borisov). A short tail is visible above and right of the coma.
Gennady Borisov
First there was 'Oumuamua, discovered nearly two years ago. Now we might be in store for another interstellar flyby, this time by the recently discovered comet known for now by the provisional designation C/2019 Q4 (Borisov) — formerly gb00234. Gennady Borisov captured the object on August 30, 2019, at the Crimean Astrophysical Observatory when it was about 3 astronomical units (a.u.) from the Sun. Unlike 'Oumuamua, which wasn't spotted until well after perihelion, the new comet is approaching the plane of the solar system and will reach perihelion on December 10, 2019.
But it's still early. Don't be surprised if these dates change as more observations come in.
Quote:
The shape of an object's orbit is defined by its eccentricity (e). For a circle, e = 0, and its values for ellipses vary up to 1, indicating a parabola. Any object with e > 1 is on a hyperbolic orbit from beyond the solar system.
Stamcose / CC BY-SA 4.0 with additions by the author
Quote:
An orbit diagram shows the hyperbolic trajectory that C/2019 Q4 seems to be taking through the solar system. The comet is currently about 2.7 a.u. from the Sun and 3.4 a.u. from the Earth.
Tony Dunn / CC BY-SA 4.0
https://www.skyandtelescope.com/astrono ... d-our-way/
| | | |
| --- | --- | --- |
| | Page 157 of 176 | [ 2626 posts ] |
Who is online
Users browsing this forum: No registered users and 6 guests