Posted:
Fri Sep 13, 2019 5:19 am
stratos wrote:
So Earth is .7 a.u. from the Sun. Is there any object that is exactly 1 a.u. from another object in our solar system.
An A.U., or Astronomical Unit, is defined as the average Earth - Sun distance. So Earth is 1 A.U. from the Sun (average), or 1 A.U. is exactly 149,597,870,700 metres.
Posted:
Fri Sep 13, 2019 10:33 am
hen there something wrong with the math here. "

An orbit diagram shows the hyperbolic trajectory that C/2019 Q4 seems to be taking through the solar system. The comet is currently about 2.7 a.u. from the Sun and 3.4 a.u. from the Earth."

If its 3.4 units from the Earth and just 2.7 from the sun, that's only .7 a.u. difference
Posted:
Fri Sep 13, 2019 10:41 am
stratos wrote:
hen there something wrong with the math here. "
An orbit diagram shows the hyperbolic trajectory that C/2019 Q4 seems to be taking through the solar system. The comet
is currently
about 2.7 a.u. from the Sun and 3.4 a.u. from the Earth."
If its 3.4 units from the Earth and just 2.7 from the sun, that's only .7 a.u. difference
"Is Currently" You are thinking the three are in a straight line. I hope this clears up the confusion - the comet will pass outside the orbit of Mars. The comet will be in our system for at least a year.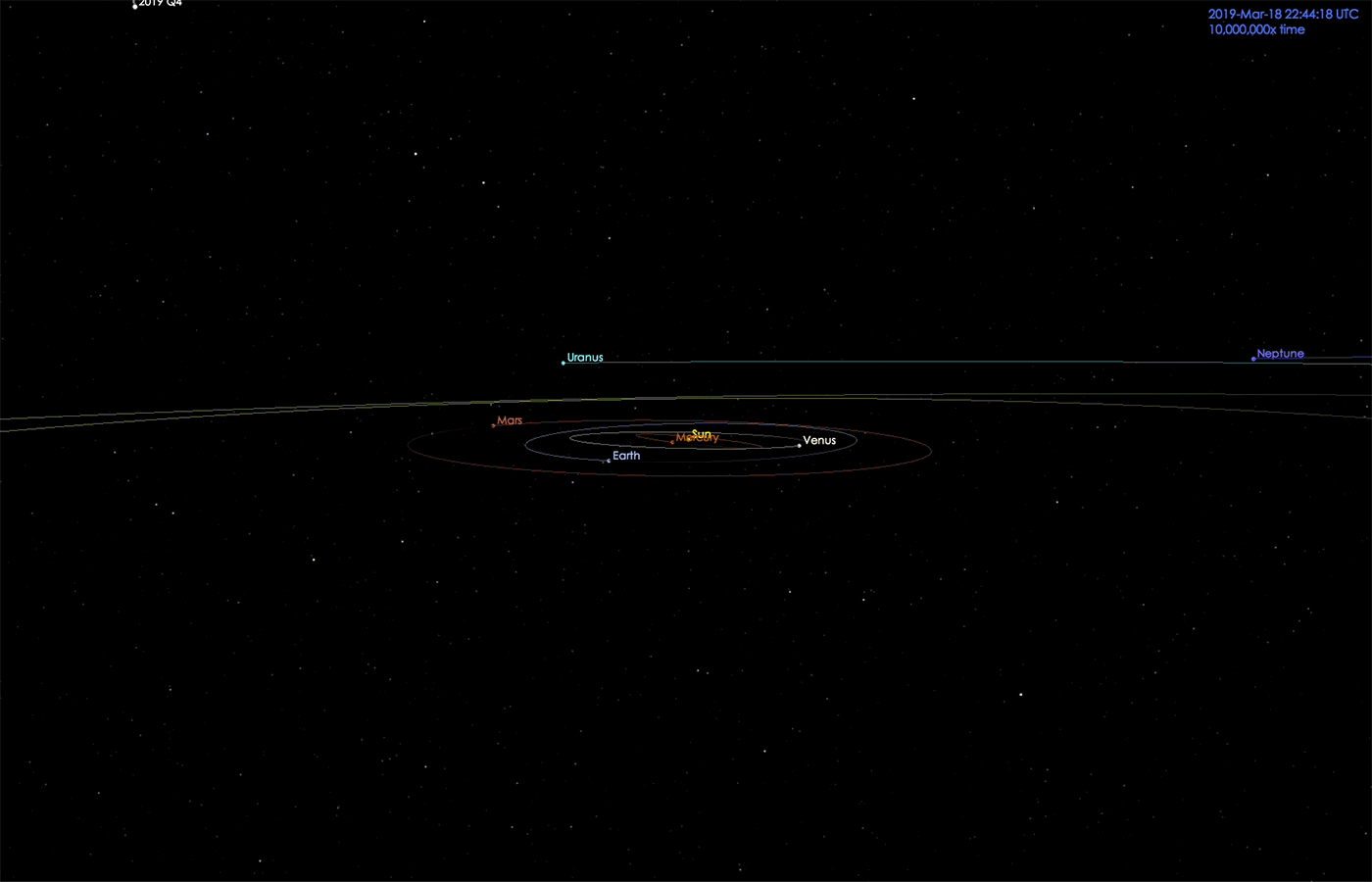 As Mr. Miagi said in Karate Kid - "No be dere!"
Posted:
Sat Sep 14, 2019 10:12 am
Habitable planet absolutely shitting itself after being discovered by humans
Quote:
Planet K2-18b, which scientists say contains water and gases compatible with the presence of life, is said to be 'absolutely cacking it' at having been spotted by the notorious 'human race'.

Sound bites picked up by a hi-tech audio-telescope at Jodrell Bank Observatory have allegedly heard the planet shouting 'Oh, fuck, no, not them! Why couldn't it have been the Deadly Denodian Destroyers from Sector 9H?' Deep sobbing can then be heard.

Whilst the planet is actually 111 light-years from Earth, this seems to be of little comfort to it, as it has been monitoring Earth for Millennia and is aware of its reputation on the cosmic grapevine.

Horrified at the way that Earth's dominant species has choked the planet with smoke, blown bits of it up, filled its oceans with shit and is now burning its lungs, K2-18b had been reassured that nobody would bother to invent anything remotely complex enough to discover it, unless it was a by-product of something much more deadly.

This appears to be its main worry and it is already starting to bribe a number of disgracefully savage species from outside of the Milky Way to 'pay us a visit' in order to protect itself.

However, Dr Angelos Tsiaras, of University College London, said that studying K2-18b would allow us to get one step closer to answering the question 'Is the Earth unique?'.

Current scientific thinking is that the answer is likely to be 'yes', as it seems unlikely that the human race will not only find a habitable planet, but one that is also on its absolute last legs, choked with plastic, and populated with a species that spends an awful lot of their time and effort killing each other for fun.
Posted:
Wed Sep 18, 2019 8:20 am
Quote:
Fresh analysis of LIGO data supports "no hair" theorem for black holes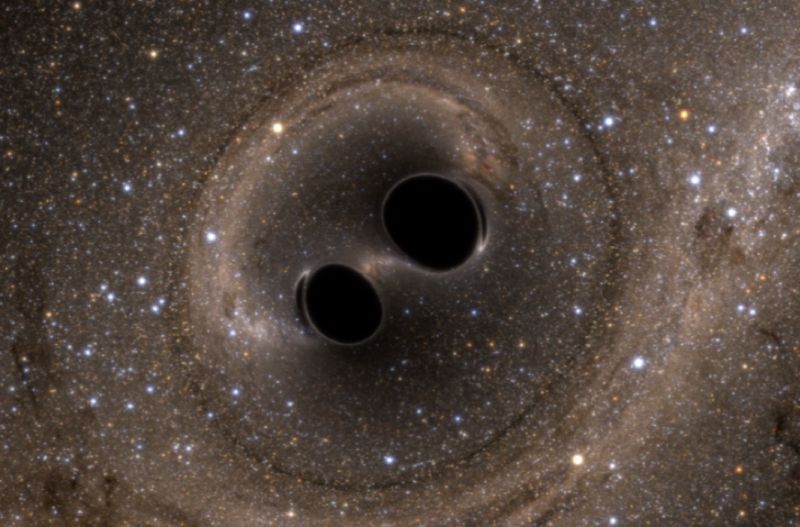 Physicists have "heard" the telltale ring of an infant back hole for the first time, thanks to a fresh analysis of LIGO data. Researchers specifically looked for telltale "overtones" in the data from the collaboration's Nobel Prize-winning detection of two black holes merging. Not only were the overtones present, but the pattern of pitch and decay matches predictions for the black hole's mass and spin derived using the general theory of relativity. According to a new paper in Physical Review Letters, the result also supports the so-called "no hair" theorem for the classical description of black holes.
That classical picture of a black hole is a circle with a dot at the center. The circumference of the circle is the event horizon, and the dot is the singularity. General relativity holds that the area of the event horizon is a vacuum with no structure. That's because any dust, gas, or elementary particle placed at the horizon should fall into the black hole, maintaining the vacuum state. There would be no noticeable change if you threw something into a black hole—nothing that would provide a clue as to what that object might have been. It was the late physicist John Wheeler who coined the colorful description, "Black holes have no hair." (Wheeler had a knack for catchy names and phrases.) So all you need to describe black holes mathematically is their mass and their spin, plus their electric charge.
"We all expect general relativity to be correct, but this is the first time we have confirmed it in this way," said lead author Maximiliano Isi of MIT. "This is the first experimental measurement that succeeds in directly testing the no-hair theorem. It doesn't mean black holes couldn't have hair. It means the picture of black holes with no hair lives for one more day."
General relativity also predicts that two merging black holes should give off powerful gravitational waves—ripples in the fabric of spacetime so faint, they are very difficult to detect. LIGO is able to do so via laser interferometry, using high-powered lasers to measure tiny changes in the distance between two objects positioned kilometers apart. LIGO has detectors in Hanford, Washington, and in Livingston, Louisiana. A third detector in Italy called Advanced VIRGO came online in 2016. Each instrument is so sensitive that it also picks up small ambient vibrations, like a rumbling freight train or natural thermal vibrations in the detectors themselves. So the LIGO collaboration goes to great lengths to shield its instruments and minimize noise in its data.
On September 14, 2015, at 5:51am EST, both detectors picked up signals within milliseconds of each other for the very first time. The waveforms of those signals serve as an audio fingerprint—in this case, evidence for two black holes spiraling inward toward each other and merging in a massive collision event, sending powerful shock waves across spacetime. Picking up the signals was a stunning achievement, and nobody was surprised when the first direct observation of gravitational waves won the 2017 Nobel Prize in Physics.
An upgraded LIGO is still detecting various other candidate events. While there have been some naysayers casting doubt on that first event, two independent studies confirmed the detection last year, so the controversy has been largely laid to rest.
https://arstechnica.com/science/2019/09 ... irst-time/
Posted:
Fri Sep 20, 2019 6:07 am
Quote:
Look Out Below! Japan's Hayabusa2 Drops Target Markers on Asteroid Ryugu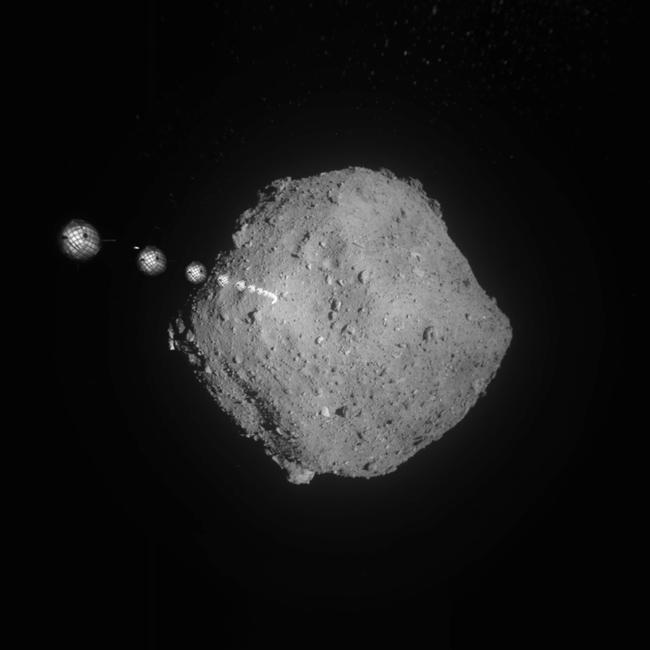 Quote:
An image overlay shows one of Hayabusa2's target markers falling slowly to the surface of the asteroid Ryugu on Sept. 16, 2019.
(Image: © JAXA, Chiba Institute of Technology, and collaborators)
Japan's asteroid-exploring spacecraft has practiced its last task before heading home — and it made a nifty image as well.
The Hayabusa2 mission has been studying a space rock called Ryugu for more than a year. During that time, the spacecraft has snagged samples of the rock, created an artificial crater and released three small robots to explore Ryugu's surface. But Hayabusa2 has one more rover on board, dubbed MINERVA-II2.
And before the main spacecraft deploys that rover, the team overseeing the mission for the Japan Aerospace Exploration Agency (JAXA) wanted to put the vehicle through its paces one more time. That rehearsal, which took place Sept. 16 (Sept. 17 local time at mission control), sent two target markers toward the asteroid.
Each target marker is a reflective ball that's about 4 inches (10 centimeters) across and filled with smaller balls — like a high-tech beanbag. Hayabusa2 launched with five of these markers and had already deployed two, one last October and one in May. Two more left the spacecraft during the rehearsal this week, according to JAXA.
During the procedure, the spacecraft photographed the target markers every 4 seconds, producing the raw material that mission personnel have turned into stunning would-be multiple-exposure images.
As the camera snapped, the target marker itself stayed more or less in the same place, while the spacecraft itself rose at a speed of about 4 inches per second, according to a statement from JAXA. All told, the target markers took a few days to reach the asteroid's surface, on account of the space rock's very weak gravity.
https://www.space.com/hayabusa2-targeti ... hotos.html
Posted:
Mon Sep 23, 2019 6:47 am
Quote:
Mysterious magnetic pulses discovered on Mars
At midnight on Mars, the red planet's magnetic field sometimes starts to pulsate in ways that have never before been observed. The cause is currently unknown.
That's just one of the stunning preliminary findings from NASA's very first robotic geophysicist there, the InSight lander. Since touching down in November 2018, this spacecraft has been gathering intel to help scientists better understand our neighboring planet's innards and evolution, such as taking the temperature of its upper crust, recording the sounds of alien quakes, and measuring the strength and direction of the planet's magnetic field.
As revealed during a handful of presentations this week at a joint meeting of the European Planetary Science Congress and the American Astronomical Society, the early data suggest the magnetic machinations of Mars are marvelously mad.
In addition to the odd magnetic pulsations, the lander's data show that the Martian crust is far more powerfully magnetic than scientists expected. What's more, the lander has picked up on a very peculiar electrically conductive layer, about 2.5 miles thick, deep beneath the planet's surface. It's far too early to say with any certainty, but there is a chance that this layer could represent a global reservoir of liquid water.
On Earth, groundwater is a hidden sea locked up in sand, soil, and rocks. If something similar is found on Mars, then "we shouldn't be surprised," says Jani Radebaugh, a planetary scientist at Brigham Young University who was not involved with the work. But if these results bear out, a liquid region at this scale on modern Mars has enormous implications for the potential for life, past or present.
https://www.nationalgeographic.com/scie ... -midnight/
Posted:
Mon Sep 30, 2019 9:51 am
Quote:
Planet Nine could be a primodial black hole, new research suggests
The hypothetical Planet Nine, assumed to be lurking somewhere in the outskirts of our solar system, may not be a planet at all. A new study, published September 24 on the arXiv pre-print server, suggests that the mysterious and still undiscovered object might be a primodial black hole.
Primodial black holes (PBHs) are old and relatively small black holes that emerged soon after the Big Bang. They are thought to have been formed as a result of density fluctuations in the very early universe. It is believed that PBHs with the lowest mass have likely evaporated. However, those with larger masses may still exist, evaporating at the present epoch—even though they have been never directly observed.
Astronomers Jakub Scholtz of Durham University and James Unwin of University of Illinois at Chicago, assume that PBHs could reside even closer to us than we think. In a recently published paper, they ponder the possibility that the elusive Planet Nine, theorized to be orbiting the sun at a distance between 300 and 1,000 AU, could be such an old and compact black hole.
Explaining their intriguing hypothesis, the researchers focus on two unsolved gravitational anomalies of similar mass: anomalous orbits of trans-Neptunian objects (TNOs) and an excess in microlensing events. What is interesting is that both events are due to objects with masses estimated to be between 0.5 and 20 Earth masses.
The anomalies of TNO orbits are assumed to be triggered by a new gravitational source in the outer solar system. While it is widely accepted that this source could be a free-floating planet, Scholtz and Unwin argue that the PBH scenario is not unreasonable and should be taken into account.
https://phys.org/news/2019-09-planet-pr ... -hole.html
Posted:
Mon Sep 30, 2019 10:23 am
stratos wrote:
I\Is this Planet 9 the same thing (concept) as planet X I heard about in the 80's?
No. "Planet X" (x for unknown) is sort of a conspiracy magnet. "Planet X collided with the Earth" last year, according to the UK Express.
"Planet 9" is the code name for a mass that is responsible for measurements that can't be explained any other way. Because there are 8 planets so far . . .
Posted:
Mon Sep 30, 2019 10:59 am
stratos wrote:
At the time we had 9 planets
I just remember something about scientist thinking there might be another planet that they had not discovered yet and they were calling it Planet X. I was young and vaguely recall hearing about it.
There have been several planets discovered since we were young'uns. Here's what NASA says about
Planet X
. So it looks like Planet X and Planet 9 seem to be the same thing we are talking about.
Collectively, the planets discovered past the orbit of Neptune are known as 'Dwarf Planets', Pluto included. some of them are larger than Pluto, which is why Pluto was re-classified.
https://www.universetoday.com/72717/wha ... rf-planet/
| | | |
| --- | --- | --- |
| | Page 158 of 176 | [ 2626 posts ] |
Who is online
Users browsing this forum: No registered users and 7 guests