Author
Topic Options

Posted:

Thu Nov 21, 2019 8:16 am

Quote:

Scientists find evidence of missing neutron star

The leftovers from a spectacular supernova that revolutionised our understanding of how stars end their lives have finally been spotted by astronomers at Cardiff University.

The scientists claim to have found evidence of the location of a neutron star that was left behind when a massive star ended its life in a gigantic explosion, leading to a famous supernova dubbed Supernova 1987A.

For more than 30 years astronomers have been unable to locate the neutron star—the collapsed leftover core of the giant star—as it has been concealed by a thick cloud of cosmic dust.

Using extremely sharp and sensitive images taken with the Atacama Large Millimeter/submillimeter Array (ALMA) telescope in the Atacama Desert of northern Chile, the team have found a particular patch of the dust cloud that is brighter than its surroundings, and which matches the suspected location of the neutron star.

The findings have been published in The Astrophysical Journal.

https://phys.org/news/2019-11-scientist ... -star.html
Posted:
Thu Nov 21, 2019 8:19 am
Quote:
First detection of the cosmic monster explosions with ground-based gamma-ray telescopes
Quote:
Gamma-ray bursts can be triggered by the explosion of a super massive star, collapsing into a black hole. From the vicinity of the black hole, powerful jets shoot in opposite directions into space, accelerating electrically charged particles, which in turn interact with magnetic fields and radiation to produce gamma rays. Credit: DESY, Science Communication Lab
The strongest explosions in the universe produce even more energetic radiation than previously known: Using specialized telescopes, two international teams have registered the highest energy gamma rays ever measured from so-called gamma-ray bursts, reaching about 100 billion times as much energy as visible light. The scientists of the H.E.S.S. and MAGIC telescopes present their observations in independent publications in the journal Nature. These are the first detections of gamma-ray bursts with ground-based gamma-ray telescopes. DESY plays a major role in both observatories, which are operated under the leadership of the Max Planck Society.
Gamma-ray bursts (GRB) are sudden, short bursts of gamma radiation happening about once a day somewhere in the visible universe. According to current knowledge, they originate from colliding neutron stars or from supernova explosions of giant suns collapsing into a black hole. "Gamma-ray bursts are the most powerful explosions known in the universe and typically release more energy in just a few seconds than our Sun during its entire lifetime—they can shine through almost the entire visible universe," explains David Berge, head of gamma-ray astronomy at DESY. The cosmic phenomenon was discovered by chance at the end of the 1960s by satellites used to monitor compliance with the nuclear test ban on Earth.
Since then, astronomers have been studying gamma-ray bursts with satellites, as Earth's atmosphere very effectively absorbs gamma rays. Astronomers have developed specialized telescopes that can observe a faint blue glow called Cherenkov light that cosmic gamma rays induce in the atmosphere, but these instruments are only sensitive to gamma rays with very high energies. Unfortunately, the brightness of gamma-ray bursts falls steeply with increasing energy. Cherenkov telescopes have identified many sources of cosmic gamma rays at very high energies, but no gamma-ray bursts. Satellites, on the other hand, have much too small detectors to be sensitive to the low brightness of gamma-ray bursts at very high energies. So, it was effectively unknown, if the monster explosions emit gamma rays also in the very-high-energy regime.
https://phys.org/news/2019-11-cosmic-mo ... a-ray.html
Posted:
Mon Nov 25, 2019 9:07 am
Quote:
Once again, a Chinese rocket has doused a village with toxic fuel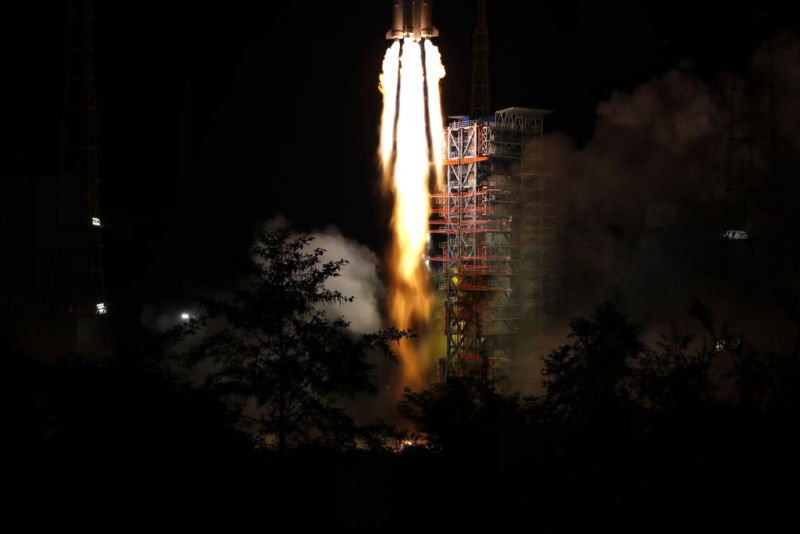 China's space program now ranks among the most successful in the world, with more launches than any other country on an annual basis, the capability to send humans into orbit, and an exploration plan that includes firsts such as the Chang'e-4 spacecraft's landing on the far side of the Moon.
However, in its steady ascent China has flouted some norms of launch. One of these is that areas down range of launch pads should be sparsely populated—preferably oceans—due to launch hazards and the uncontrolled descent of first and second stages.
Further Reading
China now launches more rockets than anyone in the world
China's defiance of this norm has resulted in some horrific scenes as its boosters have periodically crashed into villages. On Friday, a Long March 3B rocket launched a pair of Beidou satellites into orbit. The rocket's ascent was normal, but its first stage booster tumbled into a village down range from the Xichang Satellite Launch Center, in the South-Central part of the country.
This was the aftermath reported on Chinese social media over the weekend:
This is the aftermath downrange following a Chinese Long March 3B launch from Xichang early Saturday. And that yellow smoke is very toxic hypergolic propellant. Source:
https://t.co/VEh5X8Ors0
pic.twitter.com/22IVIpyJOk
— Andrew Jones (@AJ_FI) November 23, 2019
It has happened many times before, including most infamously in 1996 when a Long March 3B rocket veered off course shortly after a launch and crashed into a village. Chinese officials reported six dead from the accident, although Western sources have speculated that hundreds of Chinese citizens may have died in the accident.
https://arstechnica.com/science/2019/11 ... -villages/
Posted:
Tue Nov 26, 2019 12:13 pm
Quote:
Astronomers Find a Galaxy Containing Three Supermassive Black Holes at the Center
NGC 6240 is a puzzle to astronomers. For a long time, astronomers thought the galaxy is a result of a merger between two galaxies, and that merger is evident in the galaxy's form: It has an unsettled appearance, with two nuclei and extensions and loops.
NGC 6240 is about 400 million light years away, in the constellation Ophiuchus. Even though it's been studied intensely, it's a very dusty place, and certain details have been obscured. But a new study using the European Southern Observatory's (ESO) Very Large Telescope (VLT,) along with the advanced 3D MUSE Spectrograph, has opened up a new window into NGC 6240, and revealed a big surprise.
The galaxy is the result of not two galaxies merging, but three. And as a result, it's home to not two supermassive black holes, but three.
Quote:
New observations show that NGC 6240 is home to three supermassive black holes, not two. The northern (N) black hole was previously known, and is an active hole. The new observations shows that the southern black hole is actually two holes: S1 and S2. Image Credit: P Weilbacher (AIP), NASA, ESA, the Hubble Heritage (STScI/AURA)-ESA/Hubble Collaboration, and A Evans (University of Virginia, Charlottesville/NRAO/Stony Brook University)
https://www.universetoday.com/144144/as ... he-center/
Posted:
Thu Dec 05, 2019 8:20 am
Quote:
Sun-bombing spacecraft uncovers secrets of the solar wind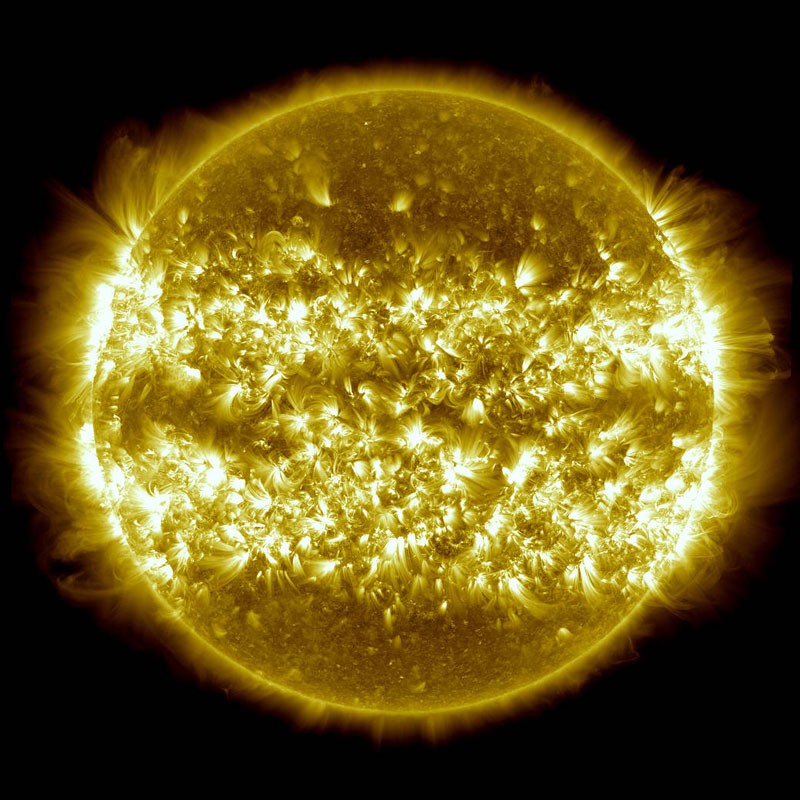 PDF version
Composite of 25 separate images of sun activity spanning the period of April 16, 2012, to April 15, 2013.
Charged particles that flow around and away from the Sun can disrupt radio networks on Earth.Credit: NASA/SDO/AIA/S. Wiessinger
A spacecraft buzzing past the Sun has caught the best-ever glimpse of the birthplace of the solar wind — the stream of energized particles that floods outwards from the star.
NASA's Parker Solar Probe spotted strange spikes in the wind, where particles speed up and flip the direction of the wind's magnetic field. The spacecraft also observed the wind rotating around the Sun faster than expected — suggesting that scientists' understanding of how stars' rotation slows down as they age could be wrong.
The findings, described in four papers published on 4 December in Nature1–4, could help researchers to better prepare for periods when the solar wind is particularly turbulent and knocks out radio and other communications as it washes over Earth. They are the first discoveries from the Parker Solar Probe, which launched in 2018 and has made three circuits around the Sun so far.
"We're seeing terrific new plasma astrophysics in action, right from the beginning," says Stuart Bale, a plasma physicist at the University of California, Berkeley. "It's been spectacular."
Close encounters
The Parker Solar Probe is gradually drawing closer to the Sun as it loops around the star. The most recent encounter was in September, and the next is expected in January. "We're observing in a regime that we've only speculated about before now," says Sarah Gibson, a solar physicist at the National Center for Atmospheric Research in Boulder, Colorado. The probe is studying the energy that heats the Sun's outer atmosphere, or corona, and accelerates the solar wind.
Although scientists can study the solar wind as it washes over Earth, doing so is like trying to study the origin of a waterfall from halfway down the cliff over which it pours, says Bale. "If you want to know the source, you have to get up there and get closer — is it coming from one hole in the ground? From a bunch of seams in the rocks? Is there a sprinkler system up there?"
https://www.nature.com/articles/d41586-019-03684-0
Posted:
Thu Dec 05, 2019 8:47 am
Quote:
A white dwarf is stealing the atmosphere from a Neptune-like exoplanet
White dwarfs are the cores of stars that were once similar to the Sun. At some point, these stars have exhausted the lighter elements that fueled their earlier existence, flared up into a bloated red giant, and burned down into carbon and oxygen rich cores not much larger than the Earth (but far more massive). With fusion shut down, they gradually radiate away the remaining temperature, fading out of our ability to detect them.
We now know that a large number of stars have planets around them. So what happens to a planet orbiting a star that puffs up on its way to becoming a white dwarf? Some hints of that have come from a number of these stars that have material similar to that of a rocky planet embedded in their surface. But a new example has been found with gas that has been drawn off from a Neptune-like planet.
One weird dwarf
The white dwarf in question, WD J091405.30+191412.25 (the authors refer to it affectionately as WD J0914+1914) was initially identified as having hydrogen on its surface. This, on its own, is not unusual. While it would have burned much of its hydrogen during its past life, many white dwarfs pull material off nearby stars. But in this case there was no sign of a nearby star. And, even more oddly, there was sulfur on the surface of the white dwarf as well. Sulfur is generally a very rare element on stars, which suggested that the material did not have a stellar origin.
So how did it get there? The key to sorting that out was a careful look at the lines in the spectrum produced by sulfur, hydrogen, and oxygen. All of these were split into two peaks. This is the sign of a rotating disk of material. On one side of the white dwarf, it rotates away from us, adding a slight red shift to the light; on the other, it rotates towards us, adding a slight blue shift. The presence of a disk like this indicates that the material is actively being drawn in from a nearby source.
https://arstechnica.com/science/2019/12 ... exoplanet/
Posted:
Mon Dec 09, 2019 7:36 am
Quote:
No one knows why rocks are exploding from asteroid Bennu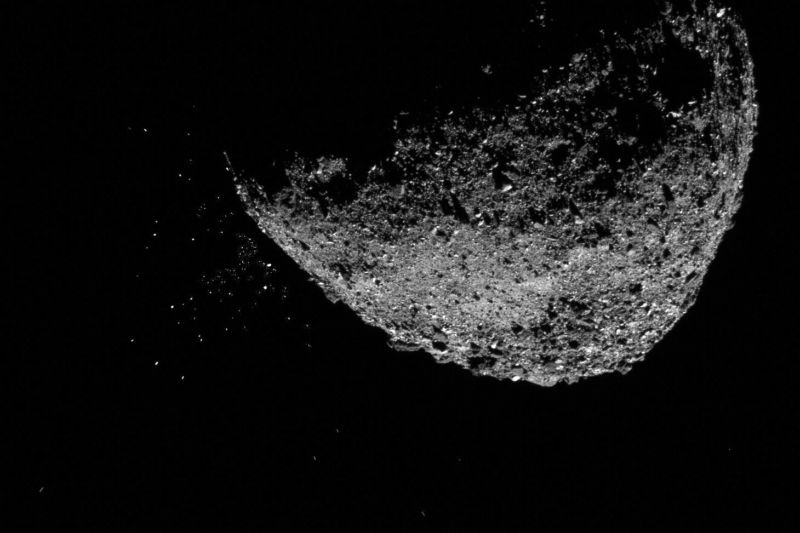 For the last year, NASA's OSIRIS-REx spacecraft has been circling a large asteroid named Bennu that regularly passes uncomfortably close to Earth. The spacecraft has been painstakingly mapping the asteroid's rocky surface using a suite of cameras and other instruments that will help it determine where to land next year. Once NASA selects a final landing site, OSIRIS-REx will kiss Bennu just long enough to scoop up a sample to bring back to Earth in 2023.
Many scientists expect the Bennu sample to revolutionize our understanding of asteroids, especially those that are near Earth and pose the greatest threat from space to life as we know it. But as detailed in a paper published this week in Science, NASA has already started making surprising discoveries around this alien world. Earlier this year, the OSIRIS-REx team witnessed particles exploding from the asteroid's surface—and the team's not sure why.
"No one has ever seen an active asteroid up close like this," says Carl Hergenrother, an astronomer at the University of Arizona and the scientist who proposed Bennu as the target for OSIRIS-REx. "It wasn't that long ago that the conventional wisdom was that asteroids are these dead bodies that didn't change very much."
In January, the navigation cameras on OSIRIS-REx captured three ejection events that each spewed about 100 centimeter-sized asteroid particles into space. The spacecraft also detected a significant number of particles orbiting Bennu like a cloud of gnats. Their diverse orbits suggest that particle ejections are a common event on the asteroid and occur all across its surface, rather than in a few select spots. Indeed, in the year since the three ejection events that are reported today in Science, Hergenrother says OSIRIS-REx has detected several other smaller ejections.
Asteroid Bennu isn't really "alive" because it doesn't have a heated core necessary for geological activity, but as Hergenrother and his colleagues discovered, it's not exactly dead either. It's a space zombie roaming the solar system, sneezing out small rocks. Some quickly return to the surface like a cannonball, while others escape into the vast emptiness of deep space. But what's really intriguing, says Hergenrother, are the rocks that end up in orbit around Bennu and become miniature moons for a few days before returning to the surface.
"What we're seeing is something we would have never been able to see from the ground," Hergenrother adds. "So the question that is still on our minds is, 'Are we seeing a lower-intensity process that is similar to what happens on other active asteroids, or is this something entirely different?'"
https://arstechnica.com/science/2019/12 ... oid-bennu/
Posted:
Mon Dec 09, 2019 9:32 am
Quote:
Scientists have seen massive ejections from about two dozen asteroids as they pass by Earth, but ....
.... they forgot their chargers at home. Thus, they can not show us any video.
We will have to take their word for it.
Quote:
Unfortunately, OSIRIS-REx won't be hanging around Bennu long enough to resolve the mystery on its own, according to Hergenrother. There is
a lot more science
to be done before the spacecraft departs for Earth, so the mystery of Bennu's particle eruptions might have to be shelved—for now.
Like what?
Posted:
Mon Dec 09, 2019 10:22 am
CharlesAnthony wrote:
Quote:
Scientists have seen massive ejections from about two dozen asteroids as they pass by Earth, but ....
.... they forgot their chargers at home. Thus, they can not show us any video.
We will have to take their word for it.
Quote:
Unfortunately, OSIRIS-REx won't be hanging around Bennu long enough to resolve the mystery on its own, according to Hergenrother. There is
a lot more science
to be done before the spacecraft departs for Earth, so the mystery of Bennu's particle eruptions might have to be shelved—for now.
Like what?
Rakastan sitä, jos edustaisit Kanadaa ensimmäisessä miehitetyssä matkalla aurinkoon.
| | | |
| --- | --- | --- |
| | Page 161 of 176 | [ 2626 posts ] |
Who is online
Users browsing this forum: No registered users and 2 guests