Posted:
Thu May 28, 2020 6:06 am
CDN_PATRIOT wrote:
Launch has been scrubbed over a lousy rain cloud. Seriously, WTF. Dragon is made of cardboard or rice paper? I honestly can't believe they cancelled it.
Only day I'm home, and now I can't watch it lift off.
-J.
Yes, all space ships ever have been made out of sugar.
Posted:
Sat May 30, 2020 10:04 pm
'It's a go': Elon Musk blasts two astronauts into space in historic Spacex launch to the ISS bringing back manned spaceflight to America for the first time in NINE years as Trump watches from pad

NASA and SpaceX have launched the Falcon 9 from Kennedy Space Center to the International Space Station
Astronauts Bob Behnken and Doug Hurley took off in Crew Dragon atop Falcon 9 at 3.22pm Eastern Time
This was the second attempt of Launch America - the initial launch was scrubbed Wed. due to poor weather
Falcon 9 has been retrieved by SpaceX's autonomous drone ship and Crew Dragon is heading to the ISS
Hurley and Behnken are set to dock with the ISS in 24 hours where they will join the Expedition 63 crew
Posted:
Tue Jun 02, 2020 9:02 am
Quote:
Class of stellar explosions found to be galactic producers of lithium
Quote:
Artist's interpretation of the explosion of a recurrent nova, RS Ophiuchi. This is a binary star in the constellation of Ophiuchus and is approximately 5,000 light-years away. It explodes roughly every 20 years when the gas flowing from the large star that falls onto the white dwarf reaches temperatures exceeding 10 million degrees. Credit: David A. Hardy
A team of researchers, led by astrophysicist Sumner Starrfield of Arizona State University, has combined theory with both observations and laboratory studies and determined that a class of stellar explosions, called classical novae, are responsible for most of the lithium in our galaxy and solar system.
The results of their study have been recently published in the Astrophysical Journal of the American Astronomical Society.
"Given the importance of lithium to common uses like heat-resistant glass and ceramics, lithium batteries and lithium-ion batteries, and mood altering chemicals; it is nice to know where this element comes from," said Starrfield, who is a Regents Professor with ASU's School of Earth and Space Exploration and a Fellow of the American Astronomical Society. "And improving our understanding of the sources of the elements out of which our bodies and the solar system are made is important."
The team has gone on to determine that a fraction of these classical novae will evolve until they explode as supernovae of type Ia. These exploding stars become brighter than a galaxy and can be discovered at very large distances in the universe.
As such, they are being used to study the evolution of the universe and were the supernovae used in the mid-1990s to discover dark energy, which is causing the expansion of the universe to accelerate. They also produce much of the iron in the galaxy and solar system, an important constituent of our red blood cells, which carry oxygen throughout the body.
https://phys.org/news/2020-06-class-ste ... thium.html
Posted:
Tue Jun 02, 2020 10:19 am
Quote:
Study finds that patterns formed by spiral galaxies show that the universe may have a defined structure
Quote:
An all-sky mollweide map of the quadrupole in the distribution of galaxy spin directions. In this image, the different colors mean different statistical strength of having a cosmological quadrupole at different points in the sky. Credit: Kansas State University
An analysis of more than 200,000 spiral galaxies has revealed unexpected links between spin directions of galaxies, and the structure formed by these links might suggest that the early universe could have been spinning, according to a Kansas State University study.
Lior Shamir, a K-State computational astronomer and computer scientist, presented the findings at the 236th American Astronomical Society meeting in June 2020. The findings are significant because the observations conflict with some previous assumptions about the large-scale structure of the universe.
Since the time of Edwin Hubble, astronomers have believed that the universe is inflating with no particular direction and that the galaxies in it are distributed with no particular cosmological structure. But Shamir's recent observations of geometrical patterns of more than 200,000 spiral galaxies suggest that the universe could have a defined structure and that the early universe could have been spinning. Patterns in the distribution of these galaxies suggest that spiral galaxies in different parts of the universe, separated by both space and time, are related through the directions toward which they spin, according to the study.
"Data science in astronomy has not just made astronomy research more cost-effective, but it also allows us to observe the universe in a completely different way," said Shamir, also a K-State associate professor of computer science. "The geometrical pattern exhibited by the distribution of the spiral galaxies is clear, but can only be observed when analyzing a very large number of astronomical objects."
A spiral galaxy is a unique astronomical object because its visual appearance depends on the observer's perspective. For instance, a spiral galaxy that spins clockwise when observed from Earth, would seem to spin counterclockwise when the observer is located in the opposite side of that galaxy. If the universe is isotropic and has no particular structure—as previous astronomers have predicted—the number of galaxies that spin clockwise would be roughly equal to the number of galaxies that spin counterclockwise. Shamir used data from modern telescopes to show that this is not the case.
https://phys.org/news/2020-06-patterns- ... verse.html
Posted:
Tue Jun 02, 2020 3:35 pm
CDN_PATRIOT wrote:
Launch has been scrubbed over a lousy rain cloud. Seriously, WTF. Dragon is made of cardboard or rice paper? I honestly can't believe they cancelled it.
Only day I'm home, and now I can't watch it lift off.
-J.
The last Challenger launch wasn't cancelled just because some scaredy-cat weather guys were afraid the cold would cause the O-rings to leak rocket propellant.
These days the weather guys call the ball. If they say it doesn't go then it doesn't go. PERIOD.
Posted:
Wed Jun 03, 2020 4:04 am
CDN_PATRIOT wrote:
Launch has been scrubbed over a lousy rain cloud. Seriously, WTF. Dragon is made of cardboard or rice paper? I honestly can't believe they cancelled it.
Apollo 12 was struck by lightning. Twice. You know, something about flying a giant conductive piece of metal into a thunder cloud? Lightning caused many systems to fail. They managed to get most systems back online; but flying for several seconds with electronic control systems not working is really not good! Most damage was to the first stage, they continued to first stage separation and just dropped the damaged stage. They were lucky.
NASA:
Apollo 12 Lightning Strike Incident
Posted:
Wed Jun 03, 2020 6:40 am
BartSimpson wrote:
CDN_PATRIOT wrote:
Launch has been scrubbed over a lousy rain cloud. Seriously, WTF. Dragon is made of cardboard or rice paper? I honestly can't believe they cancelled it.
Only day I'm home, and now I can't watch it lift off.
-J.
The last Challenger launch wasn't cancelled just because some scaredy-cat weather guys were afraid the cold would cause the O-rings to leak rocket propellant.
These days the weather guys call the ball. If they say it doesn't go then it doesn't go. PERIOD.
And it's not like we didn't see a tropical storm forming off the coast of Florida.
http://www.canadaka.net/news/110748-nas ... organizing
Posted:
Mon Jun 08, 2020 7:23 am
Quote:
Astronomers have finally measured the distance of first observed Einstein ring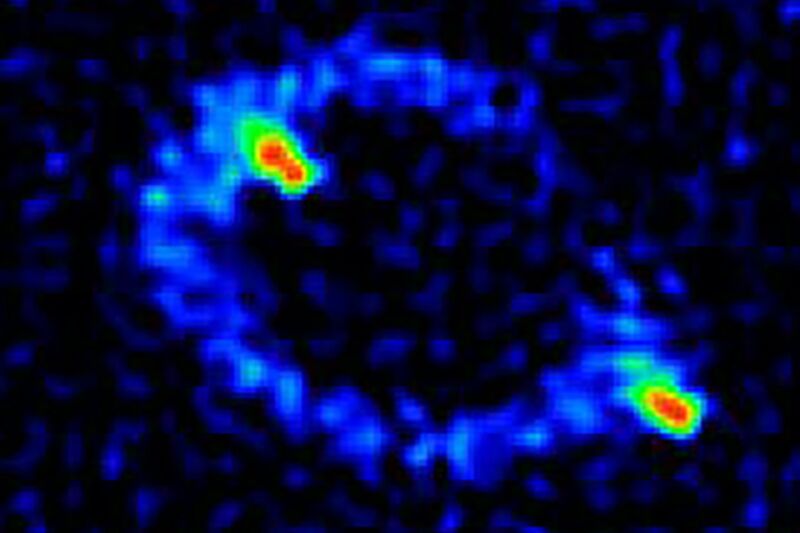 Astronomers around the world may have lost access to their telescopes during the coronavirus pandemic, sheltering in place along with the rest of us, but that hasn't kept them from advancing their field. Two astronomers used the shutdown to comb through existing datasets to hunt for a rare type of quasar and wound up rediscovering a so-called "Einstein ring" first observed back in 1987. They became the first to officially measure its distance from Earth, as reported in a recent paper published in The Astrophysical Journal Letters.
An Einstein ring is a direct consequence of the general theory of relativity; mass bends and warps spacetime, and light must follow that curvature. (An Einstein cross is an even rarer effect.) As Matthew Francis reported for Ars back in 2012:
Quote:
For a sufficiently large mass, the light's shift may be sufficiently large that we can measure it, and it can produce lensed images of the original light source. In gravitational lensing, the lens is a galaxy or galaxy cluster lying between Earth and a distant source, itself typically a galaxy. If the lens is directly in the line of sight, the image of the source galaxy can be distorted into an Einstein ring, a circular image of the source. By studying the shape and other characteristics of the image, observers can reconstruct details about both the lens and the source galaxies.
Einstein himself thought an Einstein ring would be impossible to observe, but he was thinking of rings formed by stars, noting that it would be highly improbable to get stars to align in just the right way to produce the "halo" effect. A single star would also form too small of a lens, thereby defying, as Einstein observed in a 1936 paper, "the resolving power of our instruments." (The angular size of an Einstein ring increases with the mass of the lens.) But galaxies (and galaxy clusters) do make for a sufficiently massive lens.
Quasars are a type of active galactic nuclei—compact regions near a galaxy's center that give off huge amounts of energy because the supermassive black holes at their centers are greedily devouring matter. They were first discovered by astronomers in the 1950s. It can be challenging to spot quasars because they are so distant, but gravitational lensing can help, since another galaxy closer to Earth can act as the lens, warping the light of the quasar behind it and making it brighter.
There are some 200 known gravitationally lensed quasars, but others are even harder to spot because they are obscured by all the gas and dust stirred up by the black hole as it feeds. Those were the objects of interest for Daniel Stern of NASA's Jet Propulsion Laboratory and his co-author, Dominic Walton of the University of Cambridge's Institute of Astronomy.
Quote:
Examples of Einstein ring gravitational lenses taken with the Hubble Space Telescope.
https://arstechnica.com/science/2020/06 ... tein-ring/
Posted:
Mon Jun 08, 2020 7:23 am
Posted:
Mon Jun 08, 2020 12:02 pm
Quote:
International effort reveals 157 day cycle in unusual cosmic radio bursts
Quote:
Credit: Kristi Mickaliger "Artist's impression of an orbital modulation model where the FRB progenitor (blue) is in an orbit with a companion astrophysical object (pink).
An investigation into one of the current great mysteries of astronomy has come to the fore thanks to a four-year observing campaign conducted at the Jodrell Bank Observatory.
Using the long-term monitoring capabilities of the iconic Lovell Telescope, an international team led by Jodrell Bank astronomers has been studying an object known as a repeating Fast Radio Burst (FRB), which emits very short duration bright radio pulses.
Using the 32 bursts discovered during the campaign, in conjunction with data from previously published observations, the team has discovered that emission from the FRB known as 121102 follows a cyclic pattern, with radio bursts observed in a window lasting approximately 90 days followed by a silent period of 67 days. The same behaviour then repeats every 157 days.
This discovery provides an important clue to identifying the origin of these enigmatic fast radio bursts. The presence of a regular sequence in the burst activity could imply that the powerful bursts are linked to the orbital motion of a massive star, a neutron star or a black hole.
Dr. Kaustubh Rajwade of The University of Manchester, who led the new research, said: "This is an exciting result as it is only the second system where we believe we see this modulation in burst activity. Detecting a periodicity provides an important constraint on the origin of the bursts and the activity cycles could argue against a precessing neutron star."
Repeating FRBs could be explained by the precession, like a wobbling top, of the magnetic axis of a highly magnetized neutron star but with current data scientists believe it may be hard to explain a 157-day precession period given the large magnetic fields expected in these stars.
https://phys.org/news/2020-06-internati ... usual.html
Posted:
Tue Jun 09, 2020 8:25 am
Quote:
What causes Saturn's strange polar cloud hexagon?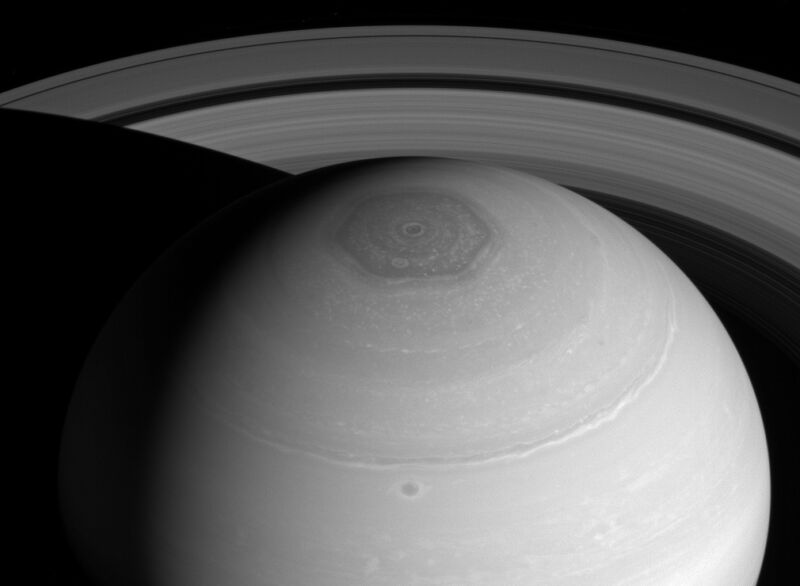 Ever since Voyager 2 revealed Saturn's unique hexagon-shaped clouds at its north pole, the feature has been a puzzle, and the search for a combination of factors responsible has included computer modeling as well as physical modeling with things like rotating tanks of fluid.
Most ideas have centered around (pun intended) a phenomenon known as "Rossby waves." The meanders of Earth's jet streams are a familiar example of this phenomenon. And, in various experiments, researchers have gotten Rossby waves to stabilize in a hexagonal pattern in conditions meant to relate to Saturn's pole.
But Harvard's Rakesh Yadav and Jeremy Bloxham felt these studies were a little shallow—not in a pejorative sense, but literally. On Earth, it's easy enough to decide how to size an atmospheric model, because it's very clear that it stops at the surface. For Saturn, it's a little more debatable how thick you need to make your model to represent the behavior of the giant planet's outer atmosphere. The researchers wanted their simulation to extend deeper to see what kind of impact convection from below would have.
The model simulates a shell spanning the outermost 10 percent of Saturn's radius. It's pretty computationally intensive to run, so Yadav and Bloxham weren't able to twiddle the knobs too much. We have limited data about anything but the uppermost layers of Saturn's atmosphere, and there are lots of physical properties that could be tweaked in search of a perfect match. But for now, this study presents one possible configuration of the model, described as a "proof of concept."
Still, the general pattern of atmospheric circulation looks quite realistic. There are alternating bands of eastward and westward winds in the right places, including strong jet streams. Between these jets, the model produces some vortices—particularly as you get closer to the poles. That seems to be a result of the equatorial bands changing from a ring-like shape at the equator to something closer and closer to a flat disk at the pole. These vortices have the effect of putting a kink in the wind band, giving it a more angular or polygonal shape.
https://arstechnica.com/science/2020/06 ... d-hexagon/
Posted:
Thu Jun 11, 2020 11:12 am
Quote:
Astrophysicists confirm cornerstone of Einstein's Theory of Relativity
An international collaboration of scientists has recorded the most accurate confirmation to date for one of the cornerstones of Einstein's theory of general relativity, 'the universality of free fall."
The new research shows that the theory holds for strongly self-gravitating objects such as neutron stars. Using a radio telescope, scientists can very accurately observe the signal produced by pulsars, a type of neutron star and test the validity of Einstein's theory of gravity for these extreme objects. In particular, the team analyzed the signals from a pulsar named "PSR J0337+1715' recorded by the large radio telescope of Nançay, located in the heart of Sologne (France).
The universality of free fall principle states that two bodies dropped in a gravitational field undergo the very same acceleration independently of their composition. This was first demonstrated by Galileo who famously would have dropped objects of different masses from the top of Pisa's tower to verify that they both reach the ground simultaneously.
This principle is also at the heart of Einstein's theory of general relativity. However, some hints such as the inconsistency between quantum mechanics and general relativity, or the conundrum of the domination of dark matter and dark energy in the composition of the Universe, have led many physicists to believe that general relativity might not be, after all, the ultimate theory of gravity.
The observations of Pulsar J0337+1715, which is a neutron star with a stellar core 1.44 times the mass of the Sun that has collapsed into a sphere of only 25km in diameter, shows that it orbits two white-dwarf stars which have a much weaker gravity field. The findings, published today in the journal Astronomy and Astrophysics, demonstrate the universality of free fall principle to be correct.
https://phys.org/news/2020-06-astrophys ... ivity.html
| | | |
| --- | --- | --- |
| | Page 174 of 176 | [ 2626 posts ] |
Who is online
Users browsing this forum: No registered users and 1 guest