Economics
Trump Fails to Top Trudeau on Job Gains, Despite Rhetoric
By Shelly Hagan
December 10, 2019, 5:00 AM EST
Canada's labor market may look weak against a blockbuster U.S. employment report on Friday but in fact both nations have added jobs at the same pace since President Donald Trump took office.
The U.S. economy has added 4.5% more jobs since January 2017 when Trump was inaugurated president. Canadian employment increased at the same rate over that period under Prime Minister Justin Trudeau.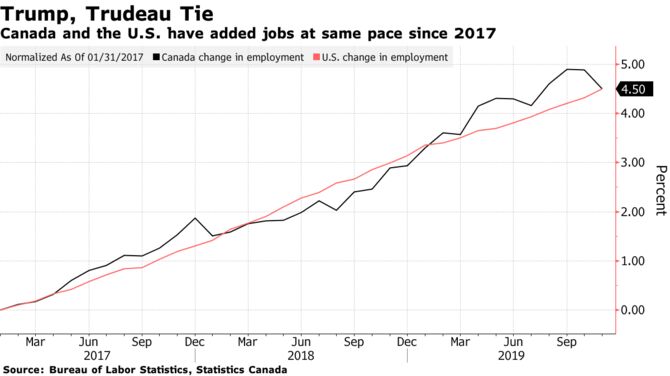 The most recent jobs data on Friday shocked markets. While the U.S. added 266,000 jobs, Canada shed 71,200. The dichotomy between the reports prompted Donald Trump, Jr. to call out Canada's weakness
Though the two country's jobs data aren't completely comparable, Bank of Nova Scotia economist Derek Holt was quick to highlight the similar pace of growth between the two North American nations. Looking at other measures such as wage gains, job creation and the labor-force participation rate since November 2016, Canada has outperformed the U.S., he wrote.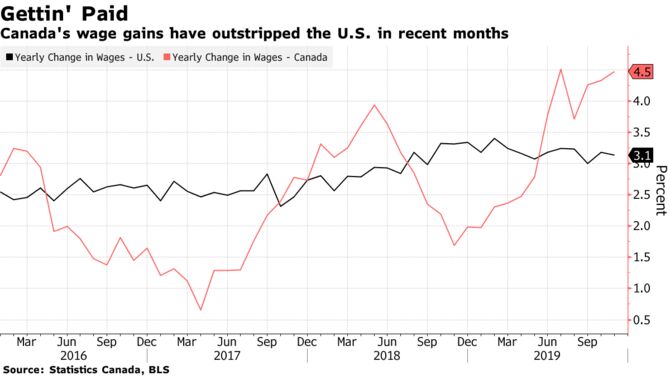 "When it comes to assessing which country has had the strongest job growth since the U.S. election and who has the stronger overall labor market since the U.S. political rhetoric began heating up after the November 2016 election, a cross-section of evidence hands the first place trophy to Canada," Holt said....