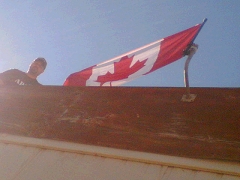 From:
bossdog
Added:
Oct 31 2006
Full Size:
240 x 180
Hits:
1485
Only Members can rate this Picture!
You can Register Here
Description:
Well, I finaly got it up. This is on top of my 2 storey office \ corimec here in Mostar, Bosnia. It ay not be the best setup but I did make sure that it was slightly higher than any other flag on the base.
Warning: MagpieRSS: Failed to parse RSS file. (Mismatched tag at line 1, column 70) in D:\Hosted Sites\canadaka.net\www\includes\rss_fetch\rss_fetch.inc on line 238 Warning: Invalid argument supplied for foreach() in D:\Hosted Sites\canadaka.net\www\themes\text_ads.php on line 21
All logos and trademarks in this site are property of their respective owner.
The comments are property of their posters, all the rest © 2020 by Canadaka.net