Author
Topic Options

Posted:

Tue May 25, 2021 6:55 am

$1:

Potential organic salt detection from Curiosity yields further evidence for past organics on Mars

While organic compounds have been confirmed on the Martian surface and near-surface areas since 2018, new Earth-based experiments point to a potentially tantalizing series of signatures from Curiosity's Sample Analysis at Mars (SAM) instrument that could indicate the presence of organic salts at the rover's Gale Crater location.

What's more, the new research from a team led by J. M. T. Lewis, an organic geochemist at NASA's Goddard Space Flight Center, points to further potential evidence that organic salts might be prevalent across the Martian terrain. The hard part is conclusively detecting them.

For decades, scientists theorized that organic compounds were almost certainly to have been preserved to some detectable degree in the Martian surface environment. In 2018, Curiosity's instruments allowed Eigenbrode et al. to conclusively prove that they were in fact there.

In turn, if organic compounds were present at one time, their by-products — organic salts — would still be around as well, even given the harsh radiation environment of Mars compared to Earth.

While organic compounds and organic salts can form from the presence of microbial life, they can also form from geologic processes.

Though not confirmed, organic salts would be further evidence that organic matter once existed on Mars' surface, and, if they are still present, could support hypothetical microbial life on Mars today, as some life on Earth uses organic salt as food/energy.

https://www.nasaspaceflight.com/2021/05 ... alts-mars/
Posted:
Wed May 26, 2021 1:43 pm
What risks do humans face in space?
$1:
It was quite the job ad when NASA started looking for astronauts for its Moon to Mars mission. They're searching for the first woman and next man to walk on the Moon – and maybe send them onto the Red Planet.

One of the first requirements for future space travellers is the ability to get along with crewmates, Dr Gordon Cable says. He's an associate professor in aerospace medicine at the University of Tasmania, and his job is to look at the hazards and risks humans face in space.

He says they'll need to deal with the distance, the isolation, and the "Earth-dependence" – those already on the International Space Station at least can still see our pale blue dot.

So selection and training will be key, particularly for Mars, where a small group of humans will have to get along and work together for months.

"You don't want people who are overly gregarious all the time – but equally you don't want people who are shy and retiring and can't make any decisions," Cable says.

"We need that balanced personality and people who work well as a team.

"I often say…going to Mars is like being trapped in a caravan with three of your best mates for three years. If you can make it through that, you can make it through anything."

Then there are the physical challenges. Being in microgravity or partial gravity affects how the cardiovascular system works and can leave bones weaker. Radiation is a "potential showstopper", too.

Once humans leave the "protective bunker" of the Earth's atmosphere they're out in the universe, which is bathed in cosmic radiation. That poses a cancer risk and a reproductive risk.

It means anyone who gets on that interplanetary craft may only be able to go once. The "career exposure" to radiation is too great a risk.

That's just the start, Cable says. Once they return, they'll need to be reconditioned, to "get their Earth legs back".

Australia, he says, is in a good position to contribute to the Moon to Mars mission. "We have an international reputation," Cable notes, thanks to our experience in extreme environments and our achievements in medical research, including in radiation exposure.

In a way, it's the challenges that make the adventure worth it. What is learned about supporting astronauts will help Earthly healthcare more broadly, particularly for remote and Aboriginal communities, and even aged care.

For example, researchers are looking at biomarkers, such as putting sensors under the skin to detect dehydration early – that's important for astronauts in extreme environments, and in aged care where people can become dehydrated very quickly.

"To have a wearable monitor that can feed data to a system that monitors hydration levels and warns that hydration isn't adequate can lead to early diagnosis and intervention," he says.

"We always think of the duality between space and Earth, Earth and space…we make sure we get spinoffs to help the Earth population as well."
https://cosmosmagazine.com/space/explor ... -in-space/
Posted:
Thu May 27, 2021 9:59 am
$1:
New dark matter map reveals cosmic mystery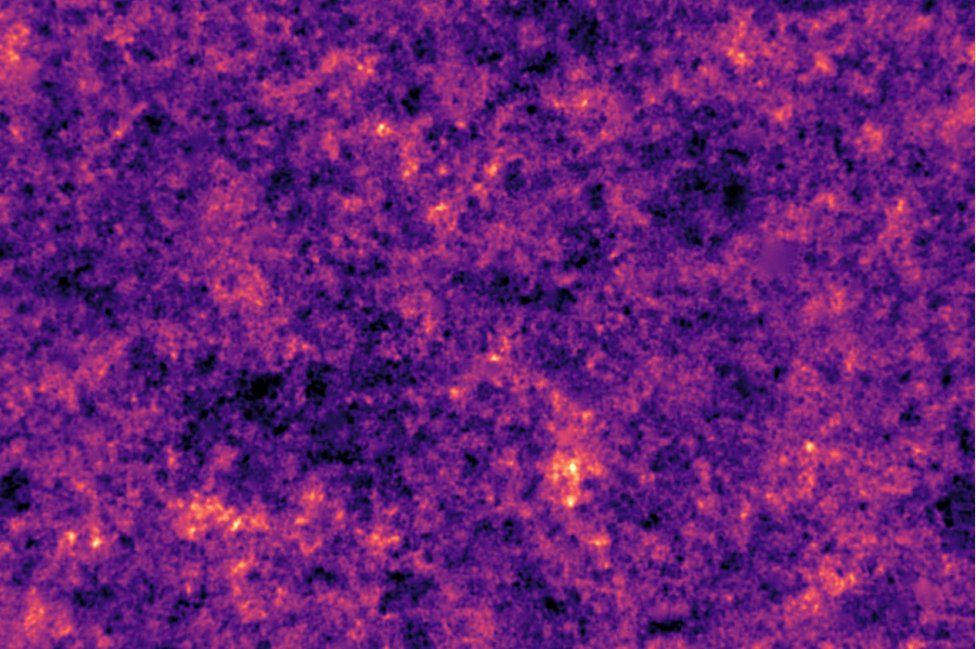 An international team of researchers has created the largest and most detailed map of the distribution of so-called dark matter in the Universe.
The results are a surprise because they show that it is slightly smoother and more spread out than the current best theories predict.
The observation appears to stray from Einstein's theory of general relativity - posing a conundrum for researchers.
The results have been published by the Dark Energy Survey Collaboration.
Dark Matter is an invisible substance that permeates space. It accounts for 80% of the matter in the Universe.
Astronomers were able to work out where it was because it distorts light from distant stars. The greater the distortion, the greater the concentration of dark matter.
Dr Niall Jeffrey, of École Normale Supérieure, in Paris, who pieced the map together, said that the result posed a "real problem" for physics.
"If this disparity is true then maybe Einstein was wrong," he told BBC News. "You might think that this is a bad thing, that maybe physics is broken. But to a physicist, it is extremely exciting. It means that we can find out something new about the way the Universe really is."
Prof Carlos Frenk, of Durham University, who was one of the scientists that built on the work of Albert Einstein and others to develop the current cosmological theory, said he had mixed emotions on hearing the news.
"I spent my life working on this theory and my heart tells me I don't want to see it collapse. But my brain tells me that the measurements were correct, and we have to look at the possibility of new physics," said Prof Frenk.
"Then my stomach cringes, because we have no solid grounds to explore because we have no theory of physics to guide us. It makes me very nervous and fearful, because we are entering a completely unknown domain and who knows what we are going to find."
https://www.bbc.com/news/science-environment-57244708
Posted:
Fri May 28, 2021 6:47 am
$1:
Mars Helicopter Lands Safely After Serious In-Flight Anomaly
Ingenuity's sixth flight on Mars took place this week, and we've just heard details from JPL on an "in-flight anomaly." The little robotic helicopter did manage to land safely, more or less where it was aiming for, but the software glitch that it encountered sounds terrifying, with "roll and pitch excursions of more than 20 degrees, large control inputs, and spikes in power consumption." Fortunately, JPL knows exactly what went wrong.
Flight six was an ambitious flight for Ingenuity. After ascending to 10 meters, the plan was for the helicopter to fly 150m to the southwest, translate 20m south while taking some color pictures, and then finish up by flying 50m northeast to land at a new airfield that it had never seen before. Total time in the air was expected to be 140 seconds, with a top speed of four meters per second. This flight was to be both a significant expansion of Ingenuity's flight envelope, as well as a test of whether its color camera could be used to take aerial stereo images to generate three dimensional maps of the Martian surface.
But right at the end of that first 150m leg of the flight (about 54 seconds after takeoff), something went wrong, causing Ingenuity to begin "adjusting its velocity and tilting back and forth in an oscillating pattern" with "roll and pitch excursions of more than 20 degrees, large control inputs, and spikes in power consumption," according to Ingenuity Chief Pilot Håvard Grip. Ingenuity's behavior was erratic for the remainder of the flight, but remarkably, it landed safely within just five meters of its target.
https://spectrum.ieee.org/automaton/rob ... ht-anomaly
Posted:
Mon May 31, 2021 7:27 am
$1:
Space Debris Has Hit And Damaged The International Space Station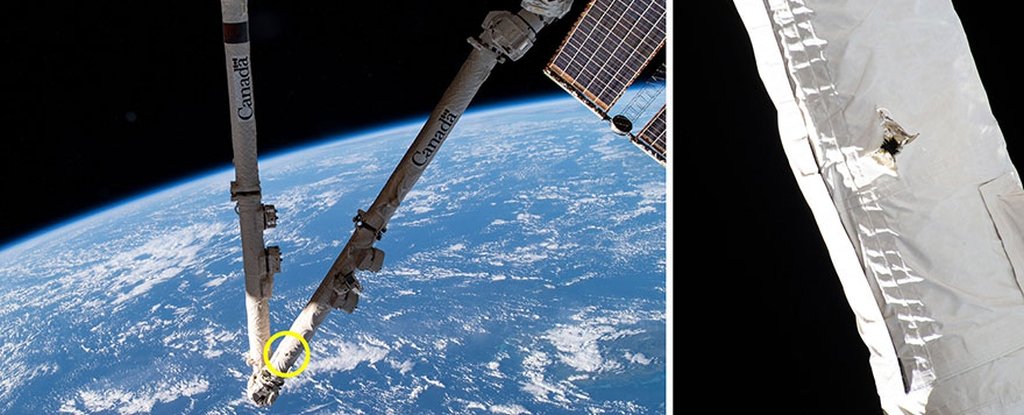 The inevitable has occurred. A piece of space debris too small to be tracked has hit and damaged part of the International Space Station - namely, the Canadarm2 robotic arm.
The instrument is still operational, but the object punctured the thermal blanket and damaged the boom beneath. It's a sobering reminder that the low-Earth orbit's space junk problem is a ticking time bomb.
Obviously space agencies around the world are aware of the space debris problem. Over 23,000 pieces are being tracked in low-Earth orbit to help satellites and the ISS avoid collisions - but they're all about the size of a softball or larger.
Anything below that size is too small to track, but travelling at orbital velocities can still do some significant damage, including punching right through metal plates.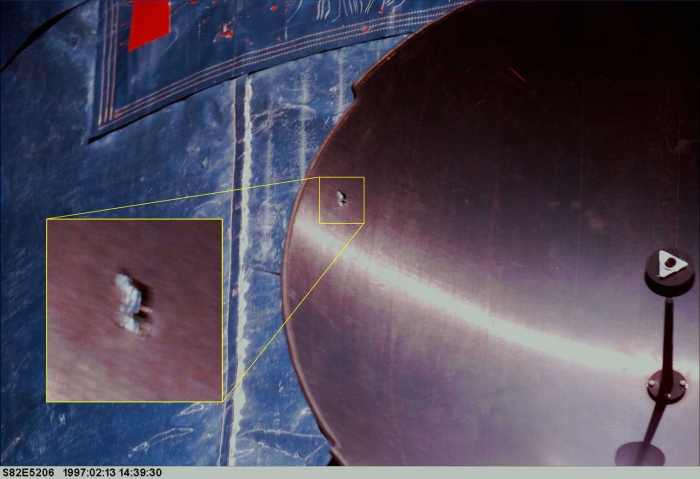 https://www.sciencealert.com/space-debr ... ce-station
Posted:
Tue Jun 01, 2021 12:30 pm
$1:
Stunning New Image of the Centre of Our Galaxy Hints at Previously Unknown Interstellar Energy Source
$1:
A panorama of the Galactic Center builds on previous surveys from Chandra and other telescopes. This latest version expands Chandra's high-energy view farther above and below the plane of the galaxy – that is, the disk where most of the galaxy's stars reside – than previous imaging campaigns. In the first two images, X-rays from Chandra are orange, green, and purple, showing different X-ray energies, and the radio data from MeerKAT are gray. Credit: X-ray: NASA/CXC/UMass/Q.D. Wang; Radio: NRF/SARAO/MeerKAT
Astronomer Reveals Never-Before-Seen Detail of the Center of Our Galaxy
New image made using NASA's Chandra X-Ray Observatory hints at previously unknown interstellar energy source at the Milky Way center.
New research by University of Massachusetts Amherst astronomer Daniel Wang reveals, with unprecedented clarity, details of violent phenomena in the center of our galaxy. The images, published recently in Monthly Notices of the Royal Astronomical Society, document an X-ray thread, G0.17-0.41, which hints at a previously unknown interstellar mechanism that may govern the energy flow and potentially the evolution of the Milky Way.
"The galaxy is like an ecosystem," says Wang, a professor in UMass Amherst's astronomy department, whose findings are a result of more than two decades of research. "We know the centers of galaxies are where the action is and play an enormous role in their evolution." And yet, whatever has happened in the center of our own galaxy is hard to study, despite its relative proximity to Earth, because, as Wang explains, it is obscured by a dense fog of gas and dust. Researchers simply can't see the center, even with an instrument as powerful as the famous Hubble Space Telescope. Wang, however, has used a different telescope, NASA's Chandra X-Ray Observatory, which "sees" X-rays, rather than the rays of visible light that we perceive with our own eyes. These X-rays are capable of penetrating the obscuring fog — and the results are stunning.
$1:
This version of the image highlights several key features of this new Galactic Center survey. The threads are labeled with red rectangles in the image, while X-rays reflected from dust around bright X-ray sources (green circles), Sagittarius A*. In purple circles and ellipses, the Arches and Quintuplet Clusters, DB00-58 and DB00-6, 1E 1743.1-28.43, the Cold Gas Cloud and Sagittarius C are outlined. Credit: X-ray: NASA/CXC/UMass/Q.D. Wang; Radio: NRF/SARAO/MeerKAT
https://scitechdaily.com/stunning-new-i ... gy-source/
Posted:
Tue Jun 01, 2021 1:22 pm
Posted:
Thu Jun 03, 2021 6:19 am
$1:
Venus can't wait—NASA plans blockbuster return to hothouse neighbor
Venus can no longer wait. NASA will send two new robotic missions to Earth's hothouse twin, the agency's new administrator, Bill Nelson, announced this afternoon at his "state of NASA" speech here at the agency's headquarters. The announcement effectively creates a new Venus program in one fell swoop.
The missions, together costing up to $1 billion, mark NASA's first visit to the planet since the early 1990s, whereas nearby Mars has seen a host of robotic visitors. They're expected to launch by the decade's end. "We hope these missions will further our understanding of how Earth evolved and why it's currently habitable when others in our Solar System are not," Nelson, a former senator, said while announcing the selection. "This is really exciting stuff."
Planetary scientists who study Venus were elated at the news, after decades of failed proposals—including previous incarnations of the selected missions. "I am stunned. Very emotional," says Patrick McGovern, a planetary scientist at the Lunar and Planetary Institute. McGovern and colleagues had long argued that sustained study of Venus, like the landings on Mars, could revolutionize the understanding of Earth's early history. One mission alone would not do it. "And guess what, in one fell swoop NASA created that #VenusProgram, with two outstanding missions."
The first mission selected from four finalists named in February 2020 is DAVINCI+ (Deep Atmosphere Venus Investigation of Noble gases, Chemistry, and Imaging Plus) from NASA's Goddard Space Flight Center and led by James Garvin, chief scientist of Goddard's scientific division. It will send an armored sphere plunging through the venusian atmosphere, its instruments measuring noble gases to sort out the planet's origins and sniffing for sulfur and carbon near the surface for evidence of recent volcanic activity. DAVINCI+ will also include an orbiter to map the planet's geology, including its mysterious highlands. (A previous DAVINCI proposal was led by Lori Glaze, now chief of planetary science at NASA headquarters, who excused herself from the mission selection process.)
https://www.sciencemag.org/news/2021/06 ... e-neighbor
Posted:
Mon Jun 07, 2021 6:22 am
$1:
NASA's Juno to get a close look at Jupiter's moon Ganymede
The first of the gas-giant orbiter's back-to-back flybys will provide a close encounter with the massive moon after over 20 years.
On Monday, June 7, at 1:35 p.m. EDT (10:35 a.m. PDT), NASA's Juno spacecraft will come within 645 miles (1,038 kilometers) of the surface of Jupiter's largest moon, Ganymede. The flyby will be the closest a spacecraft has come to the solar system's largest natural satellite since NASA's Galileo spacecraft made its penultimate close approach back on May 20, 2000. Along with striking imagery, the solar-powered spacecraft's flyby will yield insights into the moon's composition, ionosphere, magnetosphere, and ice shell. Juno's measurements of the radiation environment near the moon will also benefit future missions to the Jovian system.
Ganymede is bigger than the planet Mercury and is the only moon in the solar system with its own magnetosphere—a bubble-shaped region of charged particles surrounding the celestial body.
"Juno carries a suite of sensitive instruments capable of seeing Ganymede in ways never before possible," said Juno Principal Investigator Scott Bolton of the Southwest Research Institute in San Antonio. "By flying so close, we will bring the exploration of Ganymede into the 21st century, both complementing future missions with our unique sensors and helping prepare for the next generation of missions to the Jovian system—NASA's Europa Clipper and ESA's [European Space Agency's] JUpiter ICy moons Explorer [JUICE] mission."
https://phys.org/news/2021-06-nasa-juno ... ymede.html
Posted:
Wed Jun 09, 2021 8:15 am
| | | |
| --- | --- | --- |
| | Page 191 of 192 | [ 2871 posts ] |
Who is online
Users browsing this forum: No registered users and 1 guest