The 2014 Glasgow Commonwealth Games sporting events are now over and now we eagerly await the Closing Ceremony at Hampden Park three hours from now.
Here's how the top five teams finished. England finished top of the tree for the first time since Edinburgh 1986. England usually finish second behind sporting powerhouse Australia. It's nice for the English to get one over their greatest sporting rivals.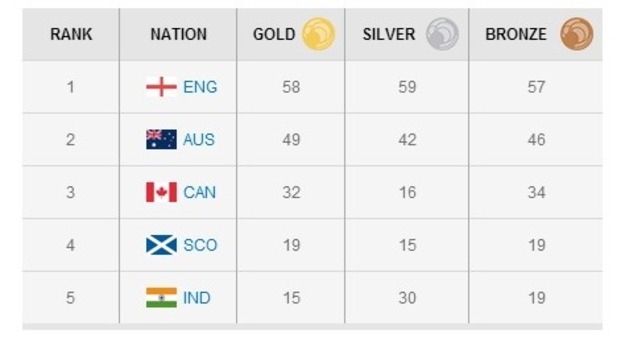 Kylie Minogue (top left) and Scottish acts Lulu (bottom right) and Deacon Blue (bottom left) will perform at the closing ceremony at Hampden Park tonight. Kylie's performance will represent the Commonwealth Games' transfer to her native Australia, where it will be held at Gold Coast City near Brisbane in Queensland in 2018
Kylie Minogue, Lulu, Deacon Blue and more than 2,000 performers will bring the curtain down on the 2014 Commonwealth Games in Glasgow later.
A crowd of 40,000 people will watch the 90-minute closing ceremony begin at 21:00 BST inside Hampden Stadium, with millions more watching on TV.
Organisers say the theme of the show is "All Back To Ours", with a narrative of a "typical night out in Glasgow".
It follows a successful Games for Team Scotland, who have topped 50 medals.
Ceremony artistic director David Zolkwer said the show would reflect a spontaneous "we don't want this moment to end" feel.
He said: "It's going to be an emotional show - a celebration of a job well done, bitter sweet, proud, inclusive, utterly and uniquely Glaswegian but still typically outward looking, generous in spirit and profoundly human. Above all it'll be a great party."
During the ceremony, Glasgow will officially pass on the host city mantle to Australia's Gold Coast for 2018.
Hampden, which hosted the athletics during the Games, will be transformed with more than 160 tonnes of staging, 3,000 props and 454 flags.
Glasgow singer Lulu will be one of the main performers.
During a 50-year career, the Scot has racked up hits with "To Sir with Love", from the film of the same name, the title song to the James Bond film, "The Man with the Golden Gun", the Eurovision Song Contest winning "Boom Bang-a-Bang" and her most famous song, "Shout".
Scottish band Deacon Blue, formed in Glasgow in the 1980s, will also take to the stage.
Boxers Josh Taylor and Charlie Flynn added two more golds to Scotland's tally on the penultimate day of the Games. The hosts finished the Games with 19 golds and 53 medals in total, an astounding number when you consider Scotland has a population of just 5 million

Australia's hot and sunny Gold Coast is hosting the 2018 Commonwealth Games
The closing ceremony will see one of Scotland's most successful bands, with 12 UK top 40 singles and two number one albums, perform to their biggest ever global audience.
Others to feature include Dougie MacLean, who wrote Caledonia, and Glasgow synthpop band Prides.
Organisers also said there would be some surprise acts, but would not confirm if the show will include The Proclaimers, whose I'm Gonna Be (500 Miles) has become a Games anthem at the Scottish national stadium.
But perhaps the biggest name to perform on the night will be Australian singer and actress Kylie Minogue.
The 46-year-old released her 12th studio album this year and will soon embark on a 33-date UK tour in her adopted homeland.
Her performance will represent the Games' transfer to her native Australia.

Bowler Alex 'Tattie' Marshall will be the flag bearer for Team Scotland
Glaswegian humour: Glasgow's famous traffic cone-wearing Duke of Wellington statue has special light-up head gear for the closing ceremony

The Opening Ceremony occurred at Celtic Park, but the Closing Ceremony tonight will take place at Hampden Park (above), Scotland's national football stadium, where the athletics events were held
Thousands of ordinary people are also expected to take part, fitting in with a major theme of the opening ceremony on 23 July of giving ordinary people a role in the Games.
Many of those taking part will be Clydesiders, some of the 15,000 volunteers who were drafted in to help athletes and spectators throughout the Games.
And carrying the flag for Team Scotland will be bowler Alex 'Tattie' Marshall, who won golds in the men's pairs and fours at Glasgow 2014, adding to his pairs golds at the 2002 and 2006 Games.
Closing ceremony parties are also being held at the Glasgow Green and Kelvingrove Bandstand live sites.
http://www.bbc.co.uk/news/uk-scotland-28609892