Achievements Home
World's Largest Milkshake at 1,000 Litres!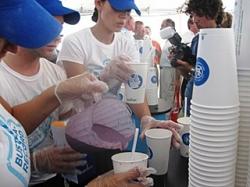 Category:
Weird & Strange
Type:
canadian record
guinness record

Date:
8 7, 2010
Record Holder:
Dairy Farmers of Canada
Province:
Ontario
Tags:
Dairy, Farmers, Canada, Largest, Biggest, Litre, Liter, 1000, Milkshake, Blueberry, Toronto
Feel the need for something nice, cool, and blueberry? How about 1000 litres of it! The Dairy Farmers of Canada made a concerted effort to make a 1,000 litres of blueberry milkshake, and monumental task, and succeeded in breaking into their record books as they made the goal amount!

The effort required a good amount of special machinery, including a giant mixing machine capable of keeping the entire mixture cool while spinning it continuously. Not all of it was done by the machines though! 300 kilograms of berries and 550 litres of milk had to be beat together by hand before being added to the 1,200 litre tank, taking a ton of arm power from the volunteers!

This was all done in the middle of a city as well, and some Torontonians got a good front row seat of the events as it happened!

Congratulations to the Dairy Farmers of Canada, for the Guiness World Record!
Source:
http://community.guinnessworldrecords.com/_Largest-smoothie/
Comments
Register
to comment on this Achievement.