Exercise TRIDENT FURY 2007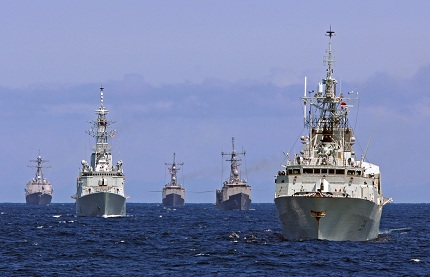 From:
Hyack
Added:
Aug 06 2007
Full Size:
430 x 277
Hits:
6059
Only Members can rate this Picture!
You can Register Here
Description:
From right to left. Canadian Halifax Class Frigate HMCS Regina, American Oliver Hazard Perry Class Frigates, USS CURTZ and USS INGRAHAM, Canadian Iroquois Class Destroyer HMCS Algonquin and the American Arleigh Burke Class Destroyer, USS SHOUP patrol the area off the west coast of Vancouver Island May 9 2007. These five ships along with Canadian Frigate HMCS Ottawa and the refuelling ship, USNS JOHN ERICSSON, are part of a coalition force participating in Exercise TRIDENT FURY 2007.
Warning: MagpieRSS: Failed to parse RSS file. (Mismatched tag at line 1, column 70) in D:\Hosted Sites\canadaka.net\www\includes\rss_fetch\rss_fetch.inc on line 238 Warning: Invalid argument supplied for foreach() in D:\Hosted Sites\canadaka.net\www\themes\text_ads.php on line 21
All logos and trademarks in this site are property of their respective owner.
The comments are property of their posters, all the rest © 2020 by Canadaka.net