Posted:
Tue Jul 06, 2021 10:19 am
$1:
Converting carbon dioxide into butanol using phosphorous-rich copper cathodes
Human activities like the burning of coal and fossil fuels have caused CO2 to accumulate in the atmosphere, which has significantly affected the Earth's climate. As a result, several scientists are looking for ways to convert CO2 into other valuable organic products, such as 1-butanol, which has shown promise as an alternative fuel for vehicles. This could help reduce our dependence on fossil fuels.
One method of obtaining useful compounds is by the electrochemical reduction reaction (CO2RR). Researchers have developed metal-based catalysts that can fulfill this task. However, there is a caveat: most of these catalysts are expensive and produce a variety of products during the reaction, which can be difficult to separate.
To solve this problem, a team of researchers led by Prof. Dr. Jaeyoung Lee and comprising Mr. Minjun Choi, Dr. Jin Won Kim, and Prof. Sungyool Bong from the Gwangju Institute of Science and Technology in South Korea came up with a procedure that directly generates 1-butanol with the help of copper phosphide (CuP2) without first undergoing CO dimerization. "We are trying to develop a Cu-based electrode for electrochemical conversion of CO2 that avoids *CO dimerization and can help us increase the selectivity of the product so that additional power consumption from separation processes can be avoided," explains Mr. Minjun Choi, a Ph.D. student at the university and the paper's first author. Their research has recently been published in the journal ACS Energy Letters.
https://phys.org/news/2021-07-carbon-di ... opper.html
Posted:
Mon Jul 12, 2021 6:17 am
$1:
Ultrathin Semiconductors Equipped With Superconducting Contacts for the First Time

For the first time, University of Basel researchers have equipped an ultrathin semiconductor with superconducting contacts. These extremely thin materials with novel electronic and optical properties could pave the way for previously unimagined applications. Combined with superconductors, they are expected to give rise to new quantum phenomena and find use in quantum technology.
Whether in smartphones, televisions or building technology, semiconductors play a central role in electronics and therefore in our everyday lives. In contrast to metals, it is possible to adjust their electrical conductivity by applying a voltage and hence to switch the current flow on and off.
With a view to future applications in electronics and quantum technology, researchers are focusing on the development of new components that consist of a single layer (monolayer) of a semiconducting material. Some naturally occurring materials with semiconducting properties feature monolayers of this kind, stacked to form a three-dimensional crystal. In the laboratory, researchers can separate these layers – which are no thicker than a single molecule – and use them to build electronic components.
https://scitechdaily.com/ultrathin-semi ... irst-time/
Posted:
Tue Jul 13, 2021 6:36 am
For those who think they are really good at seeing patterns; that's just your brain playing tricks on you.
$1:
Our brains "read" expressions of illusory faces in things just like real faces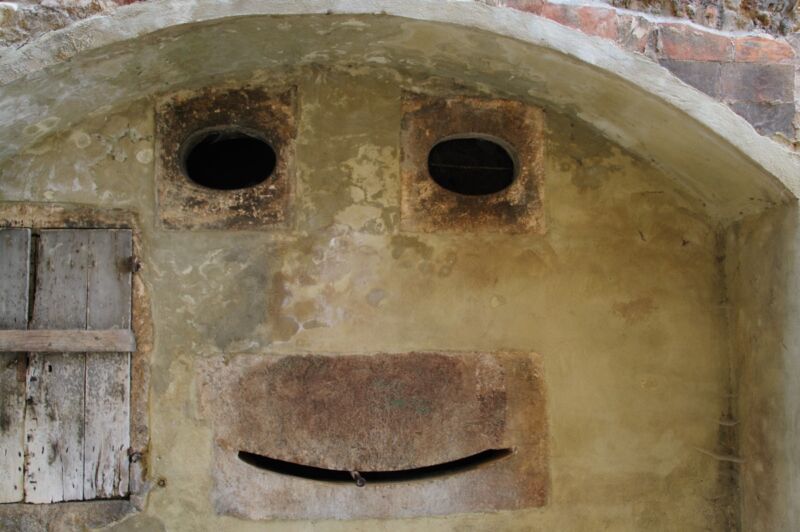 Human beings are champions at spotting patterns, especially faces, in inanimate objects—think of the famous "face on Mars" in images taken by the Viking 1 orbiter in 1976, which is essentially a trick of light and shadow. And people are always spotting what they believe to be the face of Jesus in burnt toast and many other (so many) ordinary foodstuffs. There was even a now-defunct Twitter account devoted to curating images of the "faces in things" phenomenon.
The phenomenon's fancy name is facial pareidolia. Scientists at the University of Sydney have found that, not only do we see faces in everyday objects, our brains even process objects for emotional expression much like we do for real faces rather than discarding the objects as "false" detections. This shared mechanism perhaps evolved as a result of the need to quickly judge whether a person is a friend or foe. The Sydney team described its work in a recent paper published in the journal Proceedings of the Royal Society B.
Lead author David Alais, of the University of Sydney, told The Guardian:
$1:
We are such a sophisticated social species and face recognition is very important... You need to recognize who it is, is it family, is it a friend or foe, what are their intentions and emotions? Faces are detected incredibly fast. The brain seems to do this using a kind of template-matching procedure. So if it sees an object that appears to have two eyes above a nose above a mouth, then it goes, "Oh I'm seeing a face." It's a bit fast and loose and sometimes it makes mistakes, so something that resembles a face will often trigger this template match.
Alais has been interested in this and related topics for years. For instance, in a 2016 paper published in Scientific Reports, Alais and his colleagues built on prior research involving rapid sequences of faces that demonstrated that perception of face identity, as well as attractiveness, is biased toward recently seen faces. So they designed a binary task that mimicked the selection interface in online dating websites and apps (like Tinder), in which users swipe left or right in response to whether they deem the profile pictures of potential partners attractive or unattractive. Alais et al. found that many stimulus attributes—including orientation, facial expression and attractiveness, and perceived slimness of the online dating profiles—are systematically biased toward recent past experience.
This was followed by a 2019 paper in the Journal of Vision, which extended that experimental approach to our appreciation of art. Alais and his co-authors found that we don't assess each painting we view in a museum or gallery on its own merits. They also found that we're prone to a "contrast effect": that is, perceiving a painting to be more attractive if the work we've seen before it was less aesthetically appealing. Instead, the study revealed that our appreciation of art shows the same "serial dependence" systemic bias. We judge paintings as being more appealing if we view them after seeing another attractive painting, and we rate them less attractive if the prior painting was also less aesthetically appealing.
The next step was to examine the specific brain mechanisms behind how we "read" social information from the faces of other people. The phenomenon of facial pareidolia struck Alais as being related. "A striking feature of these objects is that they not only look like faces but can even convey a sense of personality of social meaning," he said, such as a sliced bell pepper that seems to be scowling or a towel dispenser that seems to be smiling.
https://arstechnica.com/science/2021/07 ... eal-faces/
Posted:
Mon Jul 19, 2021 6:20 am
$1:
Elusive glass octopus spotted in the remote Pacific Ocean
Only its eyes, optic nerve and digestive tract are opaque.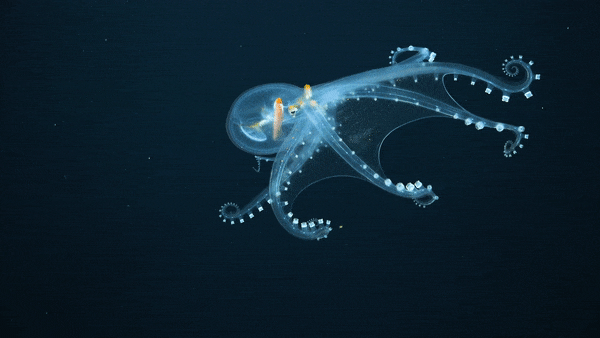 This rarely seen glass octopus bared all recently — even a view of its innards — when an underwater robot filmed it gracefully soaring through the deep waters of the Central Pacific Ocean.
Marine biologists spotted the elusive glass octopus (Vitreledonella richardi) during a 34-day expedition off the remote Phoenix Islands, an archipelago located more than 3,200 miles (5,100 kilometers) northeast of Sydney, Australia.
Like other "glass" creatures, such as glass frogs and certain comb jellies, glass octopuses are almost completely transparent, with only their cylindrical eyes, optic nerve and digestive tract appearing opaque. The expedition crew reported two encounters with the glass octopus — an impressive count given that previously there was such limited footage of these clear cephalopods, scientists had to learn about them by studying chunks of them in the gut contents of their predators.
https://www.livescience.com/rare-glass- ... hting.html
Posted:
Tue Jul 27, 2021 8:48 am
$1:
Sydney's Trash Diving Cockatoos Are Showing Off An Impressive Intelligence

"If I had a cracker for every question I received about cockies behaving badly," wrote ornithologist Richard Major, "you'd be calling me 'Polly'."
Let us translate for the non-Australians in the audience: sulfur-crested cockatoos, the large parrot species native to Australia, New Guinea, and Indonesia, are a pest and a nuisance. They eat crops, keep you up at night with their ear-splitting screeches, and will even steal the trash out of your garbage can in search of a tasty snack.
They're also just crazy intelligent – "comparable to a chimpanzee in intelligence," according to bird expert Gisela Kaplan. And just like chimpanzees, they're also highly social, living in flocks of up to hundreds of birds.
And it's this combination of smarts and sociability, according to a new study published in Science, that makes the "clever cockies" so good at trash diving. For the first time ever, it's been shown that the birds are capable of learning from each other to figure out complex problems posed by the environment.
"[The] results show the animals really learned the behavior from other cockatoos in their vicinity," explained lead co-author of the study Barbara Klump. "We observed that the birds do not open the garbage bins in the same way, but rather used different opening techniques in different suburbs, suggesting that the behavior is learned by observing others."
https://www.iflscience.com/plants-and-a ... elligence/
Posted:
Wed Jul 28, 2021 7:15 am
$1:
France issues moratorium on prion research after fatal brain disease strikes two lab workers
$1:

Émilie Jaumain in 2010, the year she was exposed to prions during a lab accident. She died in 2019 at age 33.

Five public research institutions in France have imposed a 3-month moratorium on the study of prions—a class of misfolding, infectious proteins that cause fatal brain diseases—after a retired lab worker who handled prions in the past was diagnosed with Creutzfeldt-Jakob disease (CJD), the most common prion disease in humans. An investigation is underway to find out whether the patient, who worked at a lab run by the National Research Institute for Agriculture, Food and Environment (INRAE), contracted the disease on the job.
If so, it would be the second such case in France in the past few years. In June 2019, an INRAE lab worker named Émilie Jaumain died at age 33, 10 years after pricking her thumb during an experiment with prion-infected mice. Her family is now suing INRAE for manslaughter and endangering life; her illness had already led to tightened safety measures at French prion labs.
The aim of the moratorium, which affects nine labs, is to "study the possibility of a link with the [new patient's] former professional activity and if necessary to adapt the preventative measures in force in research laboratories," according to a joint press release issued by the five institutions yesterday.
"This is the right way to go in the circumstances," says Ronald Melki, a structural biologist at a prion lab jointly operated by the French national research agency CNRS and the French Alternative Energies and Atomic Energy Commission (CEA). "It is always wise to ask questions about the whole working process when something goes wrong." "The occurrence of these harsh diseases in two of our scientific colleagues clearly affects the whole prion community, which is a small 'familial' community of less than 1000 people worldwide," Emmanuel Comoy, deputy director of CEA's Unit of Prion Disorders and Related Infectious Agents, writes in an email to Science. Although prion research already has strict safety protocols, "it necessarily reinforces the awareness of the risk linked to these infectious agents," he says.
https://www.sciencemag.org/news/2021/07 ... es-two-lab
Posted:
Tue Aug 03, 2021 6:27 am
$1:
New exotic matter particle, a tetraquark, discovered
Today, the LHCb experiment at CERN is presenting a new discovery at the European Physical Society Conference on High Energy Physics (EPS-HEP). The new particle discovered by LHCb, labeled as Tcc+, is a tetraquark—an exotic hadron containing two quarks and two antiquarks. It is the longest-lived exotic matter particle ever discovered, and the first to contain two heavy quarks and two light antiquarks.
Quarks are the fundamental building blocks from which matter is constructed. They combine to form hadrons, namely baryons, such as the proton and the neutron, which consist of three quarks, and mesons, which are formed as quark-antiquark pairs. In recent years a number of so-called exotic hadrons—particles with four or five quarks, instead of the conventional two or three—have been found. Today's discovery is of a particularly unique exotic hadron, an exotic exotic hadron if you like.
The new particle contains two charm quarks and an up and a down antiquark. Several tetraquarks have been discovered in recent years (including one with two charm quarks and two charm antiquarks), but this is the first one that contains two charm quarks, without charm antiquarks to balance them. Physicists call this "open charm" (in this case, "double open charm"). Particles containing a charm quark and a charm antiquark have "hidden charm"—the charm quantum number for the whole particle adds up to zero, just like a positive and a negative electrical charge would do. Here the charm quantum number adds up to two, so it has twice the charm!
https://phys.org/news/2021-07-exotic-pa ... quark.html
Posted:
Wed Aug 18, 2021 6:18 am
$1:
Laser Fusion Experiment Unleashes an Energetic Burst of Optimism

Scientists have come tantalizingly close to reproducing the power of the sun — albeit only in a speck of hydrogen for a fraction of a second.
Researchers at Lawrence Livermore National Laboratory reported on Tuesday that by using 192 gigantic lasers to annihilate a pellet of hydrogen, they were able to ignite a burst of more than 10 quadrillion watts of fusion power — energy released when hydrogen atoms are fused into helium, the same process that occurs within stars.
Indeed, Mark Herrmann, Livermore's deputy program director for fundamental weapons physics, compared the fusion reaction to the 170 quadrillion watts of sunshine that bathe Earth's surface.
"This is about 10 percent of that," Dr. Herrmann said. And all of the fusion energy emanated from a hot spot about as wide as a human hair, he said.
But the burst — essentially a miniature hydrogen bomb — lasted only 100 trillionths of a second.
Still, that spurred a burst of optimism for fusion scientists who have long hoped that fusion could someday provide a boundless, clean energy source for humanity.
"I'm very excited about this," said Siegfried Glenzer, a scientist at the SLAC National Accelerator Laboratory in Menlo Park, Calif., and who had led the initial fusion experiments at the Livermore facility years ago but is not currently involved in the research. "This is very promising for us, to achieve an energy source on the planet that won't emit CO2."
The success also signified a moment of redemption for Livermore's football-stadium-size laser apparatus, which is named the National Ignition Facility, or N.I.F. Despite an investment of billions of dollars — construction started in 1997 and operations began in 2009 — the apparatus initially generated hardly any fusion at all. In 2014, Livermore scientists finally reported success, but the energy produced then was minuscule — the equivalent of what a 60-watt light bulb consumes in five minutes.
https://www.nytimes.com/2021/08/17/scie ... earth.html
Hard core Trek fans will recognize that as the engine room of the new movie Enterprise.
Posted:
Wed Aug 18, 2021 9:53 am
$1:
New Theory of Life's Multiple Origins
The history of life on Earth has often been likened to a four-billion-year-old torch relay. One flame, lit at the beginning of the chain, continues to pass on life in the same form all the way down. But what if life is better understood on the analogy of the eye, a convergent organ that evolved from independent origins? What if life evolved not just once, but multiple times independently?
In a new paper, published in the Journal of Molecular Evolution, Santa Fe Institute researchers Chris Kempes and David Krakauer argue that in order to recognize life's full range of forms, we must develop a new theoretical frame.
In their three-layered frame, Kempes and Krakauer call for researchers to consider, first, the full space of materials in which life could be possible; second, the constraints that limit the universe of possible life; and, third, the optimization processes that drive adaptation. In general, the framework considers life as adaptive information and adopts the analogy of computation to capture the processes central to life.
$1:
What if life is better understood on the analogy of the eye, a convergent organ that evolved from independent origins?
https://scitechdaily.com/new-theory-of- ... e-origins/
| | | |
| --- | --- | --- |
| | Page 45 of 61 | [ 905 posts ] |
Who is online
Users browsing this forum: No registered users and 19 guests