OnTheIce OnTheIce: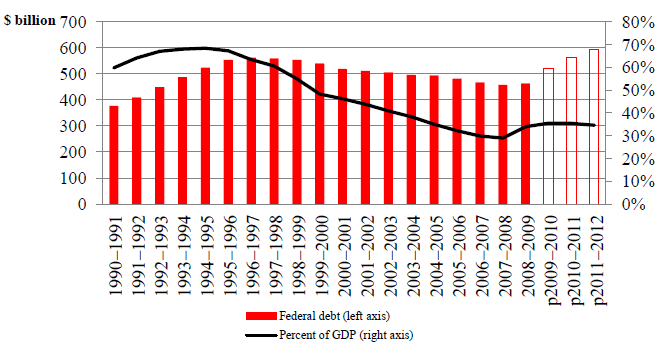 So, a graph provided by the Liberals clearly shows that under Chretien and Martin, our debt increased.
Thanks
Only if you guys don't read it properly. Sigh. OTI, we have had this debate many times and I have proven conclusively that it is simply not the case. In addition Lemmy has taken you to task.
The debt you keep charging the Liberals with include the end of year account for 1994 when they took office in late 1993. By all rights that entire debt should be the PCs responsibility since that was their budget.
I however gave each party a % of the debt based on time in office.
You make the same error at the other end, handing Harper all the credit for a surplus he had no responsibility for. By applying the same time in office logic I reached the conclusion that the Liberals were only responsible for adding a paltry 17 billion (as opposed to the 55 billion Harper added last year). So from the moment Chretien took office until the time Harper took office the Liberals were responsible for adding 17 billion.
IF
we want to treat it fairly and give total budget credit were its due then the entire end of year accounts for 1994 is PC and 2006 is Liberal meaning they will have actually slashed the debt by some 30 billion.
It is a CERTAINTY that under Martin, had he won in 2006, we would have continued slashing the debt so it is extremely dishonest of you to claim that the Liberals were somehow inept fiscal managers because they increased the debt (a charge you will not level against Harper EVER despite the fact that he will not be in charge of the CPC or country before even their own forecasts for eliminating the deficit.
In addition to these inconvenient facts take another good look at that graph. Its familiar because I posted it before but what's also telling is the black line showing debt-GDP ratio. See it plummeting under Chretien/Martin (and rising under Harper). Even if you are adding to debt if you are decreasing the ratio you are doing good. Its like owing 10000 when you make 50000/year and even if you owe 10or 11K after 10 years that's OK because you are now making 75000.
Less %tax money went to paying interest. In fact in the Macleans article I posted many years ago it showed that we went from paying about 60 cents per dollar to debt servicing to less then 35 under the Liberals.
There is no doubt about it. The Chretien/Martin Liberals were fantastic stewarts of the debt/deficit and Harper is not.