Why I Rescue Blocky-Headed Wigglebutts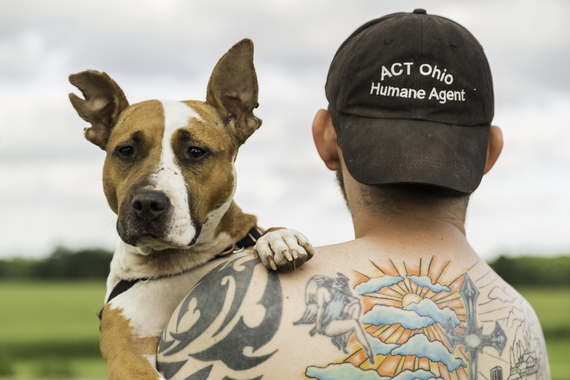 I never intended to be a voice for pit bull-type dogs. Never in a million years.
A dog lover, I'm the guy at the party that would rather play with the pups all night instead of forcing small talk with people, and it doesn't matter if they're 10 pounds or 110 pounds. I can't help but gravitate to them and I have all my life.
But I have no fascination with pit bull type dogs in particular, or even an intense love that goes beyond my love for dogs of all shapes and sizes.
Yet there I was, just a few months ago, sitting next to the infamous mixed martial arts fighter Gordon Shell (and others) who starred in the documentary, The Dog Fighter, as we both spoke at the 1st Annual Ohio Pibble March at the steps of the Statehouse in Columbus.
After being honorably discharged from the Army almost a decade earlier, I began a career in nonprofit administration that eventually led to a move from California to Ohio and an opportunity to lead a local County Humane Society that boasted a placement rating of 91 percent and "never euthanizing an animal for time or space." With a love of dogs, a family of dog trainers in my past and several years of nonprofit administration, my passion and my experiences seemed to align perfectly.
The honeymoon phase lasted about a week at my new job. One morning, I was walking through the kennels when I stopped at a particularly wiggly-butted dog's cage who caught my eye. With a huge smile and a tongue that would give Gene Simmons a run for his money, you couldn't help but stop and smile right back at this dog. If you weren't careful, your butt might start wagging in-sync with the dog.
That was the day that I learned that the Humane Society I took over did not adopt out pit bull type dogs. They got around talking about the issue by listing them as "unadoptable due to behavior." Regardless of their actual behavior.
You see, according to state law at that time, all pit bulls were inherently vicious upon birth. The predicted behavior of a general group of dog breeds and mutts, was already determined at conception according to Ohio.
Some progressive shelters had "bully breed" programs, some did not. How many absolutely wonderful dogs were put down because of a liability concern, statewide? More than I can stomach thinking about.
I tried over the years to reverse my shelter's position on adopting out pit bull type dogs and was always met with resistance. Eventually, I was allowed to send the dogs to reputable rescues.
Ohio did finally end the statewide discrimination of pit bulls however, being a "home rule" State, local municipalities can still enforce their own dangerous dog ordinances, creating a confusing hodgepodge for Ohio citizens to navigate through if they happen to own a dog with a blocky head and a wiggly butt.
In the meantime, a divorce at home led to extra time on my hands and new opportunities. When the position of Humane Agent became open at my shelter, I jumped at the chance to spend my evenings and weekends out in the field, checking on animals in a more hands-on way than my job as Director allowed.
This, is when everything changed for me.